Learn how to make this extremely healthy food for babies and kids. High on fiber and nutrition, khichdi recipe is easy to make and is one of the most amazing vegetarian recipes for kids!
Here is Daliya and Moong Daal Khichdi recipe:
Are you running out of healthy breakfast recipes for kids? Are you planning to introduce a more solid-ish, wholesome and super healthy food recipe in your baby food diet? Then your search ends here. Today, The Champa Tree brings to you an amazing food which also happens to be among the most healthy easy recipes that can be prepared in a jiffy.
Khichdi is an Indian preparation made from rice and lentils. However, we are going to add a bit of a twist here. Instead of rice, we will go for daliya (cracked wheat). This dish is nutritious not only for babies, infants and toddlers but for adults too. I love it and so does Brat H. He has been on Khichdi since he was 8 months old. It is one of the very few homemade baby food recipes that is a well-balanced meal which can be prepared in no time.
The lentil we are using here is yellow moong dal called as husked split green gram or yellow mung. 
Ingredients:
1/2 Cup Cup Daliya (Cracked Wheat)
1/2 Cup green split Moong split (Skinned

 Yellow Moong Daal)

1/2 Cup green peas

1/4th Cup chopped carrots (diced)
1/4th Cup chopped potatoes (diced)
1 Tbsp cumin seeds (Jeera)
1 Tbsp vegetable oil or ghee (Clarified butter)

1 Tbsp salt or to your taste

1/2 Tbsp turmeric powder (Haldi)
Preparation: In a bowl, add daliya (cracked wheat) and daal (Yellow Moong Daal). Wash it properly (and several times). Then soak it in water for 15 minutes approx. Once daliya and daal are soaked, carefully pour out the soaking water and wash the daliya and daal in several changes of water until water runs clear. Keep them aside. In a pressure cooker heat the vegetable oil or clarified butter, add cumin seeds and fry them for a bit till they turn light brown. Add vegetables (carrots, peas and potatoes) and sauté it for 5 minutes on low-to-medium heat. Now add soaked daliya and moong daal to the soft vegetables. Add salt and turmeric powder and atleast 3 cups of water, and mix. Close the lid of the cooker and let it cook on medium heat. In 10 minutes approx., pressure cooker starts steaming, turn the heat to low heat and let it cook for 5 minutes. Now, turn the heat  off.. Once the steam of pressure cooker goes down, the Khichdi should be ready. If it looks too thick, add hot water (just a little) for better consistency. Serve it with homemade yogurt to your hungry little one.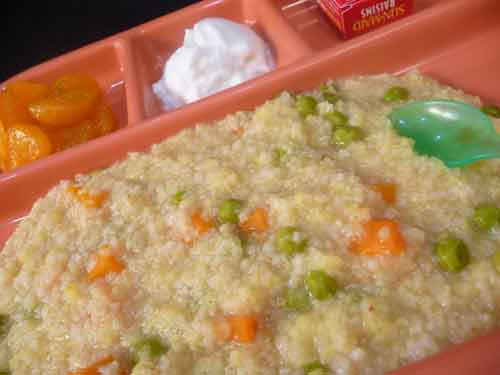 So, now, mommas and papas, you aren't really going to run short of splendid, yummy and healthy breakfast, dinner or lunch ideas. This simple khichdi recipe is sure to entice your little one's taste buds like no other food!