While we indulge in a healthy lifestyle by consuming foods that are indeed nutritious and low calorie, Jowar is a grain that gains the brownie points. It is a complex carbohydrate and one of the best low-calorie breakfast options. While collating the recipe for healthy Indian breakfast series, Jowar Chilla was in fact the first choice. Also, with a mix of spices and onions, this breakfast food is tasty and it is as easy to cook as a healthy sandwich.
Recipe of healthy breakfast – Jowar onion chilla:
While chillas made of Jowar like Jowar Tomato Chilla are common, Jowar Onion Chilla has been a recipe of healthy Indian breakfast that has not been widely made. The taste of onion adds a twist to the tale of taste. The cooking time of this chilla is just 15 minutes. There would be days when you don't feel like cooking in the morning. This is one recipe of healthy Indian breakfast that we can cook instantly. Through the healthy breakfast series, The Champa Tree is trying to prove that contrary to the general belief, there are ideas of healthy Indian breakfast that can actually be healthy and low calorie.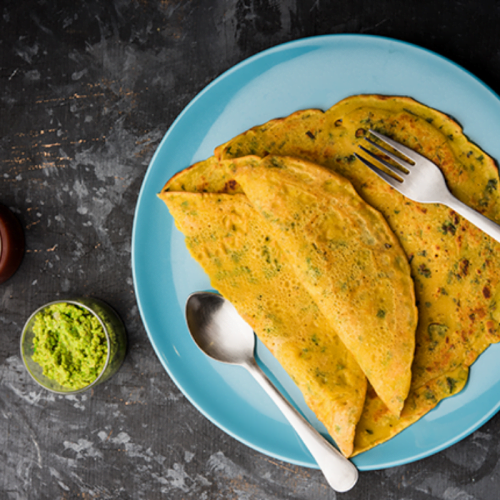 Jowar Onion Chilla
Ingredients
2

cups

Jowar

Sorghum

½

cup

Rice flour

1

tablespoon

Ginger garlic paste

1

teaspoon

Jeera seeds

Cumin

1

teaspoon

Dhania powder

Coriander

½

teaspoon

Haldi

Turmeric powder

1

cup

Onions

finely chopped

Salt

to taste

Red chilli powder

to taste

Oil

a little
Instructions
Dry mix all ingredients except onions in a mixing bowl.

Add water slowly to make a pouring, flowy batter.

Now add onions and mix well till lumps are removed.

Shallow fry on pan and enjoy this low calorie breakfast !
Tips
You can customize the Jowar Chilla as per your taste.
Add some chopped tomato for the soury edge.
Instead of oil you can use pure ghee especially if you are giving the chillas to your kids.
Jowar Onion Chilla is a recipe of healthy Indian breakfast that we can consume without guilt. Moreover, the ease of preparation makes it all the more enticing. Having a healthy breakfast is the best gift you could give to your body as a healthy beginning of the day will keep you motivated and energized. This in turn improves our life in totality. Check out our healthy breakfast series for more options to cook and consume in the morning.
By Varun Sai, Co-founder – Health on Way