A healthy and fulfilling breakfast can push you through the day because it is the first source of wholesome energy that you get. An ideal breakfast should be a balance of protein and carbohydrates. It should provide you with energy as well as strength. The healthy breakfast series by The Champa Tree was initiated with the intention to achieve this goal. We received an overwhelming response from our readers. We got messages from mothers who tried the protein-rich matter kabab. Gaining inspiration from the increasing interests, we are back with another recipe for a healthy sandwich – Spicy Sprouts Sandwich.
Recipe for healthy sandwich:
Another tasty high protein breakfast option is the sprouts sandwich. Sprouts are considered to be one of the best options for quality protein and converting it into a sandwich is a real treat. This has to be on top of the list of healthy breakfast foods. Let's see the recipe for a healthy sandwich with sprouts. Sprouts can be eaten raw or boiled. We are using boiled sprouts as it is tastier.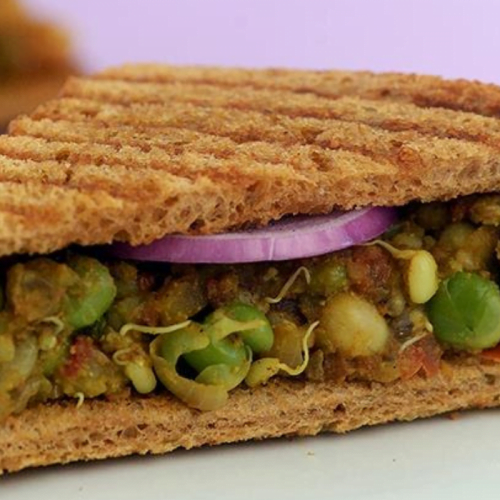 Spicy Sprouts Sandwich
Ingredients
8

slices

Whole wheat bread

8

slices

Onions

2

tsp

Low-fat butter

1

cup

Boiled mixed sprouts

1/2

cup

Finely chopped onions

2

tsp

Ginger-garlic paste

1

tsp

Finely chopped green chillies

2

tsp

Pav bhaji masala

2

tsp

Dhania-jeera powder

coriander-cumin

1 1/2

cup

Finely chopped tomatoes

1/4

tsp

Turmeric

1/2

cup

Potato

boiled, peeled and mashed

1/2

tsp

Black salt
Instructions
In a non-stick pan, add onions and saute on a medium flame for 1-2 mins.

Add ginger garlic paste, green chillies, masala, jeera-dhania powder, haldi, black and normal salt, tomatoes and mix well and cook for 5 mins while stirring occasionally.

Add sprouts and potatoes, mix well and cook for 1 more minute. Your stuffing is ready

Put this stuffing in bread, with onion slices, grill until bread turns crispy, enjoy !
Tips:
To prepare sprouts, soak the pulses or seeds that is used overnight in water. Drain the water and wrap it in a thin cloth for 7-10 hours. Once the sprouts erupts you can transfer them to an air-tight container and refrigerate. Ideally, the sprouts should be consumed fresh.
Instead of Pav Bhaji masala, chaat masala or any masalas of your choice can be used.
Cut the potato into two halves before boiling to save time and fuel/power. This makes the peeling easier compared to peeling before cooking.
This recipe for a healthy sandwich is a powerhouse of nutrients. The sprouts are the richest source of vitamins, potatoes are rich in iron, phosphorous, magnesium, and zinc. In addition, we are using whole wheat bread. In short, the healthy veggie sandwich recipe sandwich is the easiest option of a healthy breakfast routine.
Image Source: 1
By Varun Sai, Co-founder – Health on Way