Pancake is a classic American cuisine that has been everyone's favorite. The mix of flour, milk, and egg makes it the best carbohydrate-protein mix. When speaking about a healthy breakfast recipe, we cannot forget pancakes. Of late pancakes have become a part of the Indian kitchens as well. But what ensures its position in the healthy breakfast recipe series is the Indian twist to the yummy savory pancake recipe. Lets us indulge in some healthy culinary luxury.
Yummy savory pancake recipe:
Like all our recipes in the series, this yummy savory pancake recipe is also tailor-made for the busy Indian mothers who want to feed healthy breakfast to their kids. The presence of spinach, moong dal, rice, wheat, bajra, besan, ragi, and jowar makes it a powerhouse of nutrients. This dish, like all other dishes in our healthy breakfast series, is suitable for kids and sults alike.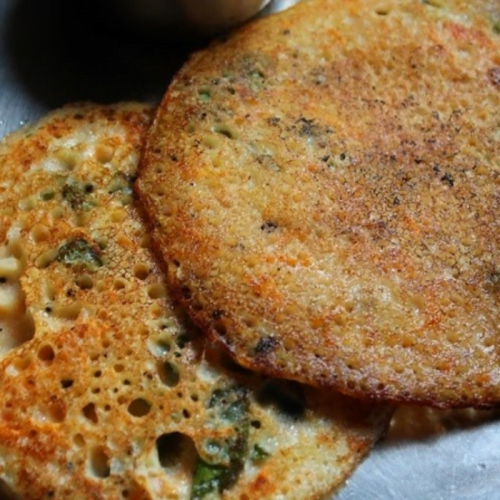 Multigrain Vegetable Pancake
Ingredients
1

cup

Gehu atta

Wheat

1

cup

Rice flour

½

cup

Jowar atta

½

cup

Bajra atta

½

cup

Besan atta

½

cup

Ragi atta

½

cup

Moong dal

soaked

25-30

chopped leaves of Spinach

Palak

1

grated carrot

1

chopped onion

2

tbsp

Ginger garlic paste

1

tbsp

dhania powder

1

tbsp

jeera powder

½

tbsp

Haldi powder

Turmeric

Salt as per taste

1

tbsp

Red chilli powder
Instructions
Dry mix all the above grains (atta)

Slowly add water and mix to maintain consistency like Dosa batter

Now add palak leaves, carrot, ginger garlic paste and moong dal and mix again. Adjust salt as per taste

Preheat the pan, put some oil and spread the mixture for small pancakes. Garnish with chopped onions and Enjoy this healthy breakfast food !
Tips
We can modify this pancake as per taste. You can add different grains/flour, and vegetables.
You can also saute the vegetables for a different taste.
In addition, chaat masala and amchur can also be added for an enhanced taste, if you like it.
Another addition for a different flavor is conriander leaves/curry leaves. Indian cuisines are blessed with numerous options that enable us to have different varieties of the same food.
Does this yummy savory pancake recipe remind you of the Jowar chilla recipe that we had shared as a part of the healthy breakfast recipe series? Coming to think of this, pancake, chilla, and also dosa are similar dishes, aren't they? If you have any unique recipes are similar to these, share them in the comments below. For more recipes, check out the healthy breakfast recipe series. Let health and wellness be easily attainable for everyone and the world be a beautiful place to be!
Image source: 1
By Varun Sai, Co-founder – Health on Way