by Vaishali Sudan Sharma updated on March 7, 2015
To help you pick an ideal pram/stroller for your infant or toddler, TCT shares a list of top five prams that are available in the market these days
Confession Time! I took ages to decide which pram to go for. We had started shortlisting it while Brat H was in my tummy, but finally picked it up when he was around 8 weeks old. Besides, Ace was looking at SEVERAL aspects (which is a good thing). He wasn't only looking at it from the utility point of view. His technical mindset comes really handy when we are looking to purchase toys and accessories for our little one.
So, why not share Ace's great research and knowledge with you? To help you pick an ideal pram for your baby or toddler, TCT shares a list of top five prams that are available in the market these days. Carrying your baby in a comfortable and safe pram is one of the key concerns for the parents but a pram should also suit your family's lifestyle, needs and budget. There are many brands available in the market so it is advisable that you do your bit of research. You can either pick an inexpensive one and replace it at the time of next baby or invest in an expensive one that will last for years.
1. Chicco SimpliCity Stroller– Coming from a well-known brand, this model is comfortable, lightweight, easy to handle and versatile. It is available on various online websites and is priced from INR 10,500- 12,500. It is designed for babies 0 months+ to 3 years and for mums who want to take their baby for shopping, traveling and even on the flight. There are two more color options- deep blue and graphite. Other key features of this pram are as follows:
It is compact and can fit inside any car boot

Has an anchor device for the Key Fit

Comes with a spacious basket, padded shoulder straps, fully reclining rigid backrest and crotch strap
2. Graco Stroller Mirage– Ideal for 0 months+ till 3 years (carry capacity of up to 15 kilos), this stroller also has a sipper holder for your little one. It is designed to be compact, light and folds in just one second. It has multi-position seat reclining system and lockable swivel wheels for safety. It is priced online at INR 10,900-11,900. Other key features of this pram are as follows:
3. Chicco Simplicity Plus Stroller– It comes with a large and comfortable seat and a backrest that can be adjusted to 4 positions. It is lightweight and weighs only 6.8 kilos and is easy to handle. It is priced at INR 11,600-12,900 online at various websites. It is also equipped with a coordinated leg cover, spacious basket, and a rain hood. It is designed for babies 0 months+ to 3 years (carry capacity of upto 14 kilos).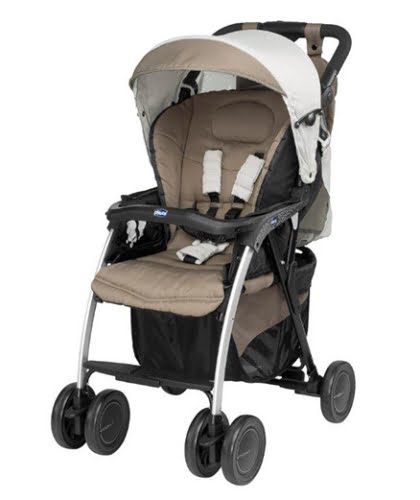 4. Luvlap Sunshine Baby Stroller– Priced at around INR 3,500 online, this stroller has a three-pointed belt strap and a reversible handle to ensure baby's safety. It is well balanced because of its 8 wheels. It also features a handy storage basket, back pocket and a mosquito net.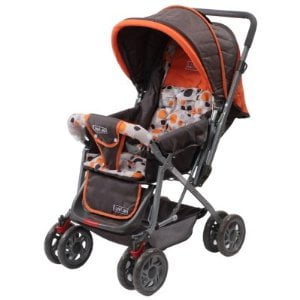 5. MeeMee Six Wheeled Pram cum Rocker– This pram cum rocker has a 3-point harness that keeps the baby safe when you take him out for a stroll. It also features lockable front wheels with a rotating function for easy maneuvering. It is priced at INR 8,000-9,500 online. Other features of this pram are as follows:
Hope this piece of information is helpful! Would love to hear from you. Let me know which pram are you currently using and what do you really think about the product..