The hard reality is that motherhood is one of the most thankless jobs in this world. Along with this, what is sometimes even more thankless is the business of wifehood, or so the society has conditioned it to be. If a mother is unable to pass on just the right values to her child (specifically her son) then she will have to take the brunt of it (at least that's what society expects.) That mother is actually encouraging a lot of uninvited misery for her prospective daughter-in-law. If that same mother decides to stay in a loveless marriage or condone domestic violence by her in-laws/spouse or husband's relatives then that's what her child learns too. The effect of domestic violence in children may stay for years to come by.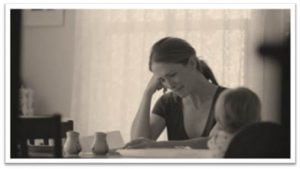 Effect of domestic violence in children:
When children grow up in a family where domestic violence is happening, it affects their psyche permanently. Hence, always take care of the following factors.
1. Right values for your child
All parents want their children to differentiate between right and wrong. But, do the values develop on their own? They are mostly taught and embraced. So if the kid sees any sort of physical/mental/verbal abuse happening within the four walls of his house then he naturally grows up to think that it is pretty normal. If you sense that your child is showing the tendency to lie, it is time to put your foot down and educate him about honesty.
2. When children overhear
A friend of mine recently shared an experience of overhearing adults having conversations. Basic simple, harmless chats about their lives where they expressed that women should behave a certain way and live a certain life. She pretended that she is asleep but continued to hear them pour their hearts out. She comprehended it all in her own tweaked manner and eventually believed it to be true. The figment of her imagination got exaggerated over time and she decided to believe in the truth. NO-MATTER how tweaked her version had been.
3. Domestic violence – Learn to say NO!
There was an ad that was doing the rounds on social media sites in India. Dear friends, take a look at it and tell me how you feel about domestic violence in India. We must raise our voice against it and find domestic violence helplines. The entire concept of so-called families forming their foundation on ill-treated women of their house should be stopped. It starts from your own house.
Healthy motherhood gives way to a healthy wife-hood. If a woman continues to stay unhappy, then her family suffers too. Repercussions are not immediate but they unravel with time. Let's not leave out children amidst the narrow-minded prejudice. Let's keep a check on domestic violence right away. My heart bleeds when I say that motherhood and wife-hood are the most thankless jobs in this world. But, that's the harsh reality and I shall be the first person to shut my eyes forever than see our future generations turning into monsters…