by Vaishali Sudan Sharma updated on March 12, 2015
TCT has compiled a list of 5 best toys that are good for your baby's development. These are perfect for infants as they offer information and entertainment!
Brat H adores his toys. He is particularly fond of the ones which offer his antics a bit of a support ;). He is a hyperactive baby and so if he happens to spend good 15 minutes (at a time) totally involved in it, means we made a good deal! Besides, Ace and I are big fans of such baby accessories which offer some sort of infotainment (information-cum-entertainment) to kids. Such toys can serve as a great medium to boost mental development for a baby. They should be age-appropriate, engaging and most importantly should teach your baby a thing or two in the playing process.
From 6 months onwards, infants are able to utilize their motor skills and should be introduced with toys that move or make sounds. Babies in the age group of 6 to 12 months find it enjoyable to play with toys that they can drop, open-shut, bang, stack-up, and has cause and effect features.
As your baby enters the second half of his first year, you can introduce the following toy categories: bath and teething toys, balls, soft dolls, stuffed animals, squeeze toys, soft blocks, shape sorters, busy boxes, stacking toys, rattles, interlocking keys/rings, push-pull toys, simple musical mechanism toys and pop-up toys.
Brands like Fisher-Price, Funskool, Chicco, MeeMee and LeapFrog has a lot of variety for every age group. To help you further, below are the top five toys available in the market that you can pick up for your little one:
1. Fisher-Price Baby's First Blocks– It is ideal for babies from 6-18 months of age and is priced at INR 370-400 on online websites. The stacking blocks and cubes are simple yet entertaining for your baby. Baby will learn color and shape recognition and object recognition with the 10 blocks that come with the set. The hand and eye co-ordination of your baby will improve as he will try to fit the blocks in the shape sorter openings on the lid. Some of other key features of this toy are as follows:
It is battery free and will last for years

10 colorful blocks in 3 different shapes

Plus shape-sorter top for the canister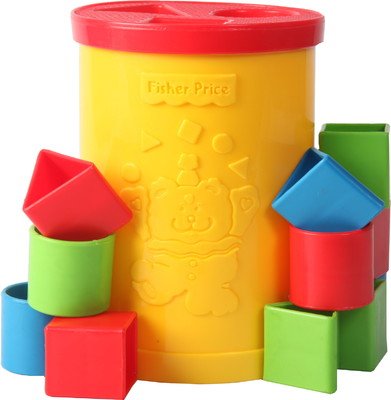 Click here to explore this product
2. Winfun Little Piano Tunes– Ideal for babies from 6 months to 2 years, this simple musical instrument will keep the baby entertained. It is priced at INR 1,250-1,300 on online websites. While playing with this little piano, baby will learn skills like- rhythm & pattern recognition, color & shape recognition, and hand & eye co-ordination.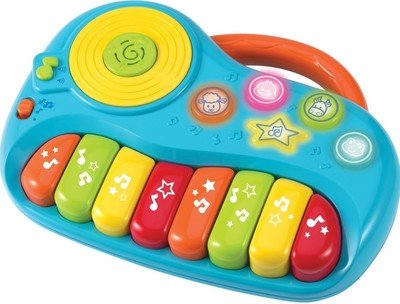 Click here to explore this product
3. Fisher-Price Smart Screen Laptop– It is a wonderful toy that lets your kid learn a host of things such as music, alphabets, colors, shapes, objects and It is priced at INR 1,954 online. It is lightweight and handy and comes with a handle on the top. It has an interactive LED screen that displays images and patterns to keep the baby entertained. With age, your baby can learn numbers and alphabets on this toy and play with all the keys. It has three levels of play mode with different content for the baby to learn. Some of the other key features of this toy are as follows:
Over 30 sing-along songs, tunes, and phrases

Open and close to hear opposites feature

Manual switch for level changes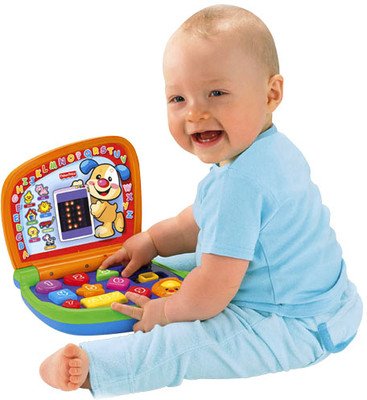 Click here to explore this product
4. Playskool Tumble n Twirl Assortment – This toy helps the baby to learn cause and effect. It has a tumble top and 4 colorful balls that spins as the top plunger is pushed. It has a plastic door that can be left open for the balls to tumble out. Baby will get plenty of exercise as the balls escape from the toy door. It is priced at INR 999 on online websites.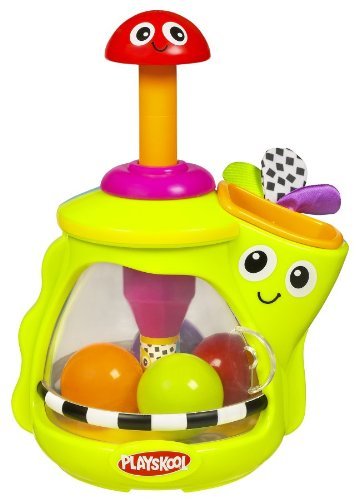 Click here to explore this product
5. Play N Pets – Pull Along My Cute Doggy Toy Yellow– Priced at INR 600-700, this cute pull along toy is ideal for growing toddlers. As your baby learns to crawl and walk he would love to play and carry along this toy. It has moving ears and wobbling foot.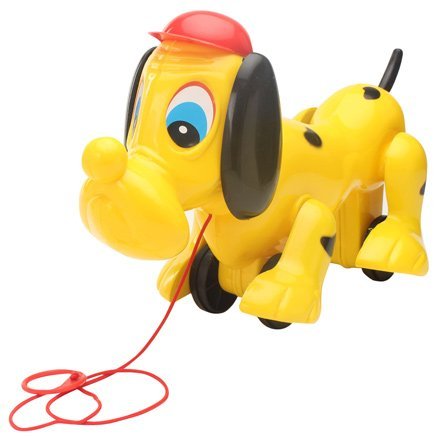 Click here to explore a similar product