R for Rabbit's, a trusted brand for baby products, is expanding its product portfolio with the launch of a new range of swaddles, blankets, washcloths, and hooded towels. This exclusive range of latest products will allow the brand's entrance into the baby clothing segment. The products manufactured by R for Rabbit use sustainable materials in the making process to maintain the baby's health and the balance of mother nature. In this upcoming bamboo fabric clothing range, the products contain bamboo as a primary substance in its composition. Therefore, this product range will be called the BambooBerry series.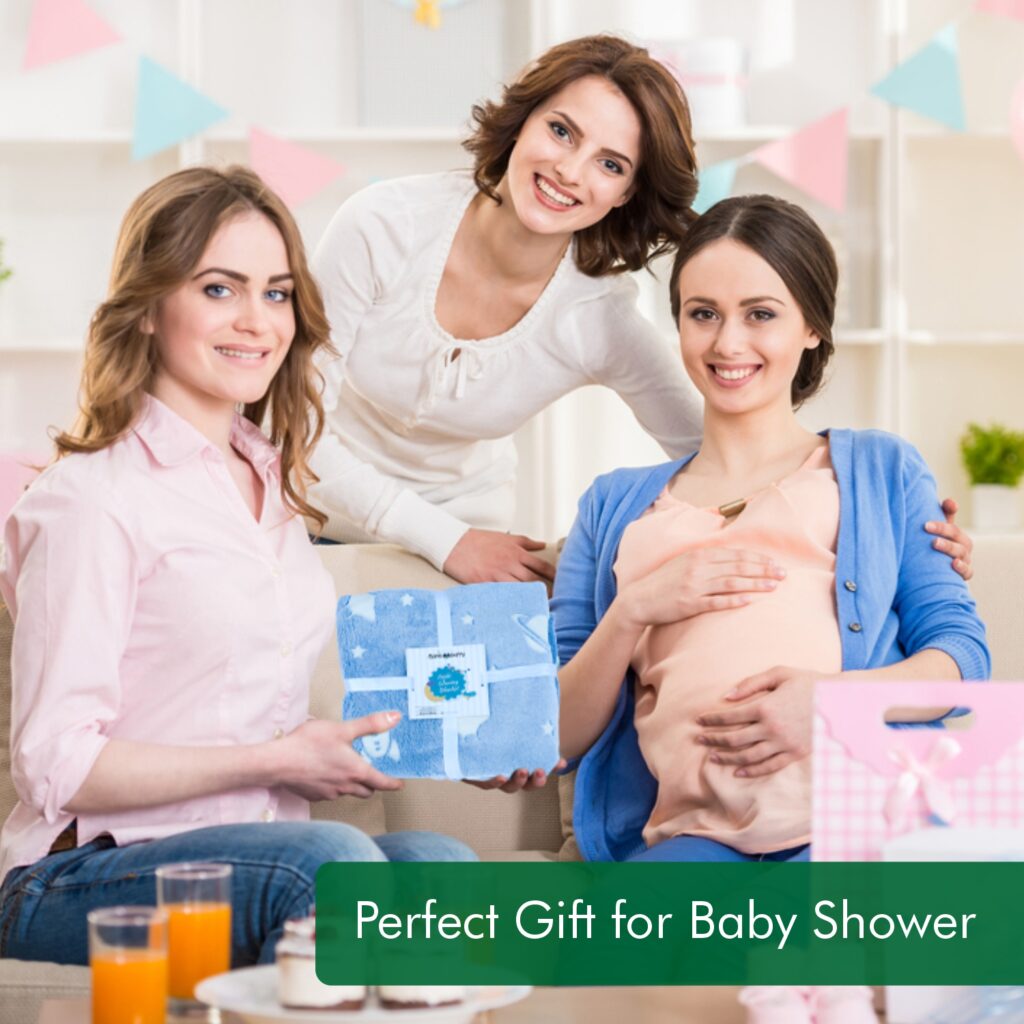 Advantages of Bamboo fabric clothing:
Regulates temperature: Bamboo is capable of regulating temperature and thus, makes the swaddle comfortable for use in different temperatures.
Prevents allergy: Being 100% organic material, bamboo prevents allergy.
Keeps away bacteria: The antibacterial properties of Bamboo keep harmful bacteria away from your children.
Extra soft quality: Bamboo gives an extra soft texture to the swaddle, making it comfortable.
Extremely breathable: The soft and smooth swaddle has enough room for the healthy breathing of babies so that they don't come across any discomfort.
Cozy texture: The washcloth made of bamboo has a cozy texture and feels pleasant on the baby's skin.
In addition to the already existing collection of products such as car seats, high chairs, bedding, feeding, diapers, etc., this forthcoming product series will help reach the brand's greater heights of success with a fresh wing of nursery and bathing products for infants.
Bambooberry Series collection:
1. Bambooberry's Baby Swaddle
The swaddles consist of 70% bamboo fiber and 30% cotton in their composition, offering them a comfy feeling like never before. Made of organic materials, these swaddles are breathable to suit an infant's sensitive skin. Also, these vibrant and uniquely designed swaddles compliment your baby's cuteness. These premium quality swaddles are created with two layers so that it is capable of providing baby comfort.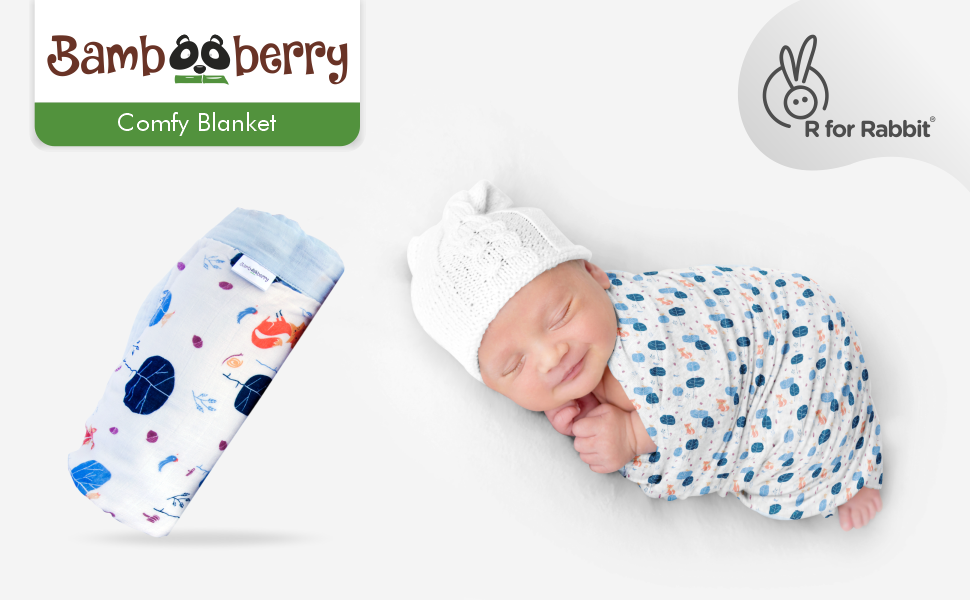 Swaddling plays an important role in getting calm and sound sleep for babies. Therefore, parents benefit from swaddling as it helps the baby to relax.
R for Rabbit has come up with three new varieties for swaddle:
1. Rainbow Swaddle (This variant comes in a pack of two)
2. Safar Swaddle
3. Alphabets Swaddle
Age group: 0-12 Months
Features of BambooBerry Swaddle | Bamboo Fabric Clothing:
Hypoallergenic: The swaddle is unlikely to cause allergies on the baby's skin as it is manufactured from organic materials.
Ultra-soft fabric: Due to the 70% bamboo and 30% absolute cotton fabric, the swaddles have a soft and cozy texture.
Quick drying: After washing, the swaddle dries up quickly, making it convenient for babies.
Skin friendly: As the swaddles are hypoallergenic and made of organic materials, they cause no harmful effect on your baby's sensitive skin.
Multipurpose: The double-layered swaddle can be used for different purposes such as swaddling, nurse covers, baby bed sheet, light-weight blanket, stroller covers, etc.
Large in size: This high-quality soft swaddle has a size of 120 cm X 120 cm, which is enough to swaddle babies, use it as a blanket during the daytime, and also for different purposes even after the newborn stage.
2. Bambooberry Baby Wash Cloth
Made from bamboo fiber, the washcloths are a perfect choice for giving a gentle and comfortable feel to your baby's skin. Due to its easily moisture-absorbing nature, the washcloth helps to keep your baby's skin dry without causing any negative impact. Even after several washes, this bamboo washcloth can maintain its premium quality. Also, a tiny hook is included in this washcloth for convenient hanging and drying purposes.
To suit the soft and delicate texture of babies' skin, you not only need chemical-free body lotions and creams, but fine-textured clothes to wash your baby's body after a bath. Bambooberry Soft Washcloth for babies comes in a pack of 5, which will look after your baby's skin while wiping off the delicate body parts.
Age group: 0-12 Months
Features of Bambooberry Baby Washcloth | Bamboo Fabric Clothing:
Made of pure bamboo: It allows your baby to embrace nature's goodness with 100% pure bamboo material.
Say goodbye to allergies: With this organically manufactured baby washcloth, you don't need to worry about your baby's skin allergies.
Used for different purposes: You can use this washcloth to wipe the baby's face after feeding. Also, sponge your baby's face, neck, and body with this. During mealtime, it can be used as a baby bib.
Great absorbing power: Having superior quality to the usual cotton cloth, the washcloth can quickly dry up your baby's skin within a few seconds.
Soft fabric: The ultra-soft nature of your washcloth's fabric complements the love and care of the mother and gives a smooth feeling on your baby's skin.
3. Bambooberry's Hooded Baby Towel
Manufactured from 100% bamboo fiber, the towel absorbs water from the baby's body quicker than cotton towels. Also, the hypoallergenic nature of the towel helps to maintain your baby's skin allergy-free. The vibrant and cute design of this baby towel matches the innocence of your baby. Besides making your baby's skin dry quickly, the towel is an ideal prop for a baby photoshoot due to its bear-faced hood. It is not only suitable to purchase for your babies but can also work as a gift for a baby shower.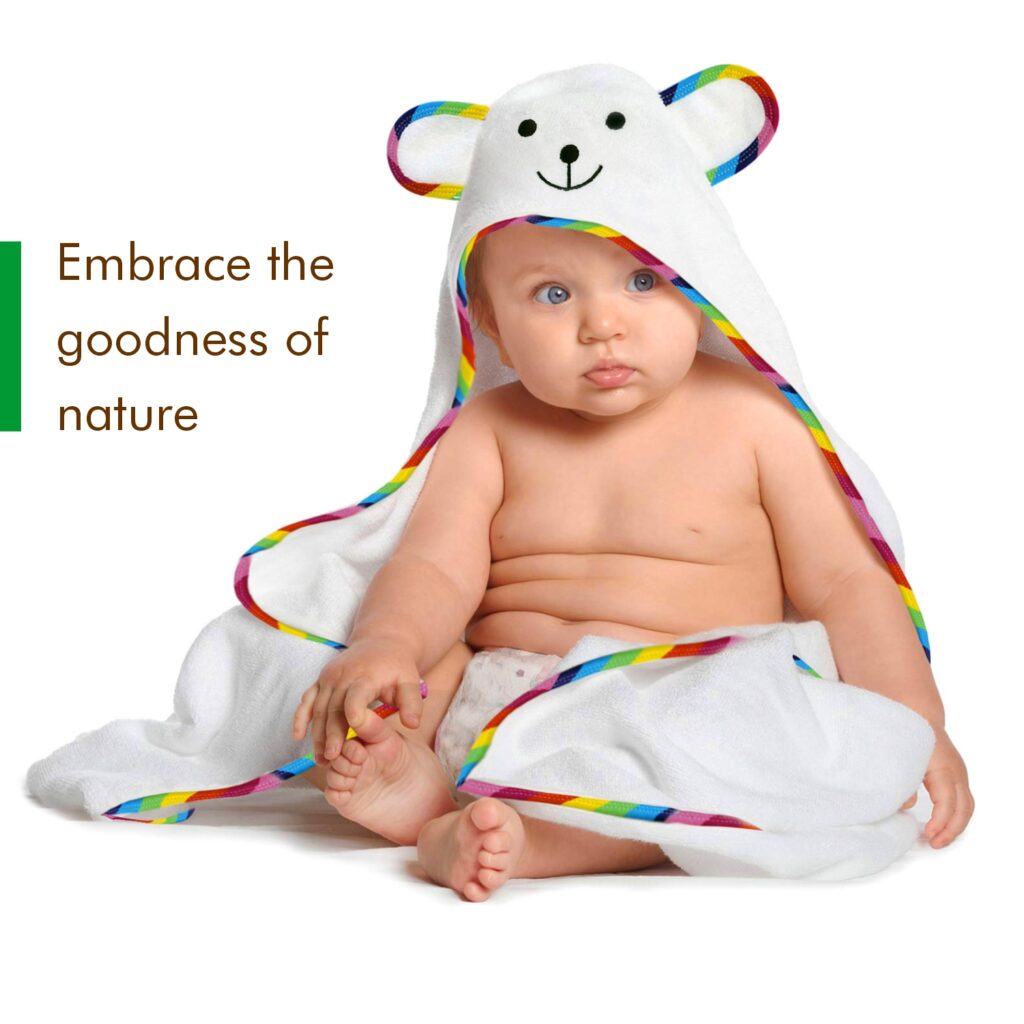 Once your baby is done with a refreshing bath, it is time to offer them the comfort of a soft and cozy towel. R for Rabbit Bamboo Berry Hooded Towel suits baby like nothing.
Age group: 0-6 years
Pure bamboo: The towel consists of 100% pure bamboo fiber as its manufacturing material.
Bear-faced hood for cute appearance: Your baby's cuteness is enhanced by the polar bear hood and he or she may pose for an after-shower photoshoot as well.
Say no to allergies: Due to its hypoallergenic and organic properties, the towel goes with a baby's sensitive skin type.
Feels smooth on skin: The hooded towel's soft texture is apt for the infant's delicate skin.
Extra soft: Compared to regular cotton towels, these towels are much softer.
Absorbing: It can absorb water from your baby's skin instantly due to the 500GSM thick material and latest technologies used in its manufacturing process.
Long-lasting: The towel will keep up its premium quality even after several machine washes.
Perfect gift: If you are looking for a gift for newborn babies, this hooded towel will work wonders.
Advantages of Bamboo:
Hypoallergenic: Bamboo is an organic material that prevents allergies on the skin.
Protects from bacteria: A healthy organic material like bamboo consists of antibacterial components which safeguard your baby from bacteria.
Soft and Breathable: Clothes made from bamboo possess a soft and breathable texture.
4. Bambooberry's range of cozy comfy blankets
Don't forget to check out the 'Glow in the dark' blanket, which is a soft blanket for kids with an adorable space design which glows in the dark and lets your child sleep in soft radiance of love and comfort. This blanket is made with 100% plush polyester providing an ultra-soft feel and comfort to the child. Glowing stars, spaceships, planets, moon and many cuter subtle glowing designs will surely make the child sleep and have sweet dreams.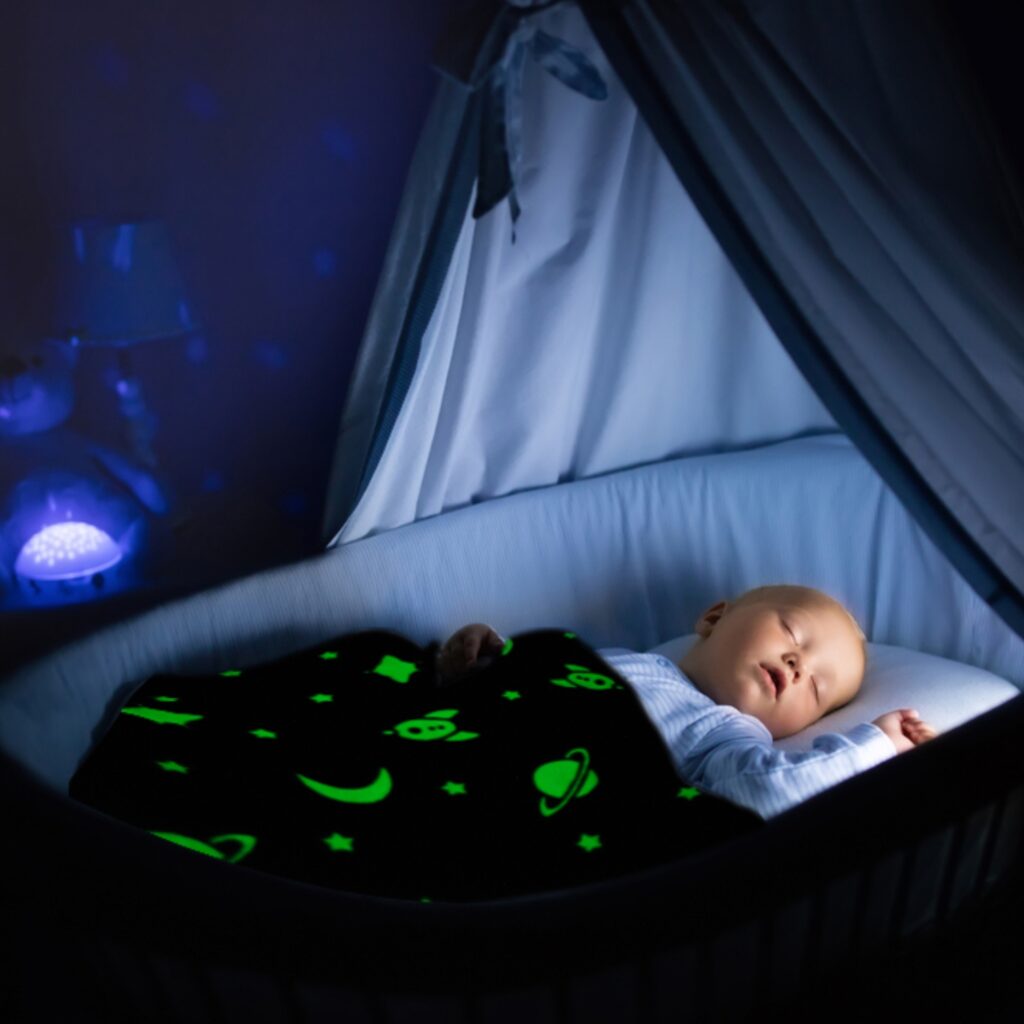 Age group: 0 -12 months
Features of Glow in the Dark Blanket:
Glows in dark: Night Glow blanket adds fantasy to your child's room with glowing space elements showering the room with their subtle radiance.
Space inspired design: Ultra-soft blanket with subtle color and space elements like the moon, planet, Stars, and spaceships will be a great choice for your little one.
Quality and comfort: Radiance is made with 100% fleece & giving a smooth, soft feel and adds even more comfort with its warmth for the little one.
Durable: This glowing blanket is comfortable & durable as it's resistant to shrinking, fading & shedding. You can wash it in a machine and tumble dry on a low setting.
Great for gifting: Spread joy by gifting this cute comfy blanket to little ones or to "Moms To Be" on their baby shower.
Conclusion:
R for Rabbit, which emerged as a baby brand to offer babies a healthy and comfortable ambiance, is well-received by the parents due to its innovative design, organic materials, and trusted services. The new Bambooberry series launched by R for Rabbit is a step toward the business' progress in the right direction complying with its ethics and principles.