Becoming a parent is not an easy task. The arrival of a baby brings happiness to parents and also alarms for changing dirty diapers nearly 5-8 times a day. It is not surprising to hear new mothers having concerns in selecting the diapers for newborn babies. Little ones can't express their feelings. They are innocent and it is up to parents to look over their needs. There exist several baby care products that are good to have, but feather diapers fall under the list of baby essentials.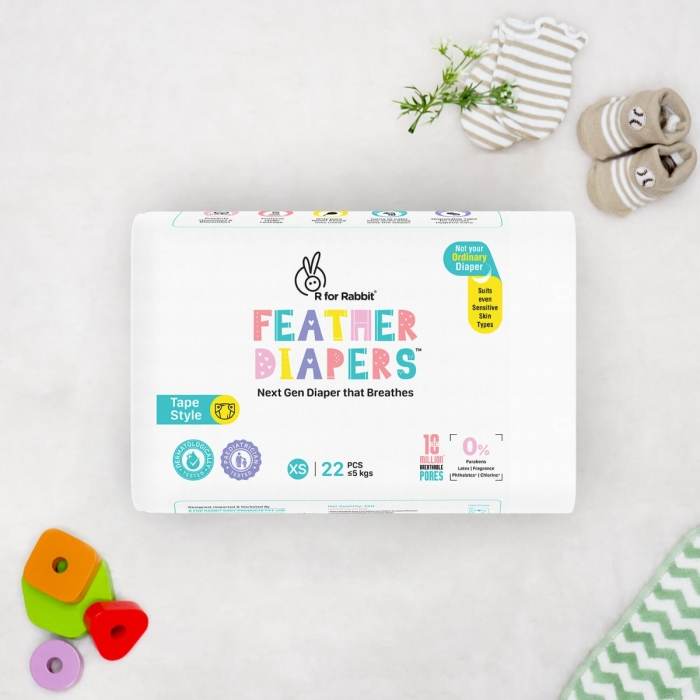 These diapers are leakproof and have 12 hours* of absorbency to make sure that your kid can enjoy them throughout the day. With so many types of diaper brands available on the market, selecting the best diaper for the newborn could be challenging. Mothers spend hours reading and knowing about the right selection of diapers for newborn babies. In case you are also finding it difficult to choose the best baby diaper for a newborn, here is our quick review on why you should go for R for Rabbit's new Feather Diapers for babies.
R for Rabbit's new Feather Diapers for babies have become the preferred choice of parents!
With a hundred different diapers brands in the market, see why and how R for Rabbit's feather diapers for babies stand out.
1. Extremely comfortable and safe
The diapers for newborn babies from R for Rabbit's new feather diapers range are unique in several ways. They are designed with pure water-based ink and are safe for kids. These feather diapers are free of parabens, phthalates, and chlorine; thus making them an excellent option for a rash-free experience. Also, these diapers have 10 Million* breathable pores that allow the air to easily pass through.
2. Easily disposable
Feather diapers are easily disposable. They come with a single strap and allow you to dispose off the diaper with utmost ease. The tape that comes in the feather diaper is also disposable. The range also has a diaper pail making the disposal easy and convenient. It is called Hygo-bin, which is lightweight and compact.
It consists of a leak-proof trash bag to maintain cleanliness. Additionally, this best diaper for a newborn comes with a carbon filter to keep the space stink-free. Place the Hygo-bin in the room, and you are all set to dispose off the diaper smoothly.
3. Thin and great absorbent
R for Rabbit Feather Diapers are the best diapers for newborns in India. They are light as feathers and have the highest level of absorption to prevent diapers from getting heavily soiled.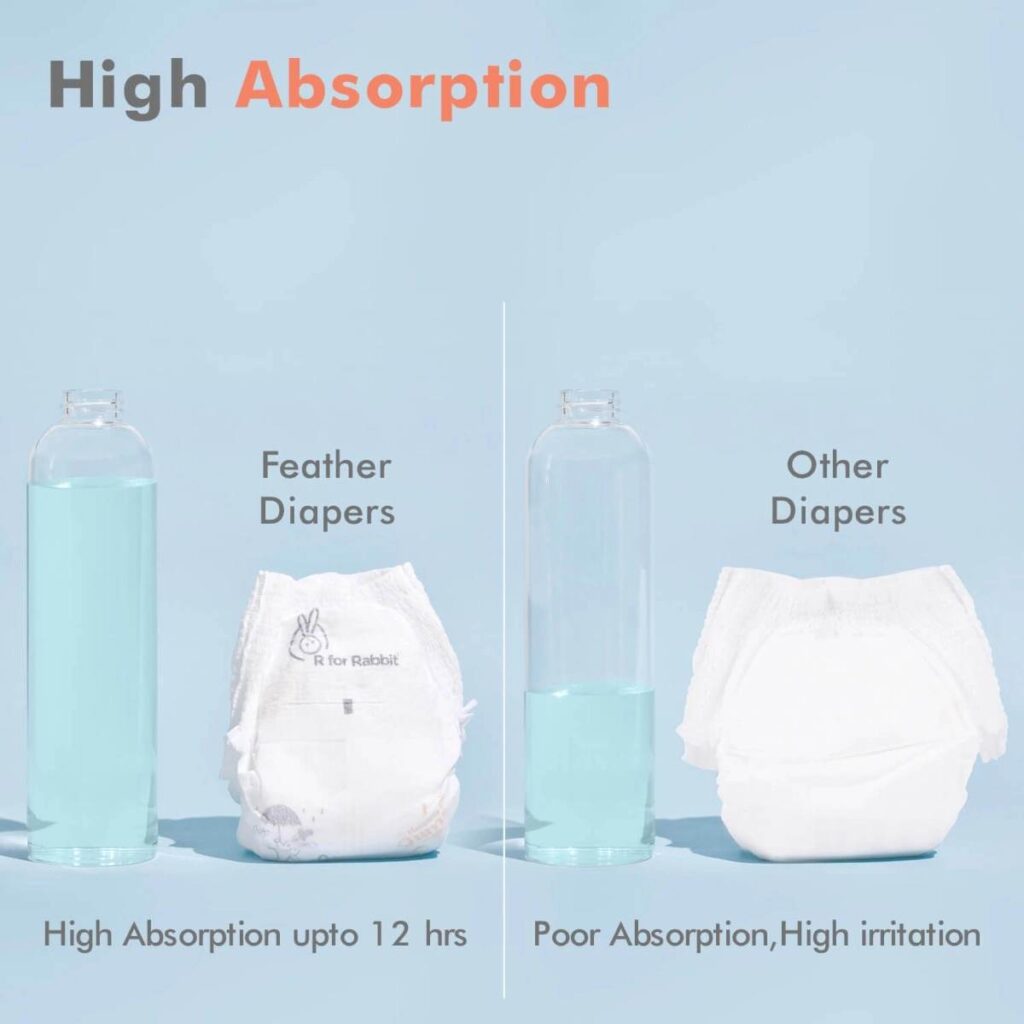 Unlike other diapers that are bulky and heavy, these baby diapers for newborns give flexibility to kids and double their fun and comfort. The liquid is evenly spread so that the diaper doesn't get heavy and make lumps.
4. Comes in all sizes
These best newborn diapers in India, come in myriads of sizes depending on the baby's weight. You can buy these feather diapers ranging from XS to XXL. You can buy diapers for babies weighing less than 5 kgs to up to 15 kgs. Therefore, it is recommended to get your little one weighed before purchasing diapers online or offline. You can also purchase these newborn diapers online and save up to 10% on every plan. The brand comes with subscription plans. The customers can subscribe to any plan for 15 or 30 days and get benefitted up to 10%. What's amazing is you can order a FREE SAMPLE from the website. Use code FREE SAMPLE and let your baby's skin fall in love with this finest diaper.
5. High waist and flexible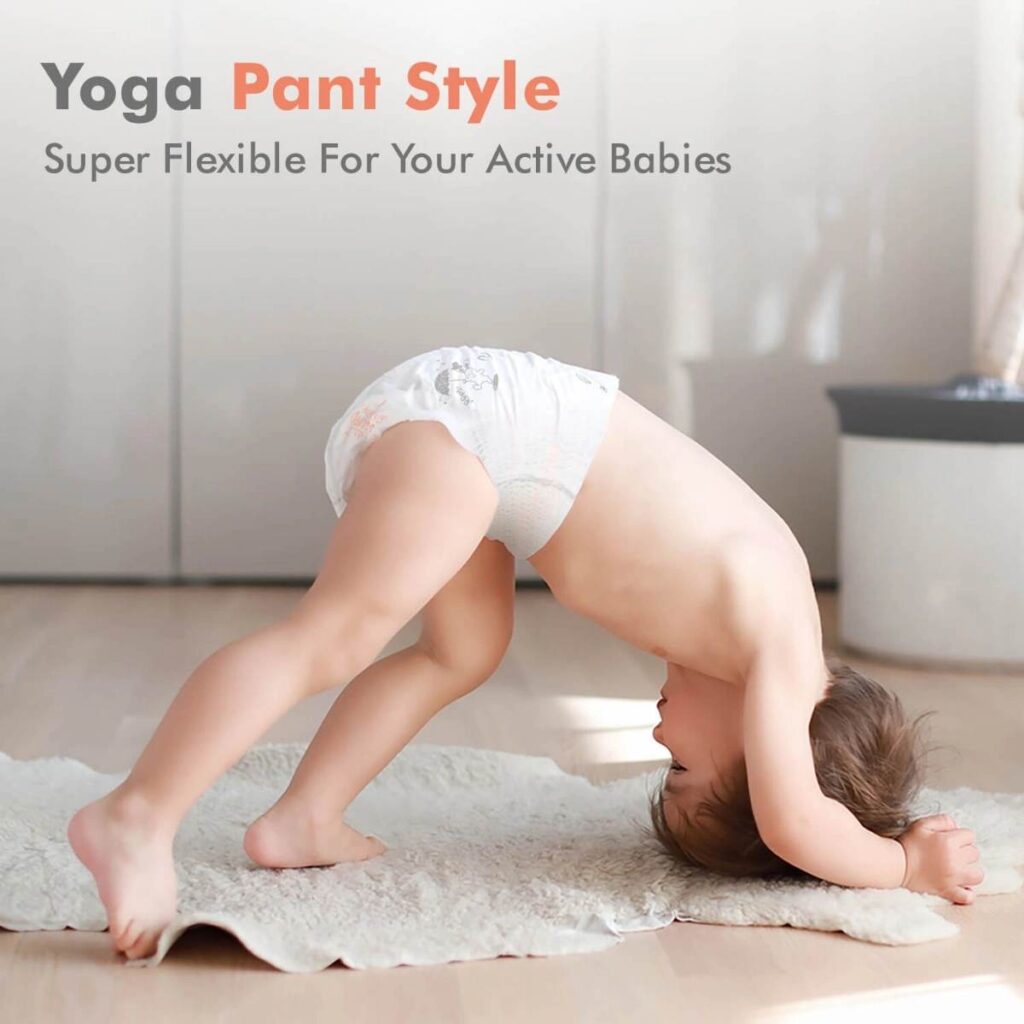 These diapers for newborn babies come in yoga pants style and offer full flexibility. Pant style diapers have a full-waist elastic and can be pulled up easily. They can be removed through the sides and disposed of using the disposal tape. Diaper pants are easy to change and stay firm even if the baby is active through the day555.
Different Feather Diapers offered by R for Rabbit:
1. Feather Tape-Style Diapers (XS) – Pack of 22, 44, 66- 495*/-
These feather diapers in tape-style come in the pack size of 22, 44 and 66 and are suitable for kids weighing up to 5kgs. They are not ordinary diapers and provide the solution to all your kid's diaper problems. They are dermatologically and paediatrician tested and are chemical-free, making them the best choice for newborn care.
Furthermore, they are leak-proof and have a wetness indicator that changes its colour to blue, indicating that the diaper's time is up and should be changed. Also, it is lightweight and thin and gives comfort to the baby throughout the day. You can purchase this newborn diaper online at a special price of 315*/- from R for Rabbit with free shipping.
2. Feather Pant-Style Diapers (S to XXL) – Starting from a pack of 26
These thin diapers come in various pack sizes, starting from a pack of 26 and are suitable for babies having up to 5-15 kgs. It is chemical-free and is suitable even for babies with sensitive skin. It has pores that keep the airflow going and avoid diaper rashes. Additionally, it has super absorbency to give baby flexibility and fun with uninterrupted sleep anytime. Liked the product, purchase it online at an affordable price starting from 693*/- with multiple payment options. You can also change the diaper size according to your baby's weight and size.
Final thoughts:
With over 1.5 million happy customers, R for Rabbit is referred to as the most amazing company that offers products like feather diapers with exceptional features. With so much trust from the customers, the company believes in the ethics of innovation, care, and most importantly safety.
Invest in your Baby's health, safety, and comfort; Invest in Feather Diapers from R for Rabbit!