Are you planning to give something to your dear ones at their baby shower or a birthday party? A gift is believed to be a token of love, and love for a little one is special because of their innocence. Selecting the perfect gift for a little one might be a daunting task, but R for Rabbit has made it easier for you. Wondering how? R for Rabbit offers a range of exciting gift combos worth expressing.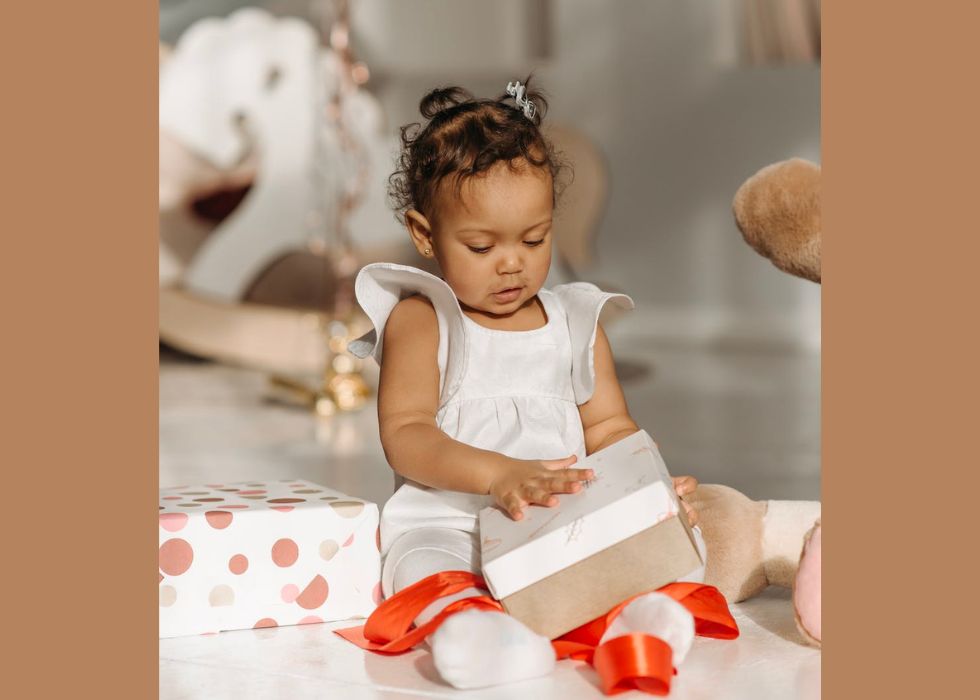 Right from feed easy box to baby care gift set, the brand has got you covered. These baby gift sets include products, like wipes, nibblers, baby bottles, sippers, grooming products, and a few other essential baby items. There are an array of products to choose from, so you might find it hard to select the ideal one for the loved kiddo.
But here, we have compiled a list of baby gift sets you can give on special occasions like birthdays or baby showers.
Why should you choose R for Rabbit baby gift sets?
So, what makes the R for Rabbit baby hamper special? If you are wondering the same thing, we are happy to answer your question. You should choose R for Rabbit gift combos for the following reasons.
1. Excellent packaging : As these are child products, the products are wrapped into super cute boxes.
2. Safe for children: All the products are BPA-free.
3. Free shipping: Irrespective of the amount of purchase, the shipping will be free.
4. Affordable price: Among all the products available in either the online or offline market, R for Rabbit offers the lowest price.
5. Customer support: Customer care support is available from 10 am to 6 pm from Monday to Saturday
Affordable baby gift sets by R for Rabbit
1. R for Rabbit Feed Easy Box Pack of 4 – Priced at INR *1139/-
This newborn gift set combo of 4 is the perfect gift to take proper care of a baby. The gift set contains feather aqua wipes, protector corner cushion guards, Baloo sipper, and protector socket cover guards. The Feather aqua wipes in the box prevent rashes in the child's body as they contain 98% of RO water. The feather wet wipes are soft and are rich in vitamin E and grapefruit seed extract. The Aloe Vera fragrance is also pleasant and soothingly intense.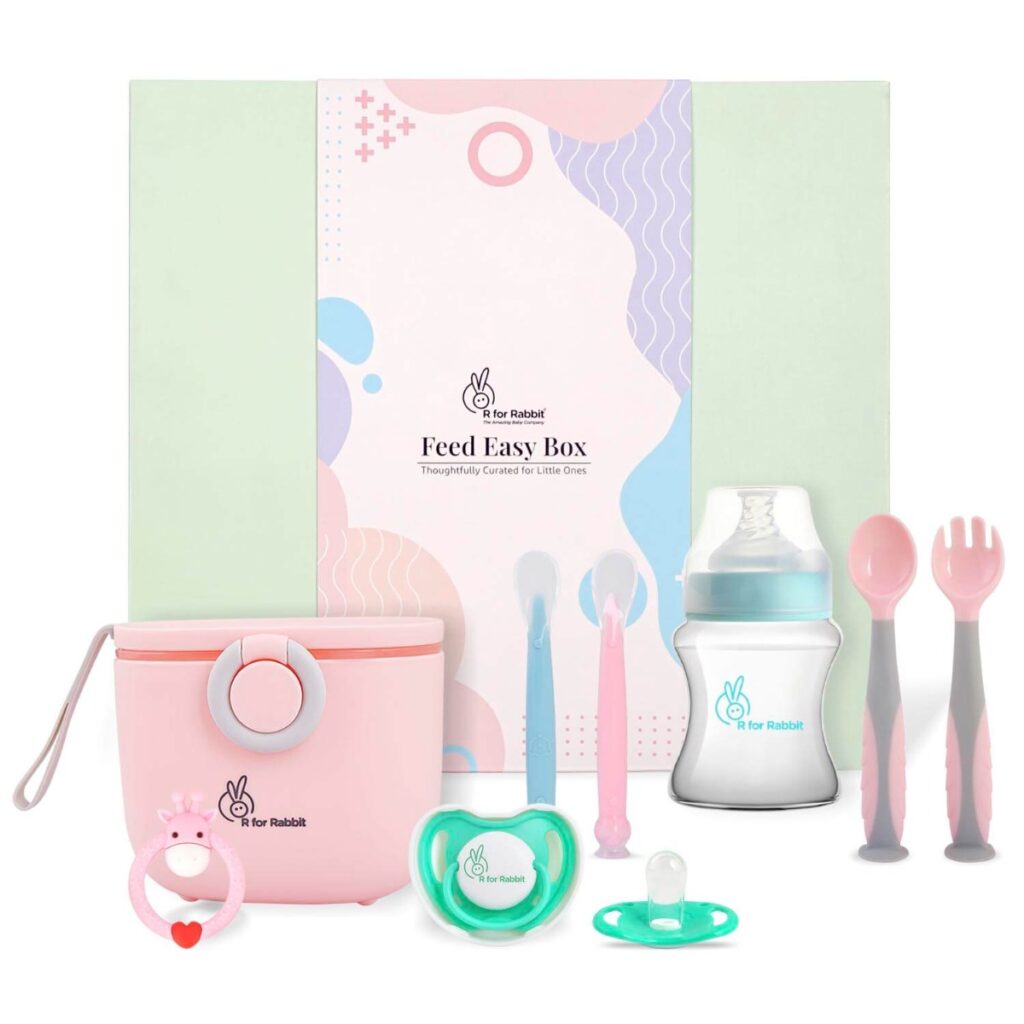 Sometimes babies bump their heads or other body parts on the sharp edges of the furniture in the house. To prevent this, use protector corner cushion guards. Another product in the gift set is the Baloo sipper. The sipper is made by using polypropylene and silicone that shows no harmful effects on a child's body. The handles are attached to the body of the bottle so that the baby can firmly hold the bottle. Moreover, the cap is designed to make the bottle spill-proof as children are known to be clumsy and can spill water while drinking.
Kids, especially boys don't always understand what's harmful to them, and one of the biggest fears that parents have is that their child will put fingers in the electrical sockets present in the house. So, this could be an excellent baby boy gift item set that contains 6 units of protector socket cover guards, which cover the sockets while keeping the aesthetic appeal intact.
2. R for Rabbit Baby Care Gift Box Pack of 3 – Priced at INR *1409/-
If you are searching for a gift for a baby girl, then this amazing baby care gift box pack of 3 should be your ideal choice. Cutting and grooming baby hair and nails can be a difficult task, but not when you have Stylo Hair N Nail Care Set with you. This set contains a hair brush, a comb, and a nail cutter. Parents can cut the nails and style the hair of their little ones safely and comfortably.
Babies usually find brushing their teeth irritating. As a parent, you need to maintain your kid's hygiene, and this newborn gift set could help you do that. Stylo Tooth Care Set contains both an infant toothbrush and toddler toothbrush with a gum stimulator.
This protector multi-safety kit contains corner cushion protectors, socket guards, finger pinch guards, cabinet lockers, and corner cushions for glass.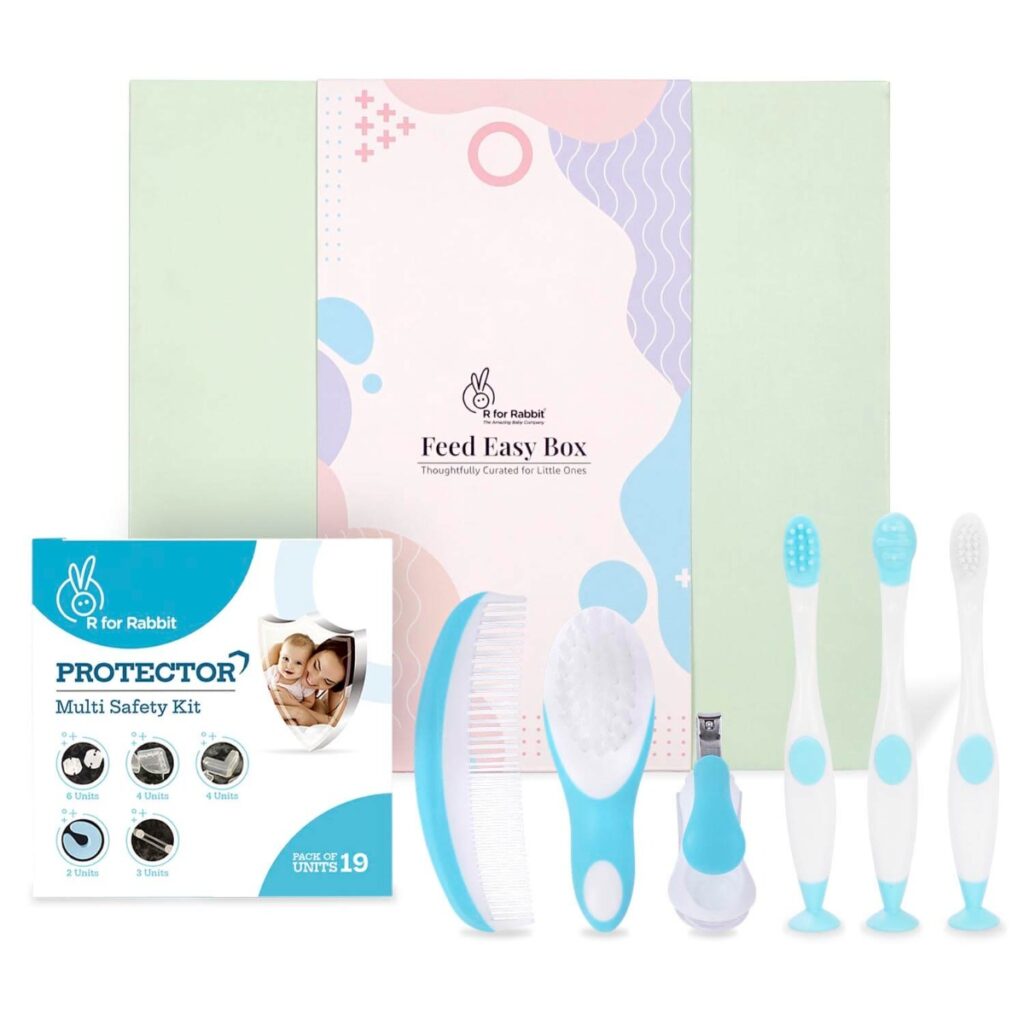 3. R for Rabbit Feed Easy Box Pack of 5 – Priced at INR *1449/-
Another baby gift set from R from Rabbit that makes grooming hassle-free and teething seamless is the feed box that contains a spout cup, pacifier, teether, nail care set, and tooth care set. The BFA free spout cup ensures a tight grip so that the baby can drink with ease. The Stylo Nail Care Kit contains a nail cutter, comb, and hairbrush, grooms your baby comfortably. Teether's soft edges and cute design engages babies and enhances their motor skills. The Apple Pacifier in the box has a soft silicone nipple and ensures 100% hygiene.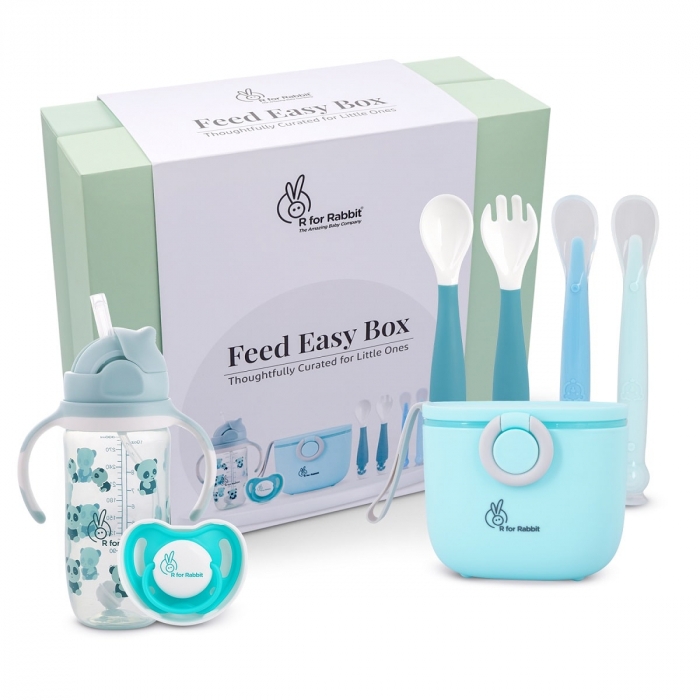 Conclusion:
You can make any celebration surrounding a baby more exciting by presenting that little munchkin with one of the baby gift sets from R for Rabbits. Show your love for your loved ones who are soon to be parents or just being blessed with a baby by gifting them any of the gifts mentioned in the above list. Explore their official website to know more about what they offer.