When you are welcoming a newborn into your house, all you need to ensure is that your little one feels comfortable in his or her new home. Cradle is where your little prince or princess spends most of the time of the day and especially during their good night's sleep. So, when you think of buying a newborn baby cradle, you need to do proper research and spend a considerable amount of money on that. R for Rabbit promises to design the best baby cradle automatic swing with safety certifications.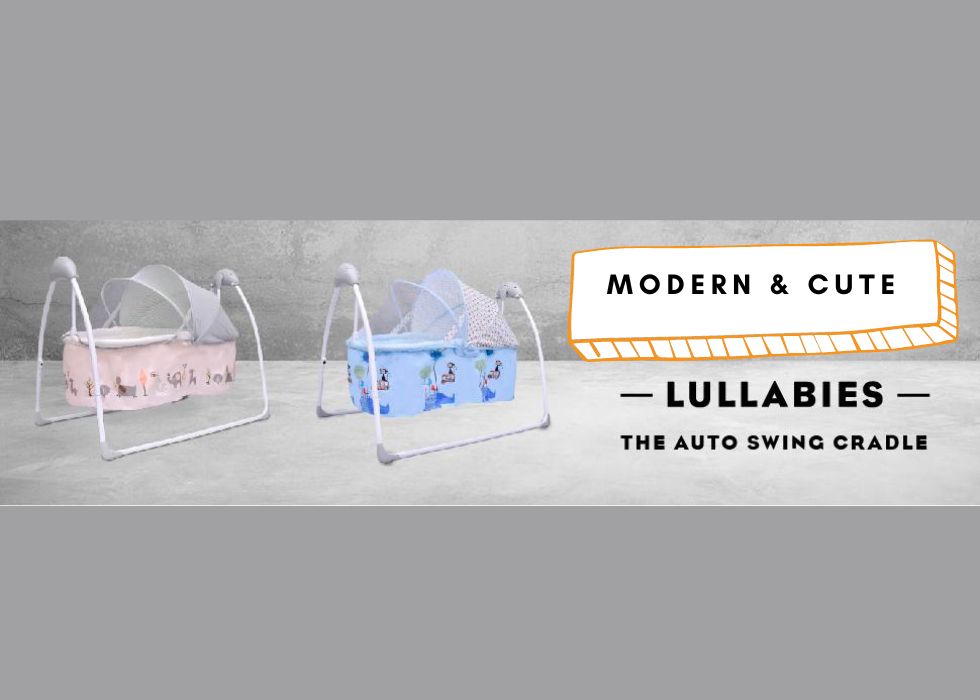 The baby cradles manufactured by the brand are safe and are designed in a way to make your baby sleep comfortably without getting disturbed. Let's find some of the best cradles for babies by R for Rabbit which you can purchase for your little one.
Why should you choose R for Rabbit baby cradle with automatic swing?
R for Rabbit designs automatic swinging cradles, which ensure balanced swing for a set period, and makes the parent's job easier, as the baby falls asleep without putting a lot of effort in the process. Besides that, its in-built speaker plays soothing music to help the baby sleep faster. If comfort is the first thing that you notice while purchasing something for your little champ, then you can assure that R for Rabbit cradles for babies are not only the safest ones, but also gives your baby the most comfortable sleeping experience.
Some of the best baby cradle automatic swings to choose from:
One of the essentials in the newborn checklist is the smart, and rather modern newborn baby cradle automatic swing, which is ideal for babies weighing 0 to 15 kgs, and for the age group 0 to 1.5 years. This is a swinging cradle, and it is certified by the EN. The product is designed considering every single aspect of safety in mind to make the sleeping experience of the baby peaceful. You would find it's canopy the cutest in the swing. A mosquito net is also attached to keep the baby safe from mosquito bites while sleeping.
Moreover, to give your child a cozy feeling, an extra cushion is there, which is designed with fabulous-looking fabric. Both automatic and manual swing mechanisms are there in this cradle with a 5-speed motor, which makes this lullabies swing the most balanced one there in the market. In case you don't require the swing anymore you can lock it. Furthermore, the swing is well balanced, and you can control the timing of the swing with just a tap of your finger.
You can set the timer as per your needs as the timer can be set for 15, 30, or 60 minutes, and it automatically turns off after the set period due to the presence of smart on/off technology. When you want your baby to fall asleep, you can turn the music on. There are a total of 18 tunes and 6 nature calming music that play till your baby falls asleep. What's amazing is you can also control the volume at your convenience.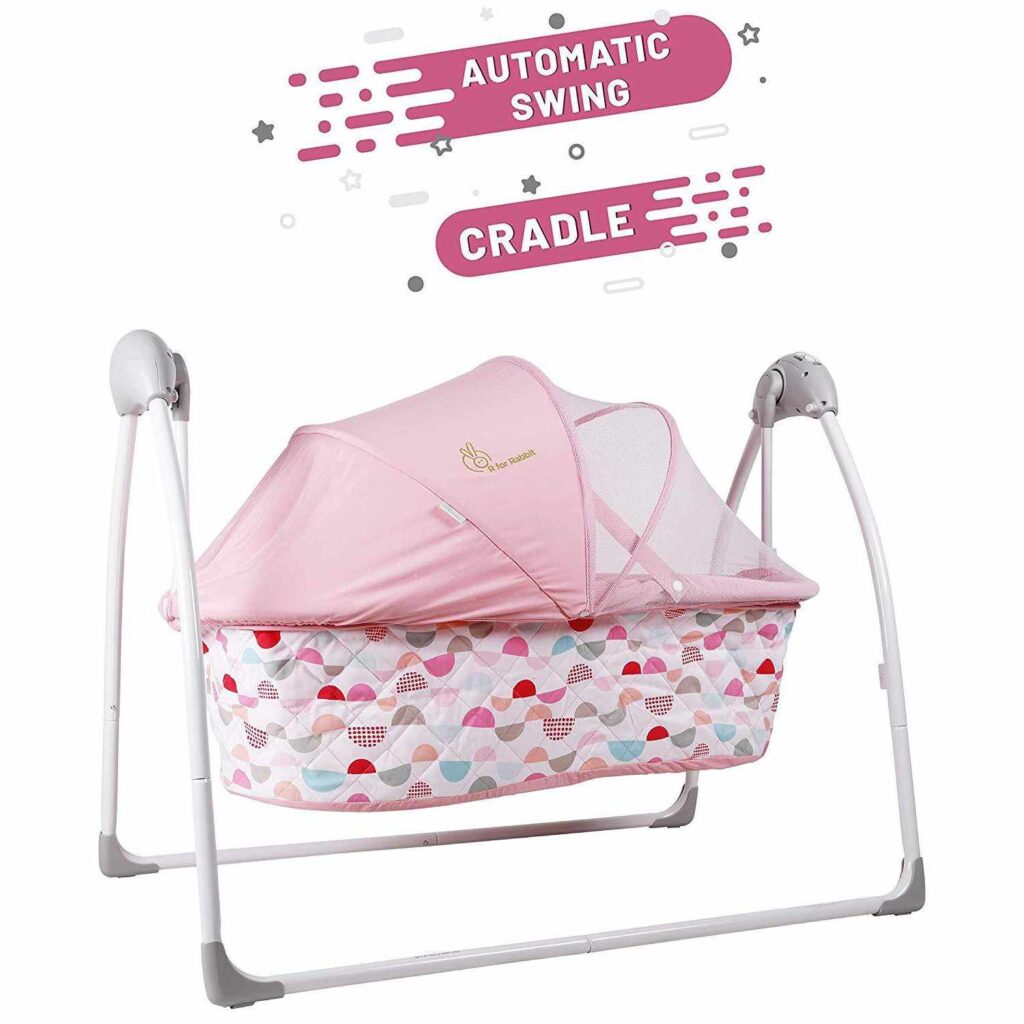 If you want your child to have everything when he or she is in a cradle, then this rocking cradle for the baby is exactly what you need. Your baby can enjoy music while having a cozy swing. This innovative product is safe and can make your baby's experience enjoyable. You can control the serene music and the swing even from a little distance. When you are not using the swing, you can easily fold it for convenient storage and can take it anywhere.
The harness is completely safe and EN16232 certified. The hands-free swinging comes with a 5-speed control setting. To make the swing time with your baby more enjoyable a toy bar is also attached to the swing. The hanging toys are easily accessible for your baby while swinging.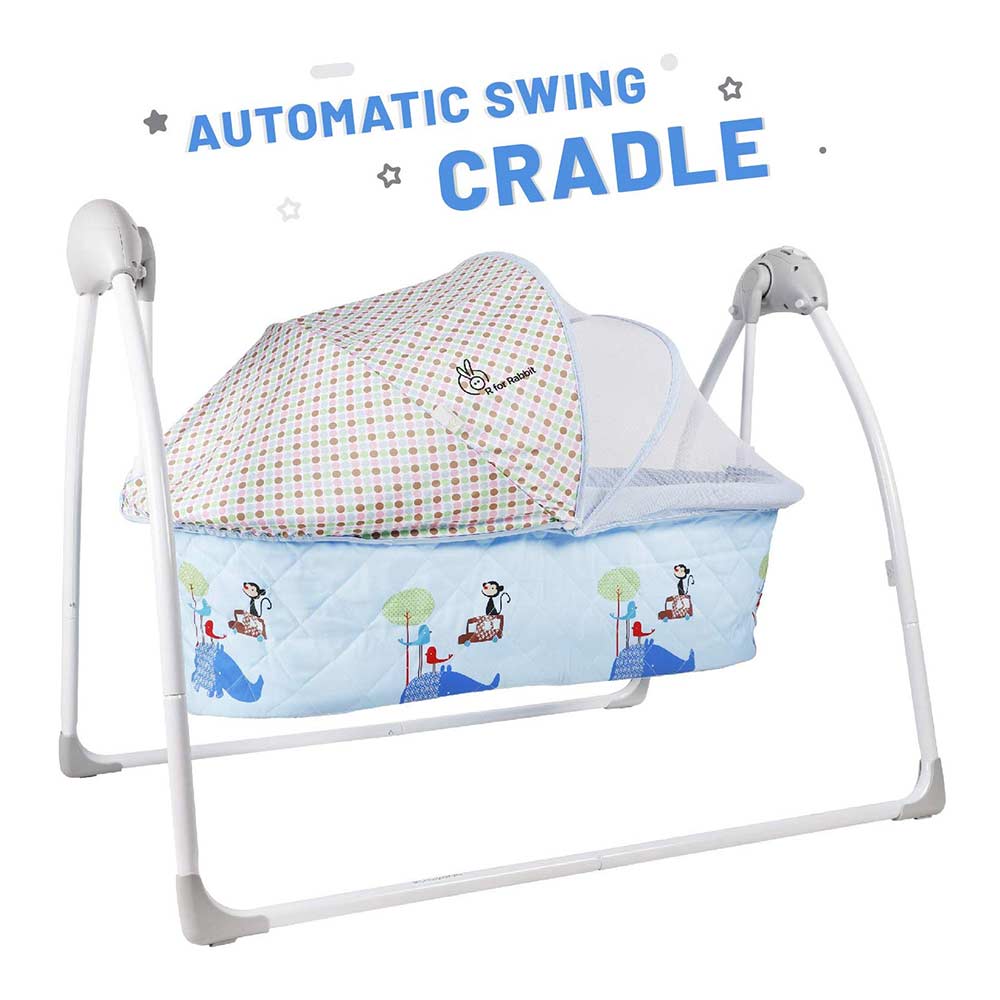 3. R for Rabbit Cocoon Swing (Grey): Priced at INR 9999/-*
If you don't want your baby to miss a comfortable hand while sleeping, then among all the cradles for babies, this auto baby swing could be a perfect choice for you. You can ensure that your baby is comfortable in the cradle while you perform daily household chores or want to take a break from everything.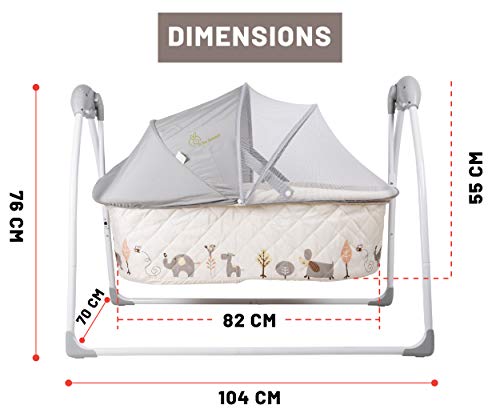 There are a total of 5 levels of speed that can be controlled by a remote. Besides this, there are 16 tunes and 5 sounds of nature which you can play with the same remote while your baby is in the cradle. Also, you can pre-set the time to determine how long you want the cradle to swing using its auto-cut timer feature. Through this feature, the cradle stops swinging automatically after the set time. This baby cradle automatic swing guarantees comfort, and your baby would have an uninterrupted sleep due to the presence of the high-quality fabric that is used in the making. The fabric is washable, so you need not have to worry about stains. A mosquito net is also attached to make your baby's sleep pleasurable.
Conclusion:
You won't believe it, but how well your baby sleeps directly affects how his or her brain is going to be shaped in the future. To ensure that your baby's sleep is comfortable and uninterrupted, purchase the best baby cradle automatic swing right now. Buy the cradle online directly from the R for Rabbit's website and make your and your baby's resting time peaceful.
So what are you waiting for? Hurry up and pick the best newborn baby cradle for your bundle of joy!