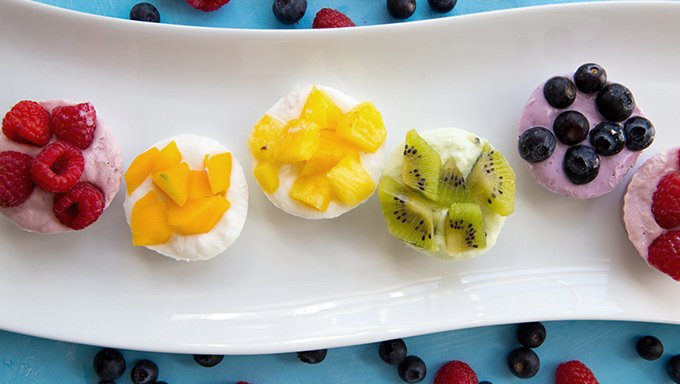 Snacking and kids go hand-in-hand. But, not all snacks can be good for kids' health. So for that extra energy boost, include a nutritious and delicious snack in your kid's daily diet chart. Pack it for school as a healthy snack for kids (over and above the regular lunch tiffin) so that they can have it on their way to school or serve it in the evening as soon as they wake up from their afternoon nap time. These are unbelievably easy and finger-licking good food recipes.
2 Easy and healthy snacks for kids:
Our kids get bored easily when it comes to healthy food, Hence we need to experiment often with food. Take a look at 2 wonderfully nutritious and easy healthy kids snacks recipes for kids! These mini-meal-snacks are high on everything that your child needs 🙂
Just remember: As a parent, you have got the power to make easy homemade snacks. So, here are 2 wonderful healthy delicious snacks that are neither too sugary nor too salty. Try them out today and tell us how was your experience! Mommas and daddies, toss out the junk food and make your kids' snack time fun and healthy again 🙂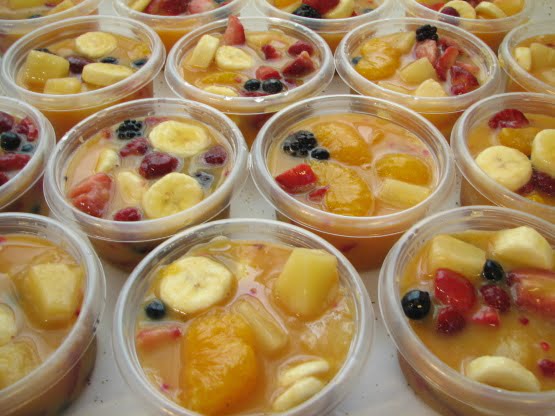 Frozen Fruity Cup Recipe
Ingredients
2

cups

Frozen peaches

fresh, chopped into large chunks

2

Oranges

fresh, drained

1

Mango

fresh, chopped2 cups of strawberries (fresh and diced)

A few chunks of pineapple

from the can or fresh, drained

4

Medium firm bananas

chopped into chunks

1

Small cup of pineapple-orange juice concentrate

thawed

Some lemon juice
Instructions
Mix all the fruits, that is the peaches, oranges, pineapple, mangoes, strawberries, bananas, juice concentrate and lemon juice in a bowl and mix until combined.

Place in small disposable plastic cups or cute little mason jars and cover with plastic wrap or foil. Freeze until firm. Remove from the freezer 45 minutes before serving. The extra bit can be saved for later as a special treat or a reward 😉
Notes
Tip: Add a few leaves of mint and a cherry for garnishing. A decorative feeding spoon by the side can add humor!
You are a lucky parent if your kids love corn. It is one of the most nutritious food item ideal for kids. Toss it in a salad and let them enjoy this yummy juice salad.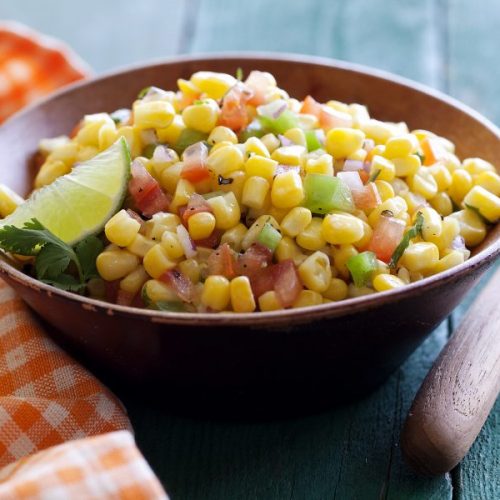 Corn Salad Snack Recipe 
Ingredients
4

ears corn

1

red onion

chopped

1 to

mato

chopped

1/2

cup

cucumber

chopped, optional

1

green bell pepper

cut into small dice

1

red bell pepper

cut into small dice

Handful fresh cilantro

finely chopped

2 to 3

tablespoons

extra-virgin olive oil

Some lemon juice

Rock salt and freshly ground black pepper
Instructions
Shave the corn off the cob, wash it and boil it for 10 minutes.

Now, drain off the water and let is cool by placing it in a bowl.

Add the onions, bell peppers, tomato, cucumber, and cilantro for a good mix. In a separate bowl, whisk together the olive oil, lime juice and a pinch of salt and pepper.

Dress the corn with the mixture, adding additional salt and pepper if required.
Notes
Tip: You can replace the corn with kidney beans (boiled) and add a spoon of mayo for a yummy bean salad!
We hope you loved this easy and healthy snack recipes. For more easy and nutritious recipe ideas, check out our recipe posts. Do you know any unique and easy recipe ideas. If so, share them in the comments below.
Disclaimer: If you have any doubts related to specific food allergies, please do consult your pediatrician before introducing these easy healthy snacks to your child.