Sabudana Khichri is made from tapioca pearls- shiny, healthy and vegetarian! Sabudana is high in calcium, magnesium, and iron which helps in making your little one's bones strong. It also is an awesome weight gaining food. If you have been looking for an easy recipe and asking yourself how to make Sabudana Khichri then wait no more! This gluten-free food is popular across India and more so during the fasting season of Navratri because it doesn't require garlic and onion. But, you don't need the fasting season to motivate you. This is an ideal tiffin, snack or lunch option for your kids and the entire family.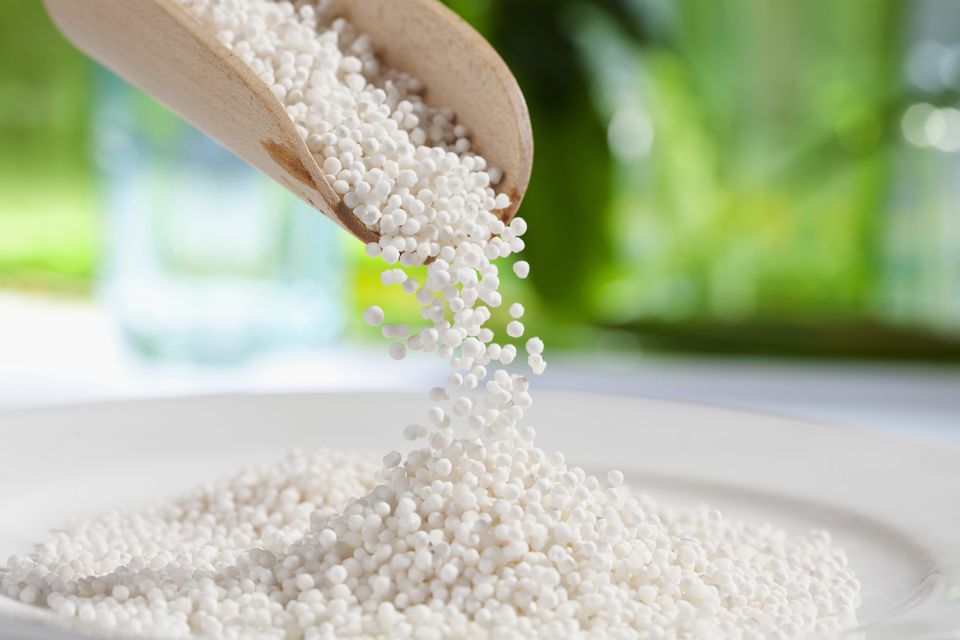 This Sabudana Khichri is tasty, healthy and easy-to-make. For children, you need not put chilies, but if it's to be savored by adults, feel free to make it spicy!
One more thing! I have often seen a lot of mums come back saying the recipe comes out very sticky or clump-y. All I can say is that you got to practice enough to ensure it comes out perfect.
Now, make Sabudana Khichri under 10 minutes. Here's How: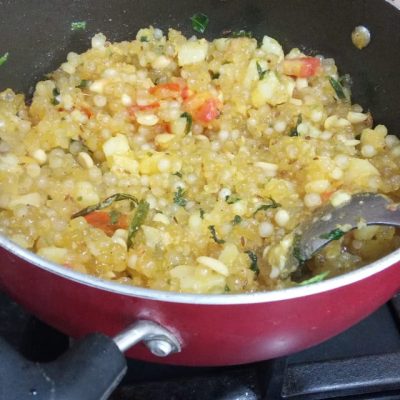 Sabutdana Khichri
Sabudana Khichri is made from tapioca pearls - shiny, healthy and vegetarian. It is high in calcium, magnesium, and iron which helps in making your little one's bones strong.
Ingredients
1

cup

Sabudana

1

cup

Water

1

tbsp

Ghee (Clarified Butter)

or use oil of choice

½

tsp

Jeera (Cumin seeds)

1

small

Potato (diced)

1

small

Tomato (diced)

Handful

Peanuts

(avoid if kids have peanut allergy)

3-4

pcs

Curry leaves

½

tsp

Table Salt

½

pc

Lemon

(to squeeze on top)

1

tbsp

Cilantro

(finely chopped for garnishing)
Instructions
A night before the preparation of Sabudana Khichri: Rinse Sabudana in a utensil underwater. This is done to get rid of all the starch.

Rinsed Sabudana to be transferred to a bowl and add cup water to it and cover it with a lid. Soak it overnight.

The next morning, the Sabudana would have soaked up all the water and it would look like white swollen and puffy beads. Drain out any extra water still left in the bowl.

Smash test: Please press Sabudana pearl between your thumb and index finger to see if it's soft enough to be cooked. If it feels hard, add some more water and soak it for another couple of hours. If it's smashing easily, it's ready to be cooked.

Heat ghee in a frying pan on medium heat. Once the ghee is hot, add the cumin seeds and let them sizzle before they turn black and add the diced-peeled potatoes as well as de-seeded tomato chunks and cook for 3-4 minutes stirring often until potatoes are soft.

Add the raw peanuts and for another 2-3 minutes.

Add curry leaves and cook for half a minute.

Add the drained Sabudana to the pan along with salt (according to taste) and mix well until well combined.

Cook for few more minutes until most of the Sabudana pearls are shining and do not over stir that it gets super-mashed. Now add lemon juice and cilantro and toss to combine.
Sabudana khichri is ready!
Pro-tip: Diced potatoes cook easily. Looking to make yummy, innovative recipes using potatoes? Click here!