The year 2020 has supposedly resolved to undo human civilization. The shivering December month with the chilling winds is proof enough. Harrowing nights make us wish that the day would never end. One such night as I lay shivering under my blanket, unable to sleep, I decided it was enough. Something needed to be done to avoid ending up as a zombie by the end of the month. Since I couldn't control the temperature outside, increasing my body heat was a better option. I thought, 'Were there any tips to say warm naturally?' Incessant internet search left me confused. There was too much information. Which ones should I follow? Which food for winter season would suffice? Any interesting winter recipes I could rustle up easily in my kitchen?
Food for winter season – Tips to stay warm:
A conversation with a friend brought to the table, the idea of taking a nutritionist's help. Recommendations from a certified and credible nutritionist about the winter fruits and vegetables seemed the best option. After all, the right food is the best medicine. So to get a fair idea about food for winter season and winter recipes, I spoke to nutritionist Harini Balasubramanium. And here are her valuable tips on food for winter season with two mouthwatering winter recipes.
1. Jaggery – a superfood for winter season
This was my silent prayer answered, it seems. I have a sweet tooth and I hunt for sweets or maybe compete with kids for having more cravings for sweets. So when I was enlightened of the nutritional benefits of jaggery and how it helps in keeping the body warm, I was elated.
Yes, jaggery is a powerhouse of vitamins and minerals. It is rich in phosphorous, magnesium, iron, and potassium. Consumption of jaggery in winters helps in generating heat in the body. This winter food keeps you warm inside out.
Eat it raw, in halwas, or peanut brittle aka chikkis, till laddoos. Oh! the options are many. Apart from being the ideal ingredient for winter recipes, jaggery aids in relieving cough, if taken with fresh ginger. Furthermore, a bite of jaggery after some spicy food keeps acidity at bay. In short, more than food for winter season, it is a medicine too.
2. Root vegetables – Nature's bounty in winters
Come winters and the mind churns up visuals of piping hot gajar ka halwa and aloo parathas loaded with butter. So when Harini told me root vegetables are a good source of heat in the body, I was amused. Root vegetables take longer to get digested in the body. In that process, it generates a lot of heat in the body. Carrots, potatoes, radish, onion, ginger, and garlic belong to this list. Leafy delights like Sarson ka saag, methi, and spinach are good heat generators and must be a part of the food for winter season, she stressed. It's time to brush up my memory for winter recipes with root vegetables.
3. Ghee – Nourishment to the core
Ghee is a winter essential. It can be used unapologetically to keep the body warm naturally. It is a non-saturated fat and contains lauric acid, which is a powerful antimicrobial and antifungal substance. Add ghee to any of your spicy food, or mouth-watering sweet winter recipes, for an energy boost and body warmth. A spoonful of ghee will enhance the taste of any food for winter season.
4. Dried fruits – Indulge your sweet tooth without guilt
Figs and dates are rich in calcium and iron. Both of these enhance our body temperature. Eat them raw, add them to delicious halwas or a glass of hot milk. Make them a regular ingredient in food for winter season as an easy snack or to satiate your sweet tooth any time of the day. Additionally, add them as toppings to your winter recipes.
5. Bananas – Powerhouse of nutrients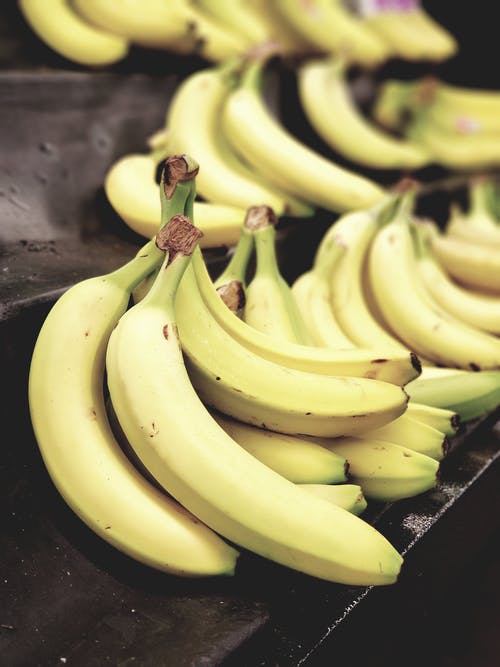 The thyroid and adrenal glands help in regulating body temperature. Hence their proper functioning is important. Eating one banana daily provides the necessary nutrients that aid in their functioning. Bananas are loaded with Vitamin B and magnesium. Easy to consume and found in almost every household, bananas aid in keeping your winter blues at bay. Make this a part of your food for winter season by adding them to your sweet winter recipes.
Two winter recipes to make yourself warm:
The tips I got were not only enough to generate body heat, but could easily gratify my taste buds. Now that I know what fuel is needed for the body, two recipes have shot up on my list of winter recipes. One is spicy food recipe and the other, a sweet one. If you are looking for healthy food for winter season, here are the recipes from TCT.
1. Sarson Ka Saag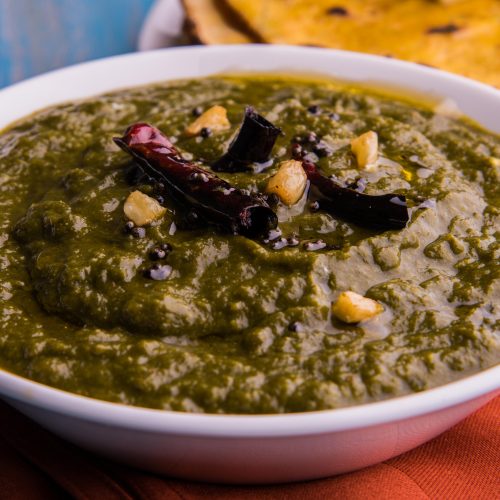 Sarson Ka Saag
The mouth watering punjabi Sarson ka Saag for winter season.
Ingredients
4

bunches

Sarson ka saag ( mustard leaves)

1½

bunches

Spinach leaves

1

bunch

Bathua (lamb's quarters or goosefoot)

1½

tbsp

Makka atta (Makka flour)

3

tsp

Grated jaggery (gud)

1

small

Ginger

2

tbsp

Pure ghee

1

Onion

finely chopped

2

Tomatoes

finely chopped

6

cloves

Garlic

2

Green chillies (slit)

1

tsp

Roasted cumin powder

½

tsp

Red chilli powder

Salt

As per taste

Ginger julienne

For garnishing
Instructions
Clean the sarson ka saag, spinach, and bathua. Wash each separately and thoroughly in running water. Discard the hard stems. Roughly shred the leaves while finely slice the stems. Further, wash and finely chop the green chilies. Cut half of the ginger into juliennes and roughly chop the other half. Chop the onion and the garlic finely.

Take a heavy-bottomed pan, and cook mustard leaves, spinach, and bathua. Add chopped ginger, salt, and water. Let it boil until the leaves become tender. Do not cover the pan. Strain the excess fluid and keep it. Puree the leaves in a blender. Now transfer this puree to a heavy-bottomed pan. Add red chilli powder, makka atta, chopped green chillies, and grated jaggery. Mix well. Put it on low flame. Stir occasionally and add the strained liquid. Cook for thirty minutes. Add the seasonings according to your taste. In the meantime, take another pan.

Add ghee, once it melts, temper the mustards and saute the chopped onions till they are translucent. Add garlic and stir. Then add green chillies, cumin powder, and red chilli powder. (increase the quantity if you love spicy food). Saute over low heat. Add chopped tomatoes. Add this tempering in the Sarson ka saag.

Stir for a couple of minutes. Serve with ginger juliennes and garam masala sprinkled over it. Serve this special winter recipe with makke ki roti, white butter and jaggery. Each ingredient of this sumptuous meal is packed with nutrition. Enjoy this food for winter season on cold afternoons or chilly nights. And rest assured, this spicy food is one winter recipe that will also heat your body naturally.
2. Peanut brittle aka Chikki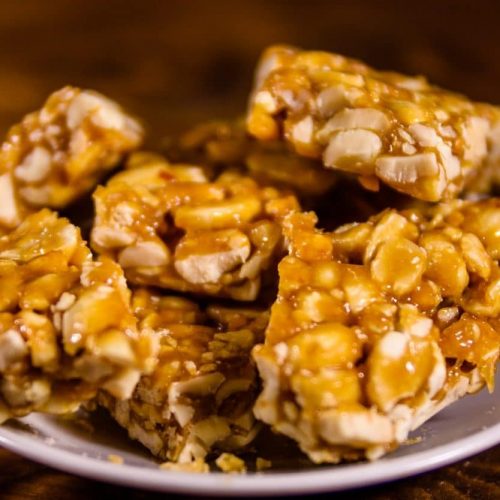 Peanut brittle aka Chikki
Tired of keeping your little ones off chocolates and sugary stuff? Then prepare this healthy and nutritious peanut brittle aka chikki at home. a little indulgence from time to time in this easy to make food, packed with nutrients, will benefit you. Make peanut brittle aka chikki a must-have in your list of food for winter season.
Ingredients
1¼

cup

Roasted peanuts

1

cup

Jaggery

1

tsp

Desi ghee
Instructions
Take ghee in a heavy-bottomed pan. Add the finely chopped jaggery once the ghee melts. Stir continuously for 4-5 minutes till it melts completely. Cook it till it becomes a dark colour and forms a ball-like structure. To check the consistency of jaggery, add a few drops in a bowl of water. If it develops into a solid ball then it is done, but if it stretches cook again for some time. Once you are satisfied with the consistency, turn off the gas. Add the roasted peanuts and mix well. The peanuts should be well coated with the jaggery mix. Pour this quickly in a pre-greased board and roll out evenly. After it has cooled down completely, cut into pieces.
Store the peanut brittle aka chikki in an airtight container and reserve the food for winter season. While you are at it, did you know that Jan 26th is the National peanut brittle day?
These two recipes are easy to make food rich in nutrients, that could keep you warm through the winters. Any other food for winter season or healthy winter recipes you will like to share? Do write to us.