There is nothing more comforting than either a hot cup of coffee or a perfect vegetable soup. While kids cannot have coffee, homemade vegetable soups are the best option for them. Soups are nutritionally dense and loaded with vitamins and minerals. They are beneficial and a tasty way to introduce certain veggies to your kids. So, you are sorted if your fussy eater toddler has just had a bowl of soup for his/her meal. Vegetable soups are also helpful in regulating the internal body temperature by keeping it warm and providing comfort especially in colder months of the year. Homemade soups are especially good for babies as they are free from preservatives and are generally high on good fat content. Potato soup recipes are the most desirable ones among the vegetable soups.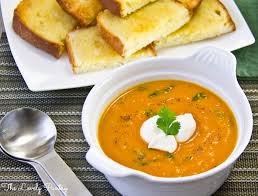 Who doesn't love potatoes? Potatoes are considered one of the top comfort foods in the entire world. Potatoes are an excellent source of vitamin B6, potassium, copper, vitamin C, manganese, phosphorus, niacin, dietary fiber, and pantothenic acid. Kids love potatoes over any other vegetable in this world. So why not introduce them in soups as well, and even make the soup tastier?
Here are our recipes for 3 homemade potato soup:
The Champa Tree has researched and collated three recipes:- 1. Carrot and potato soup 2. Potato and Onion Soup and 3. Potato Peanut Soup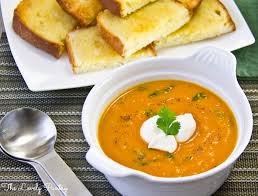 Carrot and Potato Soup
Ingredients
1

Medium carrot

diced

1

Potato

2

Garlic cloves

crushed

2-3

cups

Vegetable/chicken stock

1/4

tsp

Cumin powder

Salt as desired

Butter
Instructions
Wash the carrot and the potato. Peel them and cut them into pieces. In a pan add butter.

Add garlic cloves and the cumin powder to it. Let it sputter for a while.

After a while add the cut potatoes and carrot and sauté them for a while. After 5 minutes add the vegetable/chicken stock along with the salt.

Simmer this until the veggies are tender. Allow this to cool down.

Then transfer all the contents to a food processor. Transfer the soup to a bowl and serve with a dollop of butter.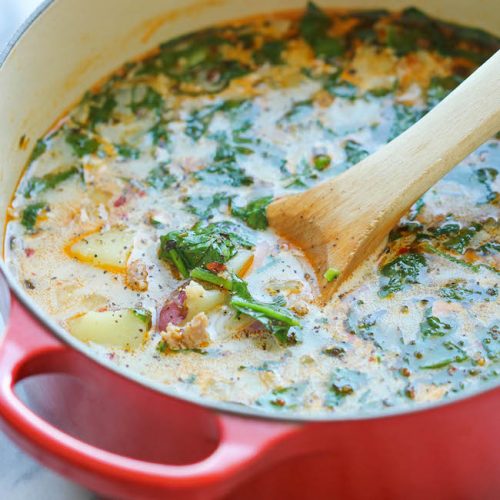 Potato and Onion Soup
This one is the classic potato soup recipes and it will surely give the kids comfort on cold wintery nights.
Ingredients
3

Tbsp.

butter

2

Potatoes

1

onion

chopped

2-3

Cubes of vegetable stock

4

Garlic cloves

crushed

Pepper to taste

Thyme

Sour Cream

Salt as per taste
Instructions
Place the potatoes in a large saucepan. Add cold water and a pinch of salt. Bring it to a boil, and keep on the flame until the potatoes are soft enough.

Drain the potatoes from the pan. Remove their skin and mash them.

Add some cream and a dash pepper to the potatoes. Set it aside for some time. In a pan now add 3 tbsp. butter. Add diced onion, salt, and pepper.

Let it simmer for some time. Stir until it is tender. This should take about 10-12 minutes. Add garlic and cook again for 3-4 minutes. Now add the mashed potatoes.

Simmer this for about another 5 minutes. Remove from flame, and puree the contents.

Transfer the soup to a bowl and sprinkle some thyme. Serve hot.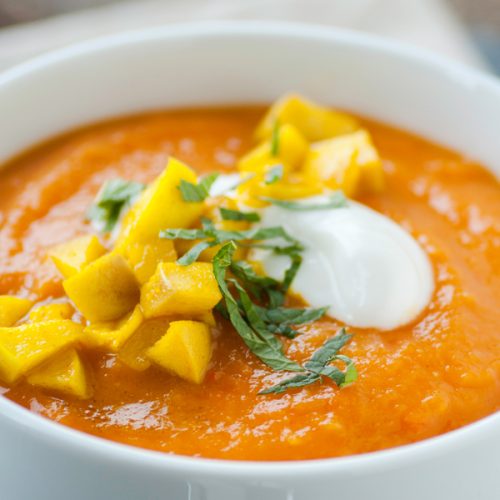 Potato Peanut Soup
This one contains a range of different flavors and is sure to brighten up your kids' mood on a gloomy winter evening. It also contains peanut butter which is hit among kids.
Ingredients
3

tbsp.

butter

2

Sweet potatoes

1

onion

chopped

2

tbsp.

fresh grated ginger

2

tsp.

ground cumin

1/2

bowl of pureed tomatoes

2-3

tbsp.

peanut butter

Peanuts for garnish

Salt as per taste
Instructions
Heat butter in a sauce pan. Add the onion, season with 3/4 teaspoon salt and 1/4 teaspoon pepper and cook, covered, stirring occasionally until tender, 8 to 10 minutes.

Now add crushed garlic and cook for another 2-3 minute. Now add ginger and continue to simmer. Add the pureed tomatoes, peanut butter and sweet potatoes and salt.

Now add 2 bowls of water and bring this to a boil until the potatoes are tender enough. This should roughly take 15-20 minutes. Serve and garnish with peanuts if desired.

All the above-mentioned soups are easy to prepare. They roughly take about 20 minutes of cooking time. They are high on nutritive content and are tasty and will go down well with little ones.
We hope you loved the delicious and healthy potato soup recipes for kids that we shared. Try them at home with your family and let us know the experience in the comments below. If you have any other soup recipes, send us to be featured. For more recipes keep following The Champa Tree.
Disclaimer: Don't introduce any such ingredient (mentioned above) which may be allergic to your child!