Want to serve yummy and healthy breakfast ideas to your little ones? Not a problem at all. Take a look at 2 simple and quick healthy recipes for kids!
Breakfast is supposed to be the healthiest and perhaps the heaviest meal of the day. And when it's about healthy breakfast food, then it got to be yummy as well! Let's prepare a delish and good breakfast food items which are quick and easy to make. You can serve them hot to your baby. Get them to start their day with lots of energy and a big smile.
Today, I bring to you 2 really simple easy to make recipes which can be quite appetizing and filling for kids. One is for kids who like vegetarian recipes while the other one is a egg recipe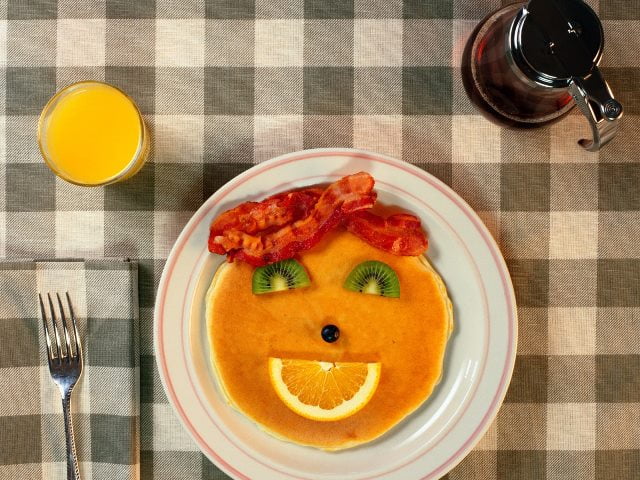 1. Mini Egg Pizzas Recipe (egg recipe)
Ingredients:
1 tbsp olive oil
1 small red onion (diced)
1/4 Cup bell peppers (red, green and yellow- in thin strips)
1 tbsp tomato puree (fresh or canned)
2 tomatoes (fresh and diced)

5 eggs

1 tbsp rock salt and ground pepper (to taste)

Herbs such as oregano, mixed Italian herbs, and basil

Black olives and mushrooms

(optional; clean

them properly with wet kitchen paper)

Shredded mozzarella cheese and freshly chopped coriander for garnishing

5-to-7 Toasted whole-wheat bread slices (homemade and readymade)
Preparation: Heat olive oil over medium heat and saute onions until almost softened and golden-brown in color. Now add bell peppers, tomato dices, and mushrooms. Cook them for at least 5 minutes. Add tomato puree, cook and stir for a couple of minutes. Crack and beat eggs until fluffy. Sprinkle herbs, rock salt and pepper on top. Now spread this mixture on slices of toasted bread. Throw in some mozzarella cheese on top. Bake in the oven at 300 degrees for 30 minutes, or until tops become golden brown. You can also bake the pizzas in a muffin holder. Just cut the bread in small circles (size of the individual muffin holder) and set the entire pizza inside the holder. Now, bake for 30 minutes (as instructed above).
Tip: Serve these mini pizzas for breakfast or as an evening snack with a glass of juice!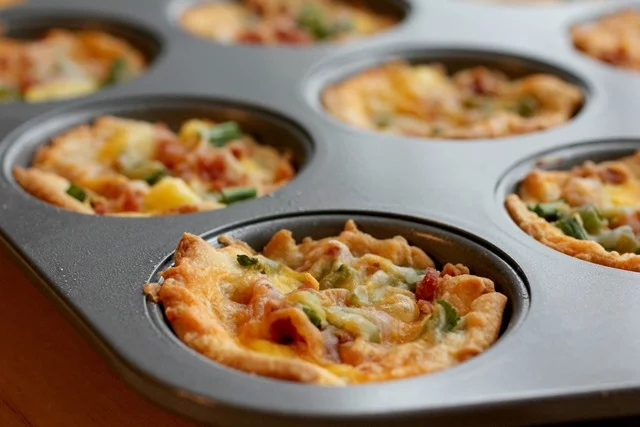 2. Capsicum Toast Sandwich Recipe (Vegetarian)
Ingredients:
4 bread slices (whole wheat)
¼ cup onion (chopped)
1/4 tomato (chopped)
¼ cup bell peppers (red, green and yellow in fine strips)
1 clove of garlic (minced)
Some mozzarella cheese or paneer slices (cottage cheese)

Rock salt and black pepper to taste

1/3 tsp herbs (mixed Italian, oregano, basil/chopped coriander)
Butter (to taste)
Preparation: Take a big salad bowl and add onions, bell peppers, tomatoes and garlic to it. Also, add cheese to these vegetables. Mix it with the seasoning, which are herbs, salt, and pepper. Do taste to see if everything is as per your kid's liking. Now spread some butter on the toasted bread slices. Once slightly brown in color, the toasts are ready for the filling. Spread the bowl filling on half of the slices. Fold the other half of these slices on to the filling side. Grill the sandwiches in an electric grill and here we go! Yummy, vegi-licious easy breakfast is ready to be served!
Aren't these breakfast recipes for kids easy to make, yummy and packed with nutrition? Stay healthy kids, stay fit folks! 🙂
Disclaimer: Some kids are allergic to certain food items (dairy, mushrooms etc.) therefore, be sure to serve only those ingredients that your kid is comfortable eating.