Dear mum, food recipes by Shilpa Shetty are worth checking! Know why? Because, as mothers, we always tend to prioritize our families first. We take good care of our homes and our loved ones but ignore ourselves. Ignoring our hair and skin is still secondary, but women go to a whole new level when they ignore their health by sometimes not eating healthy stuff and often not focusing on healthy breakfast recipes for themselves. We always want our kids to eat healthily and stay fit, so why not good take good care of ourselves? After all, charity begins with one's own self. We have always been inquisitive about what Bollywood celebrities eat to stay fit. Presenting some easy and healthy mum food recipes by Shilpa Shetty. And when it comes from the fit lady herself, you can rest assured.
Check out these 3 healthy breakfast recipes which we are calling 'mum food recipes' by Shilpa Shetty:
It is a fact that Shilpa Shetty has inspired scores of men and women to adapt to a healthy lifestyle with exercise and healthy food. Hence, the recipes shared by the diva attract followers across countries. Her recipes are a mix of Indian, Chinese, English, and Continental cuisines. Today we are sharing three delicious and healthy yet easy to make recipes by Shilpa Shetty. They have made it to the list due to the guarantee in taste and nutrients without spiking the calorie intake. The recipes we are sharing today are 1. Oats Chilla 2. Quinoa with steamed chicken and asparagus 3. Chatpata sweet potato. Indulge in the delicacies and have a tasty and healthy mealtime.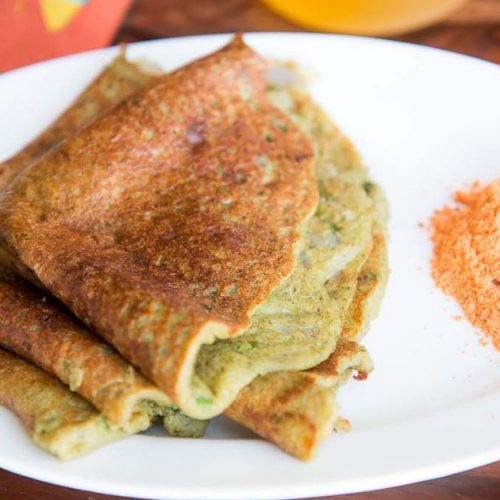 Oats Chilla
We all know oats are highly nutritious and are rich in anti-oxidants. They are gluten-free and help in lowering cholesterol levels. While having oats with milk or with veggies is the usual thing, let's make something interesting with them. Incorporating oats in chilla will make them more nutritious and filling as well.
Ingredients
1

cup

Oats

1

Bowl

Buttermilk

1

tsp

Ginger paste

1/2

tsp

Jeera powder

1/2

tsp

Coriander powder

1/2

tsp

Red chilli Powder

1/4

tsp

Pepper powder

1

no

Green chilli

chopped

Oil

Salt to taste
Instructions
Dry roast a cup of oats for roughly 4-5 minutes until they become slightly brownish in color. Don't over roast them.

After the oats have cooled down, transfer them into a mixer and blend it to form a powder.

Add buttermilk,ginger paste, green chili, pepper, coriander powder, red chili powder and salt. Now blend all the ingredients.

Heat a pan and oil it. Now spread this liquid mix onto the pan and then cover it for a good 3-4 minutes. After that flip it over and let it cook on the other side. Your oats chilla is ready.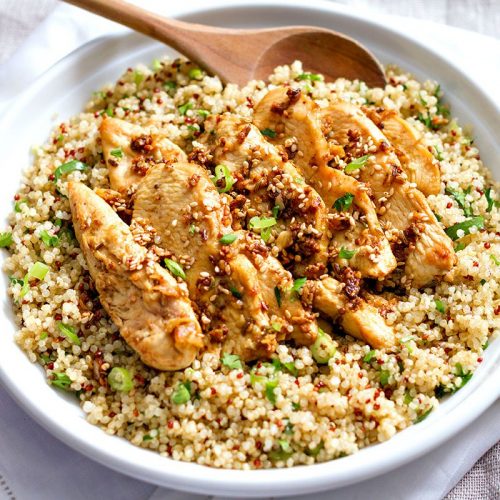 Quinoa with Steamed Chicken and Asparagus
Quinoa is one of the foods which is picking up in quite a lot of kitchen these days. It is high in protein content and provides the body essential fibres.
Ingredients
2

cup

Boiled Quinoa

4

stalks Asparagus

3

tsp

Garlic

1

cup

Boneless steamed chicken

11/2

tsp

Cayenne Pepper

Black pepper powder

as per taste

Salt

as per taste

Olive Oil

Red chili powder

1

no Chopped red chilly

1/2

tsp

Black Vinegar

1

tbsp

Soya sauce

1

strand Parsley

1

tbsp

Roasted flax seeds

1/2

slice

Lemon

Butter 1 tsp

Optional
Instructions
Heat oil in a pan. Add garlic to it and sauté for 2-3 minutes. Add chopped asparagus to it and cook until it becomes slightly brown.

When the garlic starts changing color add steamed chicken. Now add 1.5 tsp red chili powder and chopped red chili. Add some water so that the chicken does not dry up.

In another kadhai add 2 cups of boiled quinoa and mix the ingredients to it.

Now add 1/2 tsp vinegar to this, followed by 1 tsp soya sauce

Since quinoa was already boiled you need not overcook it. Finish it by adding salt parsley and pepper. Top it with roasted flax seeds for the perfect and nutritious breakfast.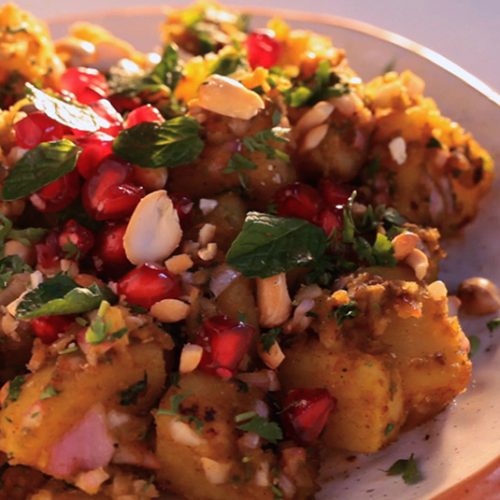 Chatpata Sweet Potato
Sweet potatoes are an excellent source of vitamin A (in the form of beta-carotene). They are also a very good source of vitamin C, manganese, copper, pantothenic acid and vitamin B6. Make this tea time snacker which is high on nutrition content.
Ingredients
Olive oil

2

Boiled sweet potato

1/2

tsp

Black Pepper

Salt

as per taste

1

pinch

Chaat Masala

1/2

Lemon Juice

Pomegranate

to garnish
Instructions
Heat oil in a pan and add boiled potatoes to it. Sauté them a bit until it starts changing its color.

Add 1/2 tsp black pepper, salt and chaat masala to it.

Once the potatoes are cooked, transfer it for serving.

Add lemon juice and garnish it by adding pomegranate pearls.
We hope you found these recipes by Shilpa Shetty helpful in incorporating into a healthy lifestyle. Try them at your home and share your experience in the comments below. Keep following The Champa Tree for more healthy and easy recipes to tickle your taste buds.