by Vaishali Sudan Sharma updated on July 7, 2015
Meet the founder of an amazing online brand that deals in baby cots and cribs – Wudplay's Amit Agarwal for a Q&A round as he tells us why an Indian baby needs a cot or a crib? Also, find out about the unique safety features, simple wooden cot designs, and all that you need to keep in mind while purchasing a crib/cot for your baby!
What is the USP of Wudplay's cots and cribs? How are they different from other popular international brands that are currently operating in this segment in the market?
Wudplay baby cots are safe and secure for your baby. They are made, following strict international safety guidelines and standards. They are made of Teakwood which makes them more durable as compared to all the other brands including the international ones which are made of pinewood (which is very soft and damages easily). We have been making and selling baby cots for around a decade now, infact way before all these brands came in. The finish used on all our cots is water-based, which is nontoxic and doesn't emit any fumes. Wudplay has the largest range of baby cribs and cots in India with wide color choice vis-a-vis all the other brands combined together.
I am happy to inform you that we also happen to have a dedicated team who is passionate about making baby cots. They are trained to take care of the safety features at all stages. You would be surprised to know that more than 85% of our staff is physically challenged and hearing impaired. Wudplay strongly believes in providing employment to them.
Is crib/cot the right choice for an Indian baby? (Considering, the culture here typically sees co-sleeping as an inherent parenting habit).
Yes, a baby crib and/or cot is the most important choice that one can make for his/her baby. It is much safer and comfortable for the little one to be in a crib than co-sleeping. It is believed that co-sleeping generates heat which is not good or comfortable for the baby. Though, I do agree that the culture of co-sleeping dominated, but things are changing now and with awareness, more and more new parents are gaining knowledge about why a crib should be used in the first place (putting the entire emotional roller coaster behind, parents are actually accepting the idea of having a cot or a crib for their babies).When we initially started (way back in 2006), it was really tough for parents to even consider getting their child to sleep on a separate bed, they weren't too open to the thought, all because they were in dilemma, didn't want to try a different way/approach or experiment with another method for the sake of their baby's comfort, besides, they were blindly following their own parents point-of-view, but now things have changed! Expecting or new parents are open to considering a crib. They scan though, zero down and instantly make a decision of purchasing the most comfortable and safe product option for their yet to be born/newborn baby.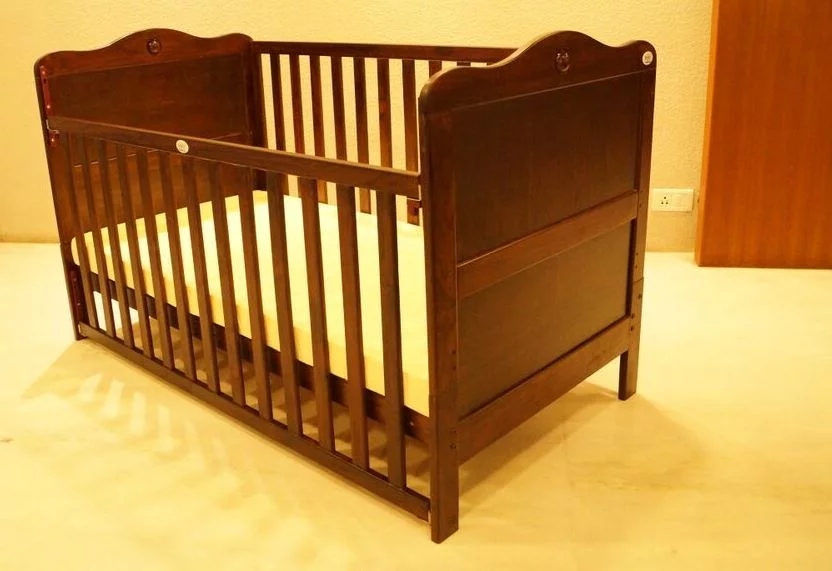 Why is it necessary to have a cot/crib for the baby?
A crib is necessary for baby's comfort, safety and for a sound sleep. Also, having it by your bedside at night, ensure a good sleep for the parents as well. It is also the safest place for the baby to be in while you are away, doing your daily household chores. It is always advised to get used to having your baby in a crib/cot from day one. Gives your baby plenty of time to adapt to it. Moreover, a crib is extremely helpful as the baby grows old. The safest option for a hyper active infant/toddler (who can fall down from the bed anytime if left unattended).
You work on an online purchase model. How can one be sure of the quality of the product while ordering online?
We work very hard to provide our customers (existing and potential) with the best quality offerings. Our production system works on a lean method where quality is checked by each and every employee working on every single part of the product. If an employee is not satisfied with the excellence at any point, that part or the component is sent back for review, to be corrected or replaced. All the pictures we have on our website) are real-time pictures of the actual products we make. Besides, Wudplay also offers a money back guarantee, that is, if you are not satisfied with our product/quality, we will take it back and return the amount paid by you. To understand, what we are saying, take a look at the testimonial section on our website which has feedback from many of our old customers.
What are the things to consider while purchasing a cot/crib?
The most important features to consider during the purchase are:
How safe is the product

How durable is the material

The product must have a non-toxic finish

It should come with a stronger and durable mattress base connector to the side boards

The size

of the crib (depending on the period of time for which the parents plan to use that crib/cot for their baby). Ideally, the crib should be used for a minimum time period of 2- to -3 years.
A typical Wudplay baby cot/crib/wooden baby bed is priced from 7900 (INR) onward and goes up to 50,000 (INR). We deal in other furniture items too. For toddlers and older children, like toddler beds, bunk beds, and single beds. Additionally, we also make cradles, high chairs, master beds, side table. Our complete range of products can be seen here. We are not much focused on institutional sales, but we do a part of our sales for play schools (activity table and chairs, chowkis aka low stools), day care centres (baby beds and cribs), offices (bunk beds for their employees) and RBI Bank (furniture for their service apartments).
You claim your products are made of teakwood, but the prices are very similar to the imported ones (which are made of cheaper wood), how do you offer them at that cost?
We started Wudplay as a company with the objective of catering to a customer directly (from the manufacturer, directly to the consumer), cutting out distributors, resellers, and retailers. That's where the markup on the price happens. So all our products come directly from the Wudplay workshop to you (after retaining a reasonable margin which makes the products extremely reasonably priced). Despite the fact that all our items are made in Teakwood and speak of good quality finish, even then, we are REASONABLY priced!
The fact is that most of the imported products are actually sold at 5-6 times the actual price in their home country (adding the cost of shipping, import duties, multiple level margins from importer, distributor, CF agent and the retailer). This is one of the reasons you will find them on sale every 6 months, and that's why you will never see us going on Sale 🙂
How easy is it to assemble the entire product? Can it be done-at-home and what if one faces issues at the time of assembling it?
All our products are labeled individually which makes it easy for anyone (yes! You heard me right- ANYONE) to assemble them without having to spend too much time on it. The hardware and products are labelled well for your convenience. Please take a look at our Assembly Videos and Assembly Instructions Download; we have specified them on each and every individual product page. Wudplay's products (baby cots) can be easily assembled within 15-20 minutes while the bigger product can take 45-60 minutes. If you face any issues, we are just an email away from resolving the problem. All you have to do is click a picture for reference and all the necessary actions are taken from our side to solve your problem. We like to see happy faces and satisfied customers 🙂
Can any of your products be customized as per the needs/taste of the customer?
Yes! We can customize the products to suit your needs. We believe in limited customization. We can customize the add-on features, colors and finish for you. But because the entire process of customization (as per your needs) can take time, which, therefore, means- more time and higher charges. Please contact us to discuss your requirements.
What happens if the product gets damaged during shipping? Also, what about product warranty?
We take extra care in packing the product before shipping it to you and also label it as FRAGILE so it is handled with care, however, incase of damage to the product during the transit, we repair or replace the damaged component of the product with a new one.