Are you looking for a pedal partner for your kid? Why not buy the best baby tricycle online and give your toddler a sweet surprise. Riding a tricycle is one of the fun activities that most kids enjoy. In your quest to find the best tricycle stroller for your kids, it is important to understand its purpose and benefits. When you give a tricycle to kids, it develops confidence in them and lets them feel the success of doing things on their own. Also, practising with toddlers' tricycles makes them aware of their safety.
You can find several tricycles for kids online at an affordable price and equipped with safety measures, but when to buy a toddler's tricycle is the question that comes to the mind of new parents. So before you purchase any tricycle, know about your kid's height, his coordination with body and mind, budget, and indoor and outdoor use.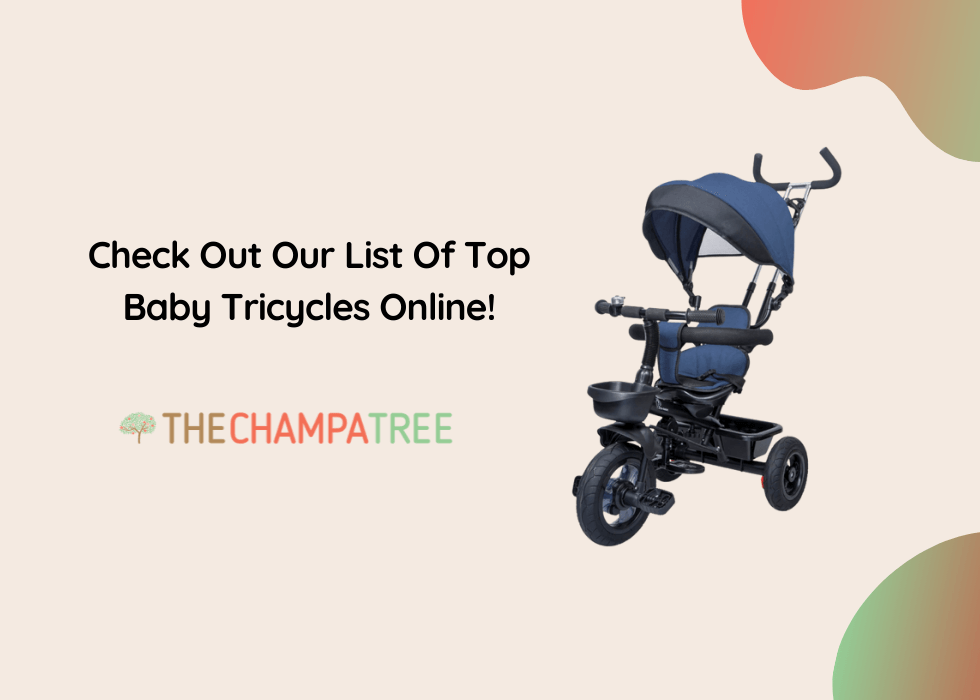 List of baby tricycle online:
Let's delve deeper and find a few of the best baby tricycles online for 2022.
1. Tiny Toes Sportz Ace – 6899/-
This R for Rabbit tricycle is easy to install and gives a fun ride to your kids. This toddler tricycle has a foldable footrest and gives the child ultimate comfort. The tricycle is designed with premium quality material and has a wheel lock that provides proper safety to little ones. Before choosing any tricycle stroller, ensure that it is made from materials like metal and not plastic.
This cute baby tricycle has Plug N Play EVA wheels with a pedal lock and can be installed in minutes. Furthermore, it has a 360-degree rotatable seat and lets them turn their face in need. What's amazing is that this baby tricycle with handles has a strong push bar that is adjustable to different heights. Also, it has a storage basket in front and back to carry the baby's stuff while going for a ride. The tricycle has an ageing capacity of 1.5-5 years and a product weight of 7.8kgs. You can buy this baby tricycle online for 6899/- from r for Rabbit with COD and free shipping options.
2. Tiny Toes Grand Ace – 5969/-
Don't you think your little one deserves something reliable and grand? Buy Tiny Toes, Grand Ace, from R for Rabbit and take them on a ride without any hassle. This baby tricycle with a push handle is designed while keeping all the safety measures in mind. For instance, it has a lock for the push bar and soft foam on the handle to prevent any injury.
Also, it has a linked brake to stop the drive within your fingertips (with the click of your feet). Take your kid to the park and carry their foodstuff in the front and back storage basket. Also, this toddler tricycle is designed with PP Plastic with a Steel Frame and has a weighing capacity of up to 25kgs. Grab this baby tricycle online for 5969/- and surprise your little one on their birthday.
3. Tiny Toes Grand Plus – 6599/-
Take your little one on an evening ride with Tiny Toes Grand Plus offered by R for Rabbit. This tricycle for kids is designed with premium materials along with safety features needed for kids. It has soft foam on handles, a lock-on push bar, and a pedal lock. You can also adjust the footrest according to convenience and watch your kids enjoying their ride.
Furthermore, this toddler's tricycle is easy to install, clean, and maintain. It has a 3-height adjustment strong push bar with enough space so that you can direct your kids in the right direction. Get this baby tricycle online for 6599/- and prepare your toddler for riding a bicycle.
4. Tiny Toes Sportz Plus – 7899/-
Do you want to make your kid's first ride special? Choose Tiny Toes Sportz Plus from r for Rabbit and make their ride memorable. This toddler's tricycle has plug-and-play rubber wheels and a 360-degree rotatable seat for better protection. It is easy to install and has enough storage space to keep stuff like sippers, mobile phones, or toys.
This tricycle for babies is ideal for growing children and comes with directional control. Furthermore, it can be used both indoors and outdoors. This is the best baby tricycle online that is reliable and durable and comes at an affordable price of 7899/-.
5. Tiny Toes Sportz Ace – 6899/-
R for Rabbit is one of the renowned and safest brands in the market for baby accessories. This Tiny Toes Sportz Ace comes with a reversible seat and adjustable canopy with soft foam on the handle to prevent any injury. What's amazing is it has a foldable footrest with a canopy to give comfort to your kids.
This tricycle can be used from age 1-1.5 years and supports a baby weighing up to 25kgs. It comes with a strong push bar that can be adjusted to 3 different heights to give flexibility. This tricycle for kids could become your kids' perfect partner throughout the day. Available at an affordable price of 6899/- this r for rabbit tricycle is worth purchasing.
Before you decide to buy a baby tricycle online ensure that it is safe and fits all the factors. You can find different tricycle models with a range of features. Therefore, picking the right one for your toddler is important.
Remember safety is first – always ask your little one to wear a helmet.
Happy RIDING!