The sound upbringing of a child calls for the holistic development of a child that is multifaceted to help them become well-rounded individuals. This focus during the formative years of their life can help make or break them as individuals ready to face the world's challenges. Naturally, the onus for the holistic development of a child falls on both their schools and homes. Both verticals need to work in correlation to help develop a sound individual. Some of the top schools in India are now focusing on holistic development.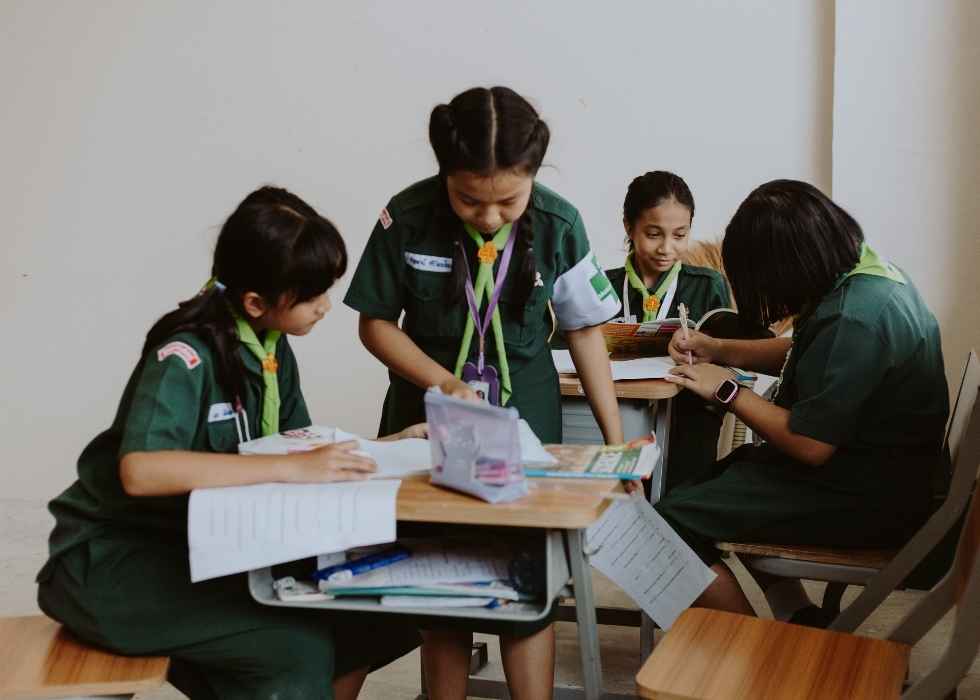 Still, wondering about the meaning of holistic education? The holistic development of a child ensures comprehensive growth under the aegis of an education system where their emotional, social, ethical, and academic needs are met and supported. Top ICSE Schools in India are focusing on it using the Waldorf method of teaching. Schools in Navi Mumbai, are adopting the Waldorf curriculum that calls for simultaneous engagement of head, heart and hand throughout the education process. Vishwajyot High School, Navi Mumbai's favourite school too has been following the famed Waldorf curriculum through hybrid learning and particularly during the pandemic. Here's a look at the different modules of holistic learning being undertaken by the best boarding schools in India.
Experiential learning:
This form of learning calls for students to have a hand-down education that is not restricted to the pages of books. It offers the holistic development of a child in the sense that the child uses the world around him or her to pick up on concepts and themes. It creates a deeper impact, prolonged retention of lessons and leads to holistic development.
Self-guided learning:
In this form of the learning module, often seen in top ICSE schools in Mumbai, the student learns at his or her pace instead of a book or syllabus forcing them to follow its pace. This form of hybrid learning makes room for greater personalization of the education system. It ensures that students of different abilities and ages learn together.
Community-based learning:
This form of hybrid learning focuses on a community form of learning. Furthermore, teachers collaborate with communities like families, residencies, organisations and others to encourage holistic development. It closely follows the Waldorf curriculum and provides newer avenues of learning for children.
Interdisciplinary learning:
Gone are the days of subject-based learning as concepts and themes of multiple disciplines come together to create integrated learning. It establishes the holistic development of children with a keen focus on hybrid learning. This method, used in several top ICSE schools in Mumbai, allows the student to develop multiple perspectives which are critical to their development.
In line with the holistic development of a child, Vishwajyot High School's curriculum has been created by integrating the subject matter expertise of ICSE. Furthermore, it includes life skill components of the Waldorf philosophy. This allows children to discover the world holistically, in its true interlinked form – and not in silos of academics and co-curricular.
At Vishwajyot High School, its educators believe that discovery is the key to learning for the holistic development of a child. It works to fundamentally change the way a student learns. Instead of just absorbing what was said or read, students are encouraged to search for new information. This helps them apply classroom learning in the real world, and achieve their full potential. As one of the top ICSE schools in Navi Mumbai, its focus on delivering hybrid learning to its students has seen them reap the following benefits.
Academic improvement:
The Waldorf method of teaching is known to have significant benefits in terms of academic improvement for children. Its integrated approach towards engaging a student's attention completely ensures that students grasp concepts faster and stronger thereby allowing holistic development of the child.
Mental and emotional well-being:
When the boundaries of conventional learning are re-written with the Waldorf curriculum, it frees students from the weightage of book learning. It allows them the space and time for mental and emotional well-being and growth. This format is followed in top ICSE schools in Mumbai. It lets the students grow in a supportive environment where their well-being is as important as academics.
Problem-solving ability:
The hybrid learning format allows students to solve real-world problems using learned concepts. This vastly increases their critical thinking, allowing them to arrive at out-of-the-box solutions. It also allows them to pick up on critical skills like working in groups, and analysis, which eventually helps them become well-rounded adults.
Adaptability:
One of the biggest advantages of the Waldorf curriculum is that it instils in students knowledge adaptability that allows them to employ their knowledge as per the situation. This makes them confident individuals who know they are capable of facing any challenge that comes their way.
These benefits answer why hybrid learning is increasingly becoming the choice for top ICSE schools in Navi Mumbai like Vishwajyot High School. It enables an integrated approach towards the holistic development of a child. A futuristic approach towards developing a well-supported education system.