No matter what your skin type is, at some point, you would have complained of an acne outbreak. But, you would have done your research to find how to get rid of pimples. You try to find just the right daily skin care routine, and all the home remedies, to say goodbye to pesky, stubborn pimples… Even friends would have recommended all sorts of best pimple removal creams to help you maintain overall skin health and improve specific concerns such as acne, scarring, and dark spots.
All that you should know about your facial skin:
A daily skincare routine has four basic steps you can do once in the morning and once before you sleep. This involves your skin overall. The facial skin is different from the skin in other parts of the body. The cells on the face are tiny and more sensitive when compared to the skin cells from all over the body. Moreover, facial skin is thinner, at the same time produces more oil with antimicrobial properties and in turn, hydrates the face. On close examination, we can see that there are finer hair strands on the face.
These are also instrumental in ejecting the toxins. But the proximal hair follicle located closely clogs the pores and eventually leads to acne. But often we don't know our skin type and are misguided by advertisements. As a result, we end up using pimple creams blindly without knowing what our skin essentially needs. On account of these factors, proper research needs to be invested while selecting the cream for acne.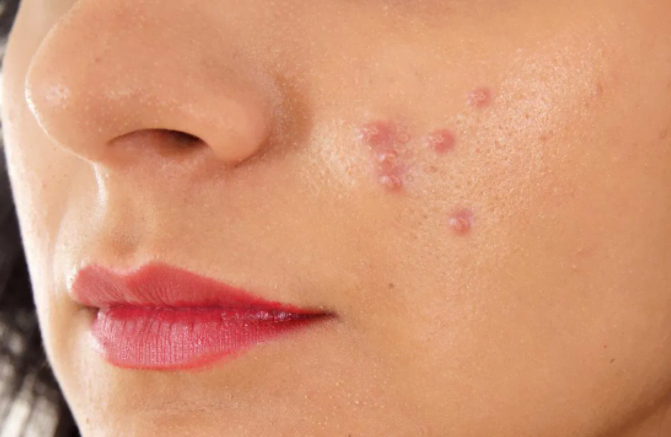 Key ingredients to look for in pimple creams:
We should not always correlate skincare to moisturizers. While choosing the right moisturizer is also a vital part of skincare, they are not the sole solution to the question 'how to get rid of pimples'. Pimple creams along with an oil-free and non-comedogenic moisturizer can deliver better results. So, what are the key ingredients to look for, in cream for acne treatment?
1. Read the labels carefully – Applicable to over-the-counter pimple creams
Benzoyl Peroxide: This antibacterial ingredient removes excess oil from the face and removes the dead cells that clog the pores. Hence cream for acne containing Benzoyl Peroxide gives assured results.
Salicylic acid: It is a powerful exfoliator that rejuvenates the skin from deep within, thus removing dead cells and resurrecting the damaged skin. This is an active ingredient in the best cream for pimples. There are also salicylic acid gel for acne available in market.
Alpha hydroxy acid: Glycolic acid and Lactic acid (alpha-hydroxy acids) reduce inflammation and remove dead cells, thereby pampering your skin. This ingredient is commonly found in every cream for acne.
Sulfur: It decreases excess oil and soothes the inflamed skin. When combined with Benzoyl peroxide or Salicylic acid, it delivers better results and hence used in the best cream for pimples.
Tea tree oil: Tea tree oil is believed to have anti-bacterial and anti-inflammatory properties and hence the skincare products with tea tree oil are widely used.
2. Ingredients to look for in prescription pimple creams
Antibiotics: A dermatologist might prescribe an antibiotic cream for acne if it's severe. Oral medicines with tetracycline, doxycycline, minocycline, etc are prescribed. Topical antibiotic pimple creams with erythromycin, clindamycin, etc are also prescribed.
Retinoids: We can take retinoids both orally and topically to reduce acne by shutting down the oil production on your face. Nonetheless, if you are using a cream for acne which contains retinoids, it should be strictly topped up with a hydrating oil-free and non-comedogenic moisturizer and face wash. Pimple creams with retinoids are prescribed only if the acne is severe. Hence the best cream for pimples should ideally contain retinoids.
Azelaic acid: It removes the dead cells and prevents clogged pores. Hence the cream for acne containing this ingredient not only cures but also prevents acne.
3. Difference between moisturizers, pimple creams, and acne gels
Most pimple creams are water-based, though they contain more oil content than gels and lotions. Hence creams are thicker and take more time to absorb into the skin when compared to moisturizers and gels. This leaves a thin oil film on the facial skin which makes them ideal for dry skin.
Many people use moisturisers instead of pimple creams. The difference between a moisturizer and a cream for acne is that the moisturizer restores moisture on the skin surface whereas cream can be absorbed slowly yet effectively. So, if you have a normal skin type, you might not need any gel or cream for acne as a non-comedogenic moisturiser lotion would maintain the moisture and oil content of your skin.
A water-based gel usually has the appearance of jelly and is transparent. Gels are now commonly available, in both beauty products and medications. The gel is more quickly absorbed by the skin, as it is water-based. Hence, Aloe vera-based skincare range always comes in gel form. Moreover, gels have a moisturising effect on the skin and they are ideal for those with extremely oily to combination skin.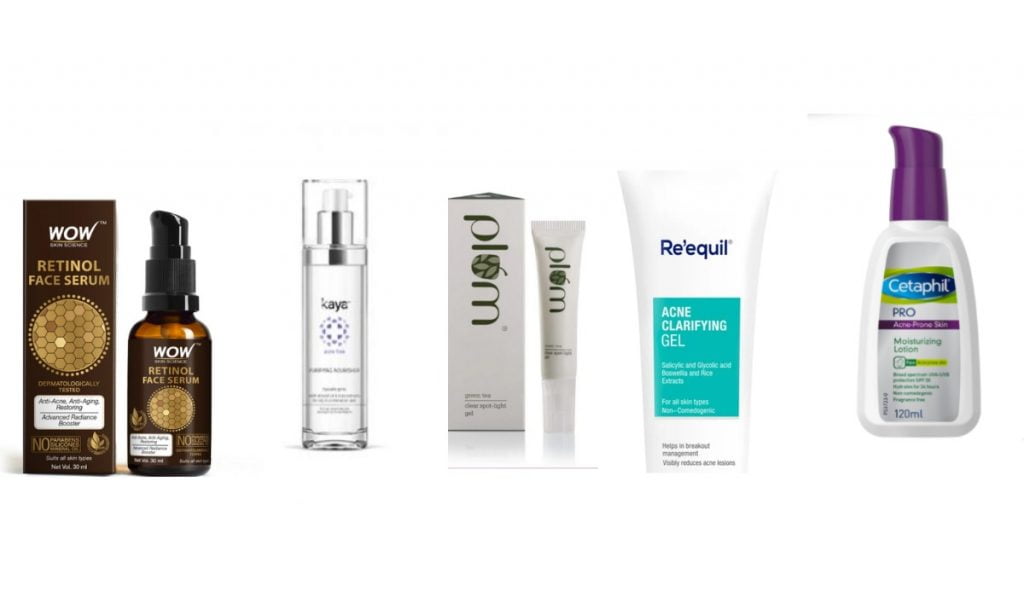 Best pimple creams in 2022:
If you have severe acne, it is imperative to consult a doctor because any pimple removal cream for acne would not be suitable for you. The root cause of severe pimples can be bacterial infections and even hormone imbalance. Hence identifying it and treating accordingly is vital. Owing to the fact that blindly taking the medication without a prescription is not advisable, we are not including any prescription pimple creams in our list. The following is the list of top over-the-counter pimple creams and acne removal cream in 2022.
1. Himalaya pimple clear cream
With all herbal ingredients, Himalaya pimple clear cream is the answer to how to get rid of pimples using herbal products at reasonable prices.
Brand claims
Treats pimples and skin eruptions
Reduces inflammation and infection
Help keep the skin soft and smooth
Product traits
This cream for acne is an ideal herbal spot therapy treatment without side effects. It is considered the best cream for pimples as it is affordable with the goodness of Lentil, Silk Cotton Tree, Five-leaved Chaste Tree extracts, Barbados Aloe and Alum. Five-leaved chaste tree extract is an astringent which reduces pores and also has cures inflammation. Similarly, the silk-cotton tree has great healing properties which in turn can be used for skin care. Hence it is the cream for acne to treat them without chemicals.
Price: INR 50.00
2. Khadi Omorose anti-acne and pimple cream
Khadi Omorose Anti-acne and pimple cream can be a good choice of cream for acne, more so if you are looking for herbal options.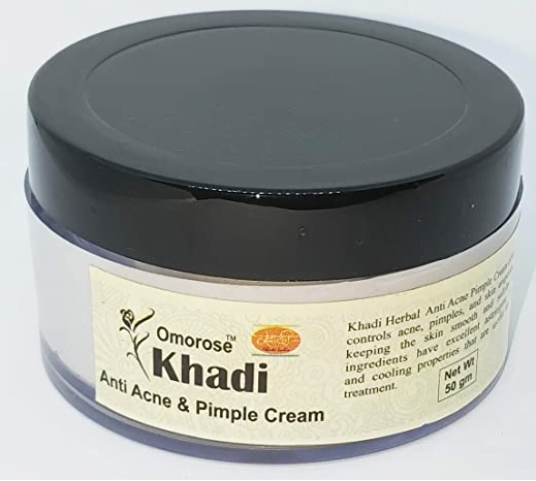 Brand claims
Helps to remove acne & pimples and their black marks
Gives you clear and glowing skin
Product traits
Khadi Omorose is a herbal cream for acne with Neem extract, Teatree extract, and Tulsi extract. These three ingredients are used in all ayurvedic treatments for pimples and skincare at large. This becomes the best cream for pimples as it gives the results in the long run.
Price: INR 350.00
3. Re'equil Acne Clarifying AHA BHA Gel
Acne clarifying gel by Re'equil is a non-comedogenic gel with the goodness of Boswellia and rice extracts. It is a salicylic acid gel for acne.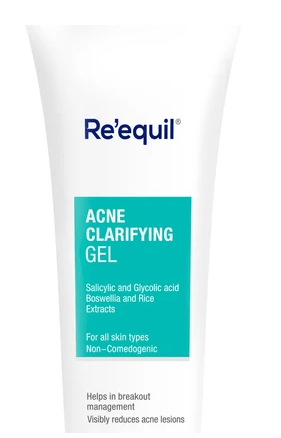 Brand claims
Regulates sebum production
Helps prevent acne breakouts and cleanses dead skin cells very gently
Retains the moisture balance and soothes the itch & redness of the skin
Product traits
Salicylic acid and glycolic acid present in the gel ensures the removal of dead cells thereby clarifying the skin as the name suggests. The is also one of the rare pimple creams and gels that are effective for all skin types. Moreover, the brand claims of reduced sebum production are proven to be true on the long-term use of the product. Also, the rice bran extract, honey extract, and Boswelia ensure the skin remains supple and wrinkle-free making it the best cream for pimples.
Price: INR 550.00
4. The Derma Co AHA BHA gel
While looking for skincare products, The Derma Co would be one of the primary names that pop up in your search, rightly so. The AHA BHA gel by The Derma Co gained its position amongst the 10 best pimple creams and gels due to the assured results.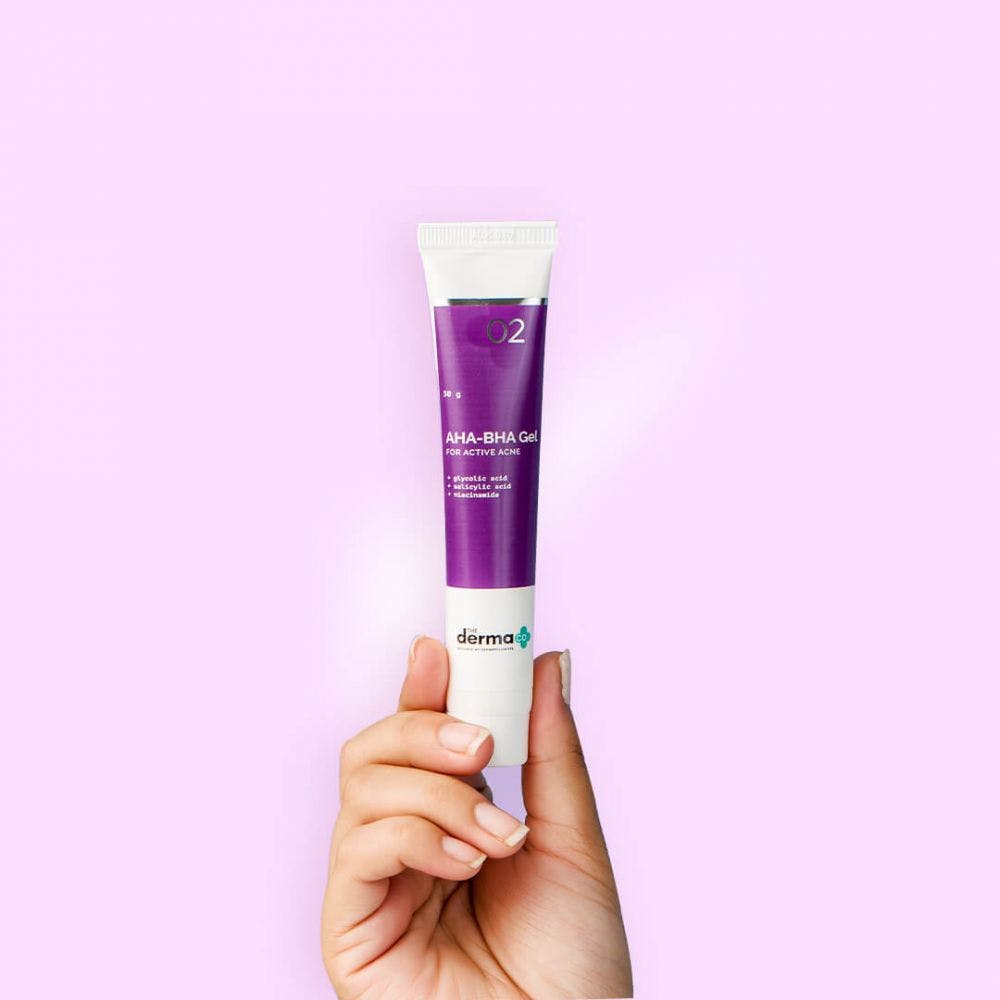 Brand claims
Clears acne and blemishes – The acne-fighting gel is specially formulated to clear pores from congestion, fight blemishes, and brighten the skin tone.
Cleanses and exfoliates – The AHA-BHA gel is an advanced cleansing formulation of 2% Salicylic acid, 1% Glycolic acid, and Niacinamide. These gently but effectively exfoliate and improve the overall appearance of acne-prone skin.
Minimizes pores and fine lines – AHA-BHA is a potent ingredient used to shrink pores, even out fine lines and discolouration.
Product traits
The gel contains salicylic acid, niacinamide, and glycolic acid and hence it is assured that the product removed the blackheads and opens the pores. But, this product is ideal for oily and combination skin. Nonetheless, if you have dry skin, avoid using this or top it up with a non-comedogenic moisturizer.
Price: INR 499.00
5. Sebamed clear face care gel
Sebamed Clear Face Care Gel has been gaining more acceptance lately for its dual action as a pimple cream as well as moisturizer.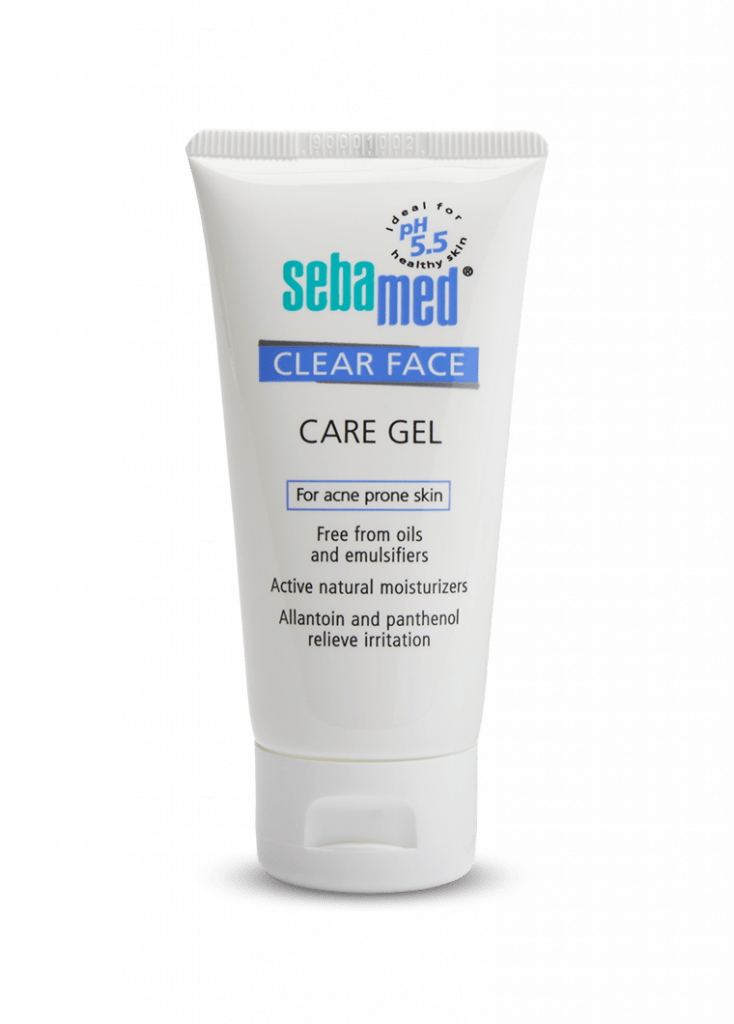 Brand Claims
Heals your acne without damaging or drying the skin
Antibacterial and wound healing properties
Safe for sensitive, pimple-prone, and allergy-prone skin
Product Traits
The product contains hyaluronic acid and the goodness of Aloe vera which keeps the skin hydrated and moisturized. It is also free from chemicals like parabens, paraffin, and propylene glycol which might cause irritation and dryness in your skin. Allantoin present in this cream for acne sheds the dead skin. Also, panthenol repairs the skin with the "fibroblast proliferation technique". In short, the product clears your skin, moisturizes and repairs it, and hence ensures its position as one of the best pimple creams and gels.
Price: INR 476.00
6. Plum green tea clear spolight gel
Plum green tea clear spotlight gel is recently gaining a lot of rave reviews for its effective spot correction.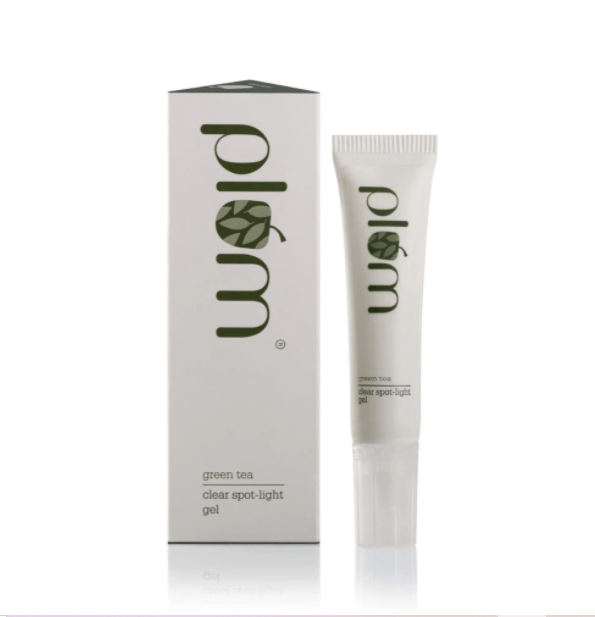 Brand claims
Quick absorbing
Works on active acne
Prevents recurrence of acne
Recyclable packing
100% Vegan
Product traits
The most notable highlight of this cream for acne is that its packing is recyclable and the products are vegan. Thus the product tops the position of ecofriendly pimple creams. The salicylic acid present in the gel clears the dead cells and removes skin inflammation. This gel is ideal for oily skin as it controls sebum production and also helps in clearing mild pimple marks and scars.
Price: INR 475.00
Best moisturizing lotions, serums, pimple removal creams and gels in 2022:
7. Kaya acne free purifying nourisher
Kaya acne purifying nourisher is a moisturizer that is specially designed for acne prone skin.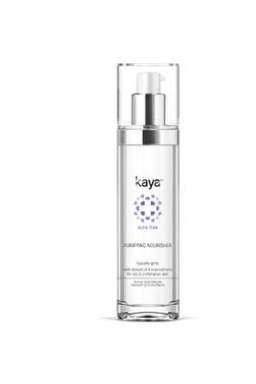 Brand claims
This gentle, light non-greasy formula does not clog your pores
Gets easily absorbed into the skin
Perfume-free and clinically tested to be non-comedogenic
Formula researched and developed by dermatologists
Product traits
The humectant (moisture preserving substance) named Sodium PCA present in the gel absorbs moisture and locks in the upper layer of the skin. This in turn ensures that the pores are protected from impurities and also the skin is hydrated. It also contains almond oil and rose extracts. Both of these ingredients are effective astringents. Enriched with Aloe Vera, it hydrates your skin making it supple and soft.
Price: INR 660.00
8. WOW Skin Science retinol face serum
Wow skin sciences are gaining more applause for the skincare range for the products that deliver the results. The retinol face serum tops the list of the best cream for pimples.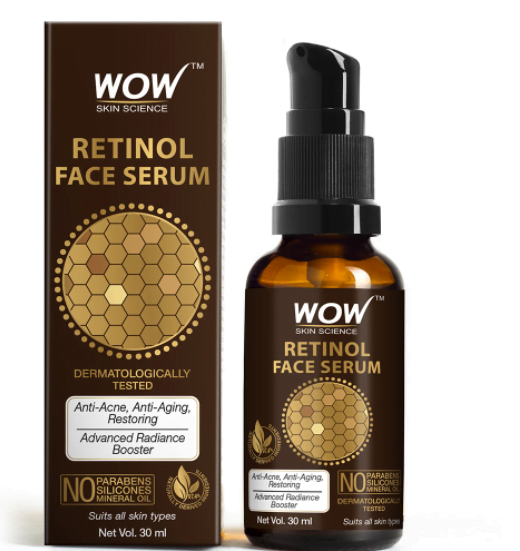 Brand claims
Hydrate, nourish, and protect dull, aging, and acne-prone skin
Supports skin's collagen and elastin structure and improves skin texture
Delivers natural actives into the skin and helps to enhance the appearance
Neutralizes skin damage
Product traits
The product is effective in repairing damaged and blemished skin. Apply this product on the face after any cream for acne cure. In addition, hyaluronic acid present in the serum prevents age lines from forming. Retinol is the active ingredient in pimple control. This face serum also fastens the healing of the facial skin.
Price: INR 599.00
9. Juicy Chemistry face care regime for acne-prone skins
Juicy chemistry face care regime is primarily for the prevention of acne.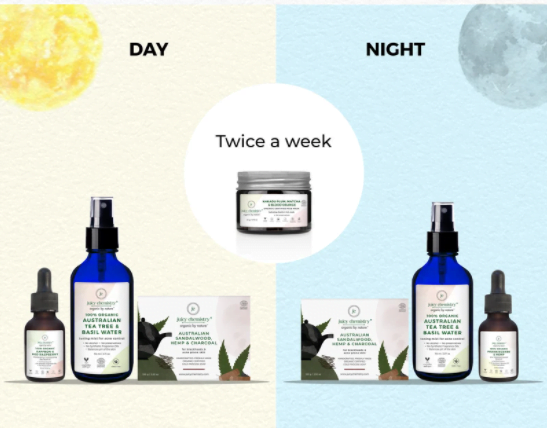 Brand claims
Complete treatment of acne
Prevents new breakouts
Nourishes the skin
Product traits
The regime has non-comedogenic soaps/face washes, toners, and moisturizers that nourish and repair the skin. Different products with different properties are added to the day and night routine. The regime also contains a plum mask which is the last step in the skincare routine to lock the pores, maintain moisture and also provide finishing to the skincare regime.
Price: INR 3725.00
10. Cetaphil PRO acne prone skin moisturising lotion
Cetaphil products have been providing assured results for decades. PRO acne-prone skin moisturizing lotion is a moisturizing lotion with repairing properties.
Brand claims
Repairs the skin barrier
Controls oil and shine
Calms the skin and relieves irritation
Product traits
The product is light on the skin and hence absorbs deeply. This can be used instead of pimple creams if the breakouts are mild. With patented UVA/UVB care this acts as a cream for acne cure, moisturizer as well as sunscreen lotion.
Price: INR 2868.00
Pimple Creams for Men
Bioaqua creams have been receiving rave reviews recently for their pimple creams as well as acne scar treatment range.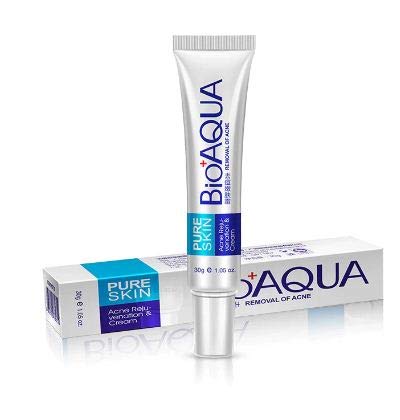 Brand claims
Smoothening, scar removal
Oil Control, moisturization and nourishment
Marks and spots removal
Pigmentation removal
Product traits
This is one spot treatment cream for acne that is effective for both men and women. This is one of the best pimple creams that acts on pimples, removes marks and pigmentation.
Price: INR 1200.00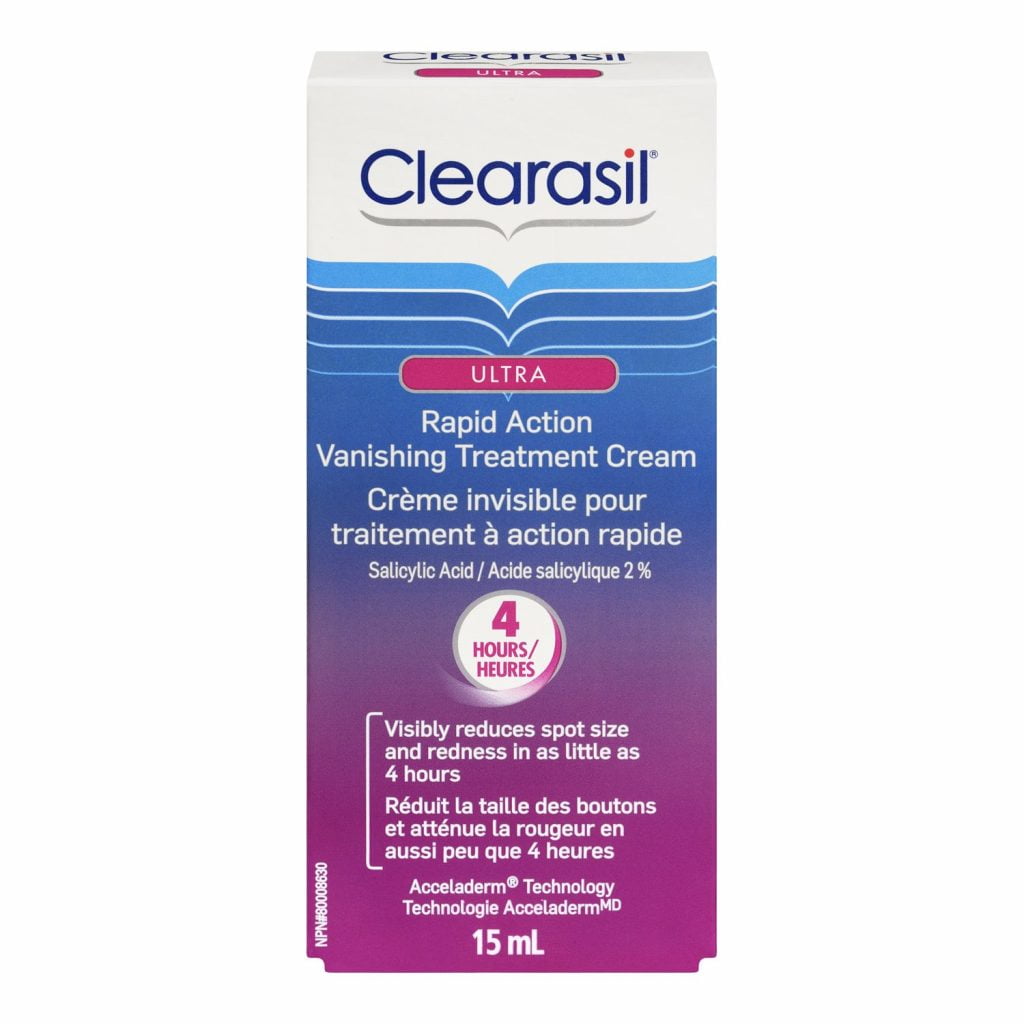 Brand claims
Treats problem areas fast
Visibly reduces redness and spot size in as little as four hours
Penetrates your pores to fight breakouts.
Product traits
Benzoyl preoxide is the active agent in this spot treatment cream. It clears the pores, and removes excess oil, thereby providing visible results. Nonetheless, continuous use of this cream can cause drynes. Hence the product should be followed by a water based moisturiser.
Price: INR 823.00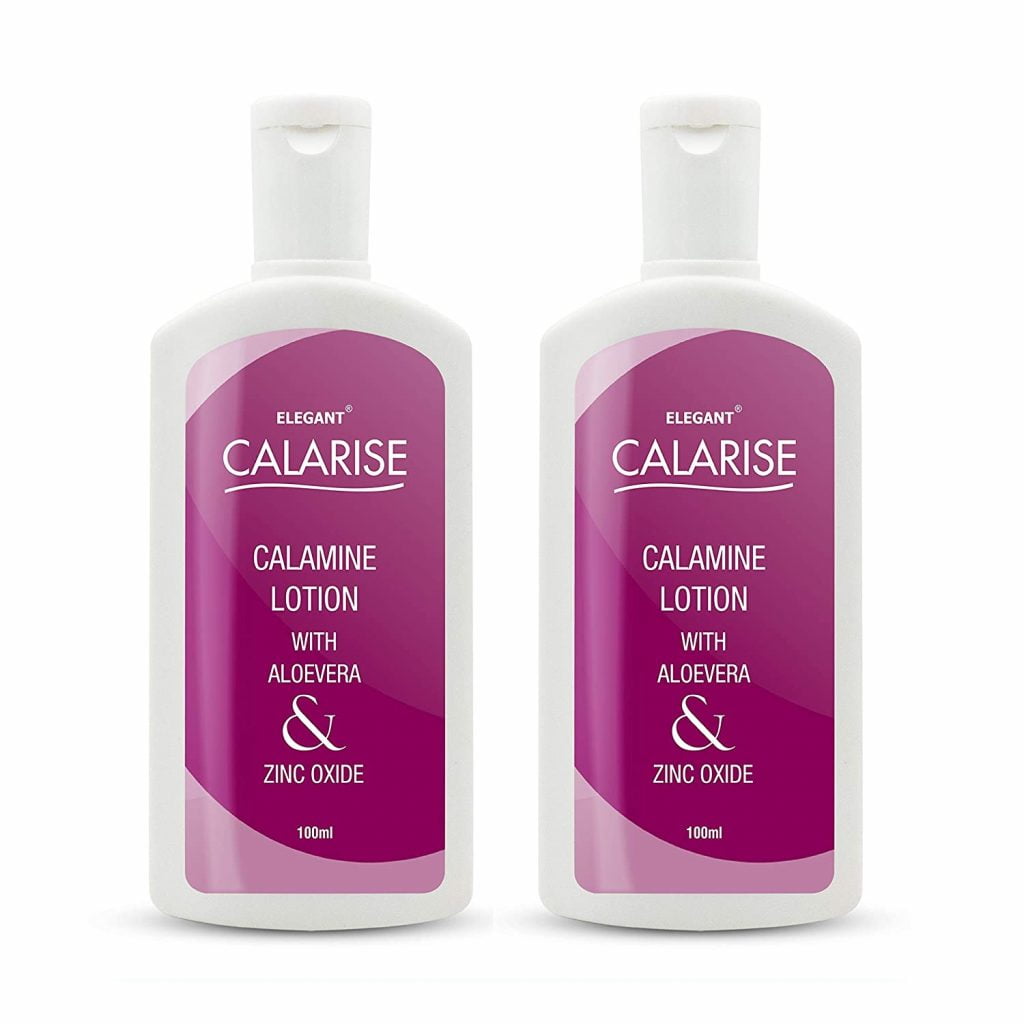 Brand claims
Perfect for sun rash and sunburn, thus takes care of your skin gently.
Protects skin from infections and allergies
It evaporates and produces a cooling effect
Product traits
This product primarily acts by soothing the irritation in your skin. This should be used along with a spot treatment cream for acne for better results. Calamine lotions have been used as pimple creams and skin care lotions at large for decades.
Price: INR 270.00
Pimples are small pustules on the skin due to blocked oil glands but these can be caused due to various factors. The pimple creams which we have listed might work on some people and might not work on others. Hence, if your acne is severe, it is advisable to consult a dermatologist and start medication as per their instructions. So, have you used any of these creams for acne? What is your opinion? Also, if you have any recommendations for the best cream for pimples with good results, share them in the comments below.