Healthy skin is essential for healthy living, but, quite often we fail to give proper attention to our skin health compared to heart health, mental health, or the care for other body functions like digestion and respiration. Hence this is where it is most beneficial to practice skincare at home through the goodness of natural ingredients. Since ancient times, Indian principles of natural skincare at home have helped people across generations. Today, there is a greater focus on such remedies. Pollution has increased rampantly and there is nothing better than using natural ingredients for various skincare home remedies.
In the past, one could easily rely on solutions for skincare at home such as face treatment at home. Hence the homemade face cleanser that contained turmeric, and sandal, etc were widely used. Similarly, one would simply use Aloe Vera, Neem, etc to enhance skin tone. They also remove impurities from the face as a way of using skin care home remedies.
With the passage of time, lifestyles have changed. No matter how much we might want, there is often not enough time. We also lack the knowledge to create skincare home remedies using Ayurvedic ingredients that our grandmothers would have approved of. However, this is where a brand like Sutatva is making a great change in ensuring skincare at home. Launched in 2015, Sutatva is a brand dedicated to bringing Ayurvedic benefits to everyone who has believed in the harmony of nature and science. They have also been focusing on making the process affordable and easily accessible for those who want Ayurvedic harmony.
Ayurvedic products for skincare at home:
Sutatva uses organically produced Ayurvedic elements to create their wide range of skincare products. Let's take a look at some of their products to know how they are as good as what the grandmothers did for natural skincare at home.
Orange Peel Scrub
Ayurvedic name: Airavata
What's a scrub?
As with all exfoliants, the goal of a body scrub is to remove dead skin cells and encourage the healthy production of new ones. This type of mechanical exfoliation not only smooths and polishes the skin but also draws out impurities.
Goodness of orange
Orange peel is a natural ingredient that exfoliates the skin, tightens pores, removes excessive oil. It works well against skin problems such as acne, pimples and pigmentation. Did you know that there is more Vitamin C in the peel of orange than the fruit itself? That's why it is a brilliant solution to combat free radicals which harm our skin cells. It also adds a glow to the skin. This excellent Orange peel scrub from Sutatva Nature Care is also capable of preventing the harmful effects of the sun's UV rays, tanning, sunburn and wrinkles etc. The chemical-free face scrub is a gentle product that contains organic turmeric, red lentils and rose petals.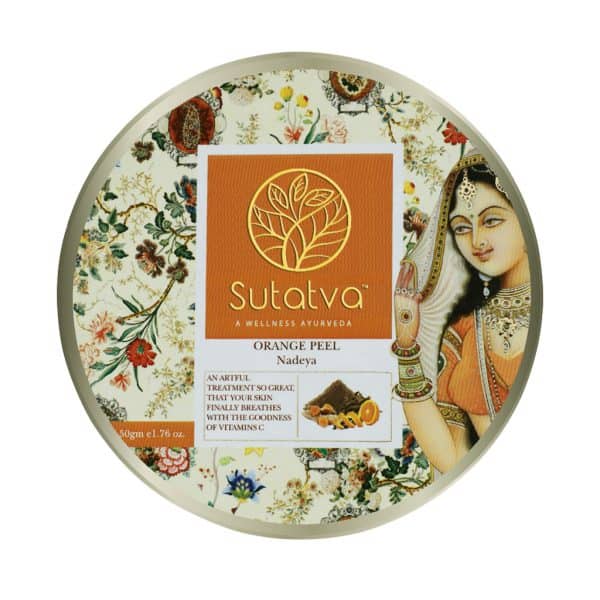 Golden Glow Face Serum
Ayurvedic Name: Iddha
Why face serum?
Face serum is a hydrating skincare product that can help fight dryness and turn your dull and dry skin into a nourished and healthy one. Powerful moisturizing ingredient in face serums like hyaluronic acid helps lock the moisture in your skin and leaves it soft and smooth.
Best face serum with natural ingredients
Sutatva has taken skincare at home to an entirely new level. Their excellent Ayurvedic formulation named Golden Glow Face Serum is a blend of 26 rare Ayurvedic herbs. Hence, be assured that this product can transform your skin in just one week. Some of these herbs include Bala, Atibala, Khus, Chandan, Lotus seed, and Kuru. All these are known for ensuring skin wellness for centuries in Ayurveda.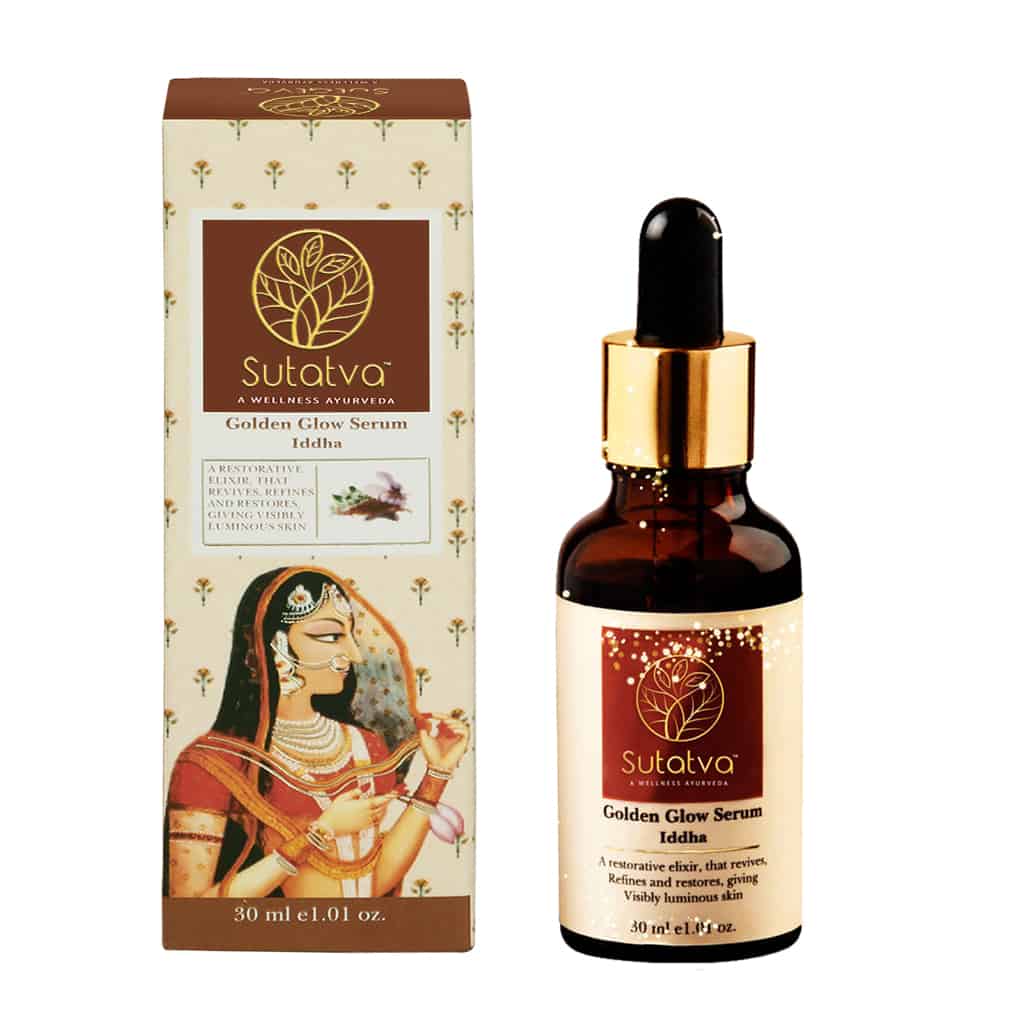 One of the key needs of our skin is to remain hydrated and protected through natural oils. That's where this amazing face serum with a perfect blend of essential oils is great nourishment for the skin. It prevents skin breakouts and reduces fine lines and various other signs of ageing. All it gives is a natural, bright glow on the skin. The 26 rare herbs blend to purify the blood and cure skin problems naturally. What makes it an entirely useful product is the fact that this serum works with equal effect on any skin type.
Steam Distilled Organic Rose Water
Ayurvedic name: Cakranga
Everyone who has grown up in an Indian household would have seen the family elders use rose water as a homemade natural skin toner for face glow. Sutatva has used the best distilled organic rose petals to create this wonderful rosewater toner. The enchanting fragrance of pure organically grown roses is completely different. This is a captivating alternative to chemical-filled perfumes and face toners.
No wonder rose water has been in vogue as an ingredient in skincare at home. The soothing clear rose water has strong anti-inflammatory properties which can help in treating acne and pimples etc. One can even relieve the irritation caused by eczema or rosacea through its regular usage. It improves skin complexion and reduces redness. Rosewater has powerful antiseptic and antibacterial abilities which can be helpful in treating infections. That's why it is used in a range of natural and medicinal treatments. A little-known application of rose water is in the form of medicine. It helps in the rapid healing of wounds, cuts, and burns or even scars.
You must already be familiar with the usage of rose water as a homemade face cleanser. It has been a trusted ingredient for natural beauty products which reduce wrinkles and dark circles as a homemade facial cleanser. Therefore, good natural skincare at home routine must compulsorily include rose water applications.
Tips to use rose water for skincare at home
1. Applying it around your eyes 10 minutes prior to sleep can be highly effective in reversing dark circles.
2. You can also apply a mixture of rose water with moisturizers or natural oils such as Sutatva's own cold-pressed coconut oil. This acts as a homemade face cleanser.
3. Rinse your face with rose water after having washed the face with a cleanser.
Sutatva is an excellent brand using 100% organic ingredients to deliver pure products which benefit you in a myriad of ways. The brand doesn't mix chemicals and impurities. They ensure that the products are highly effective in saving the aura and beauty of the users. They ensure that the products used for skincare at home keep their harmony with nature!
By Ambika