During the lockdown, we have learned to upskill ourselves. Parents are teaching life skills to their little ones using ice cream stick craft ideas. Right from empathy to compassion, so how about also teaching and learning ways to give back to our mother nature with the help of ice cream sticks? Bird feeders are a great way to feed the thirsty and hungry birds. A bird feeder can also work as a home-stay for birds who are looking to build their house from scratch? Isn't this a lovely way to enjoy wildlife at its best?
My Art For Life has made a lovely bird feeder using ice cream sticks. You don't necessarily have to go out or order online. You can easily make one yourself. Sustainable art and craft which helps the birds is a wonderful way to spend summers at home.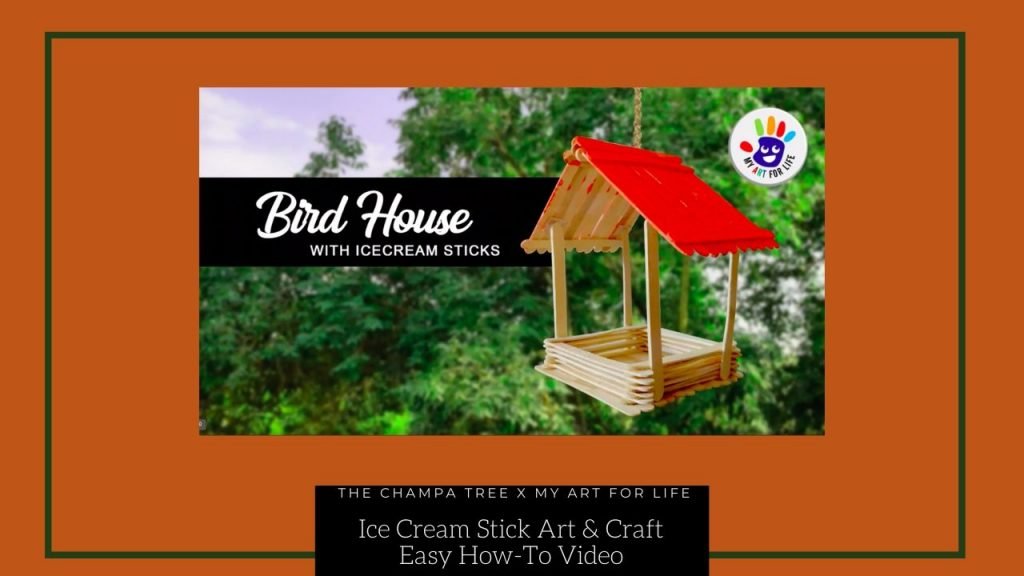 From spring-inspired art and craft tools to home-kept soda bottles, tin cans or broken teacup and saucer, recycle the waste and simultaneously perk up your garden.
We are using a combination of (i) popsicle or ice cream sticks art and (ii) easy ice cream stick painting to give our bird feeder-cum-bird house a robust structure. This how-to make ice cream stick house for birds video tutorial is very easy and will guide you.
We look forward to receiving your feedback in the comments section about these ice cream stick craft ideas. Till then, happy bird feeding. If you don't have popsicle or ice cream sticks, feel free to use a cardboard box.
Ice cream art and craft can not get any easier than this!
Other arts and craft projects made from ice cream sticks include ice cream stick craft photo frame, ice cream stick craft pen stand, easy ice cream stick painting craft coaster and several other home decor, utility items, and gifting options can be made.