Humans are born social animals which means they crave social interactions. This holds for babies too. While babies do get carried to social events too, they are sadly, often limited in their interactions around the home. Take, for example, the dinner table. Dinner time is a precious time for the family to sit down and share a meal, but babies are treated as hindrances as they tend to spill or not be able to sit quietly. They require another member to hold them while putting his or her meal on hold.
However, is there really a need to keep babies off the dinner table to enjoy dinner? The answer is no. A simple baby high chair can do the trick easily. Its duality as a baby feeding chair means your baby gets to eat along with the family too. Finding the best high chair for babies involves a little research to make sure your baby can comfortably sit in it.
A baby high chair is essentially an elevated chair where a baby can be securely placed during mealtime. This helps your baby join the family during mealtime leading to proactive development of their social behaviour. A high chair also lets parents complete their meals in peace while being able to keep their baby under their watch.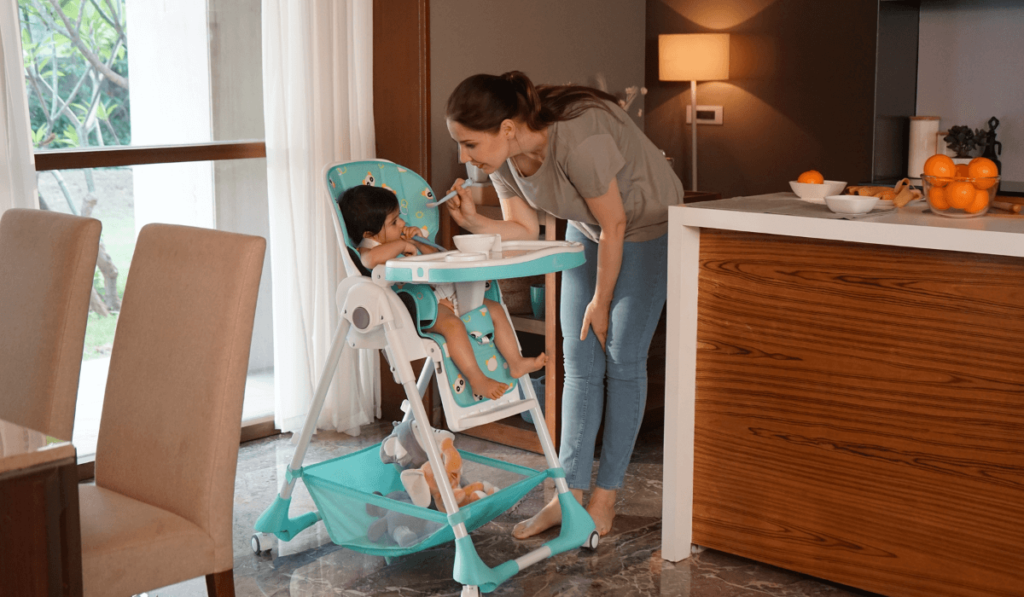 4 Things to keep in mind while choosing the best high chair for babies:
1. Functional baby eating chair
When choosing a baby chair, you want it to go beyond being a mere kids' high chair. Functionality needs to be well built in the food chair for it to make life easy and for your baby to have a fun time. R for Rabbit's Marshmallow High Chair comes with cup holders that steadily hold the baby's cups and cutlery in place. It also defines the functionality of a chair as it can easily be folded between meals to not take up space. It even features a basket for you to hold additional items like napkins, bibs, toys etc.
2. Adjustable baby sitting chair
When it comes to babies, adjustability in the furniture they use can be a blessing. Not to mention the advantage of the furniture growing with the baby. R for Rabbit's Marshmallow kids High Chair grows with the child with 7 adjustable height positions. As the kid grows, the seat of the baby chair can be raised to different height positions to match the height of the dining table with your baby seat. The child chair even features a unique smart one-hand removable meal tray with 3 positions plus a dishwasher-safe upper tray that makes it easy to clean after messy mealtimes. Even when not placed against a dining table, it can function as a chair table for kids.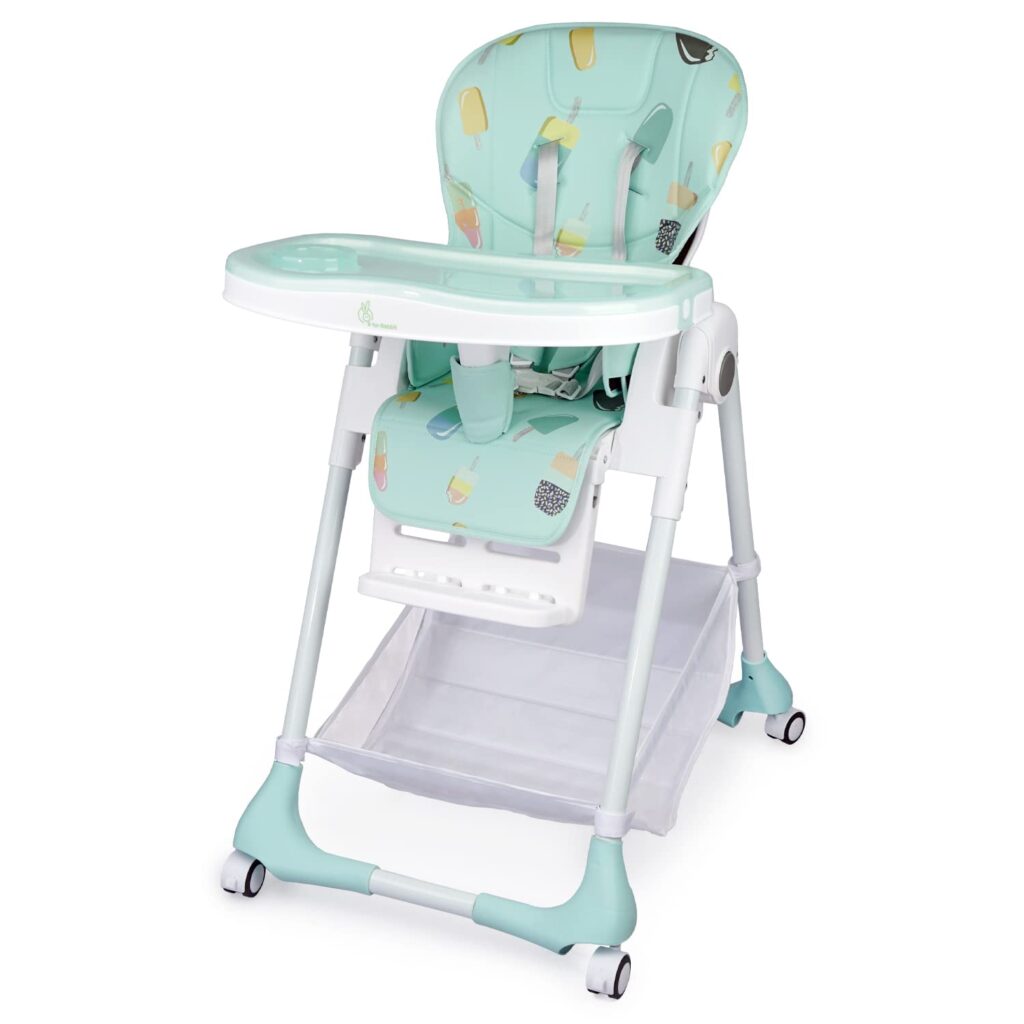 3. Comfortable high chair for baby
Comfort has to be of utmost importance if you intend your baby to spend a long time in his or her baby high chair. The best way to do that is to ensure it is cushioned well and provides appropriate support. The R for Rabbit's Marshmallow kids High Chair provides the most suitable posture angle and adequate padding to make the child sit comfortably and train for good dining habits. Additionally, the child chair features an adjustable footrest to support your baby as they grow in size. The backrest of the baby chair can also be reclined to 3 positions to give them utmost relaxation to the height of the baby.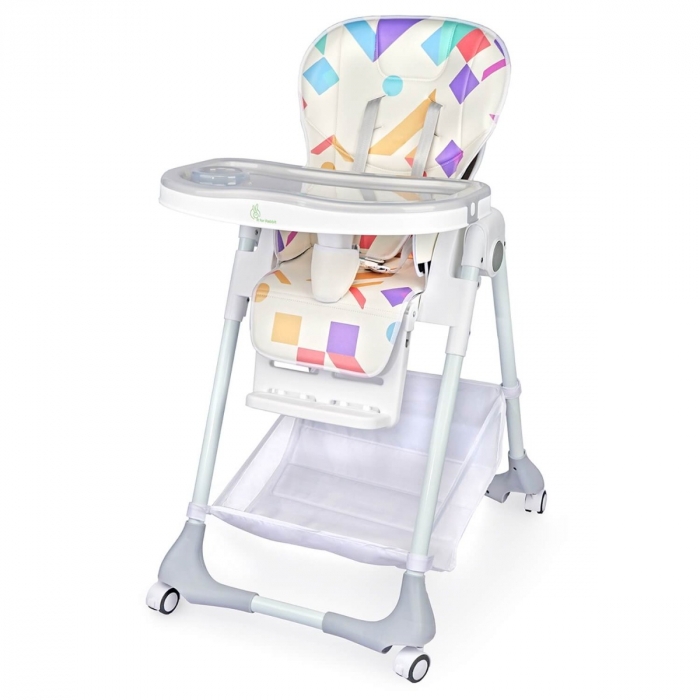 4. Safety of the kid's high chair
As with any baby product, the degree of safety it offers guarantees its dependability. The R for Rabbit's Marshmallow kids High Chair is EN14988 Safety Certified which is one of the most stringent certifications defined by European Standards for baby high chairs. The child chair is tested for mechanical strength and quality of colour and parts used. Additionally, to ensure your baby stays put at all times despite their wiggling and moving, the child chair provides a secure 5 point harness that keeps the active baby safely fastened and comfortable at all times.
Conclusion:
The high chair for kids provides children with an opportunity to participate with the family in the early years. This greatly helps shape their social behaviours and lets them pick up on key table manners. A baby high chair automatically moulds them into better-groomed individuals. Additionally, when the use of the high chair is structural it can even discipline babies about dinner time. So take your pick from the best high chair for babies in India let your baby join you at the table care-free.