For almost seven years, we have been dedicated to writing for and about parenting. Throughout this journey, we've explored numerous marketplaces (online and offline), websites, and mom-and-pop stores that prioritize delivering exceptional products and services capturing the milestones and emotions themed around parenting. Today, we are thrilled to introduce a unique toy brand that centers around a powerful emotion: "Wonder." It has the ability to ignite creativity, evoking the curiosity we all experienced in our childhood, wondering how things work. It is this sense of curiosity that leads to innovation. With this profound understanding, we present to you VWonder, an Indian startup, loved by both kids and grown-ups,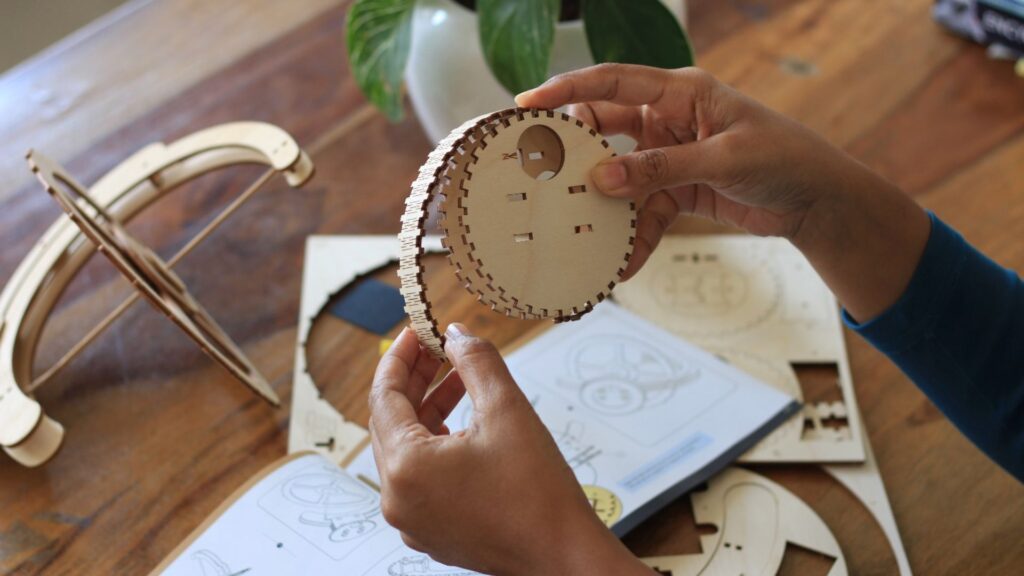 Vwonder specializes in designing and manufacturing 100% eco-friendly, innovative wooden models and toys that delve into Science, Technology, Engineering, Mathematics, and Arts (STEAM). Free from any chemical, plastic, wire, or battery components, their products embrace sustainability and inspire people to think beyond the technologies available today. Each model is a DIY kit, inviting you to not just purchase toys, but to actively participate in building them.
Whether you seek innovative toys or DIY projects or wish to nurture a hobby in this realm, Vwonder models are the perfect choice for you. Loved by both kids and grown-ups alike, these wooden models embody the essence of wonder and offer an engaging and enriching experience for all.
VWonder – An Indian startup focused on eco-friendly & innovative wooden models and toys:
A little bit about your inspiration behind starting the business/venture?

In today's market, plastic toys, predominantly imported from China, have inundated the shelves. Concerns are rising among parents due to the excessive use of chemicals, plastic, wires, batteries, and other non-environmentally friendly materials in these toys. As a result, there is a pressing need for eco-friendly toys that not only promote innovation but also serve a purpose.
As environmentally conscious parents ourselves, we set out to develop a 100% eco-friendly and innovative solution. The inspiration struck when we tried a DIY kit for our son, which proved to be both exciting and disappointing. While DIY projects are fun and foster experiential learning, the existing products in the market lack quality. The models were flimsy, required rubber bands for assembly, and were far from visually appealing.
This experience ignited a determination to create DIY wooden models that meet European standards in terms of quality. For our models, we utilize imported Baltic birch plywood, and each one is crafted with meticulous attention to detail, featuring unique concepts. The Vwonder models stand as state-of-the-art DIY kits that necessitate no specialized tools, glue, or rubber bands for assembly; rather, we use snap-fit joints for secure connections. Once assembled, each model boasts distinct functionality, transforming into a piece of art.
We take immense pride in claiming that our quality sets the standard in India. Our dedication to excellence was affirmed when we were honored as one of the most innovative toys during KHILONA 2022.
Building prototype models had always been a personal hobby, and transforming it into a profession felt like a perfect match. The opportunity to create educational wooden models that are both conceptually unique and unparalleled in quality in India aligns perfectly with our vision and passion.
What's one piece of advice you would give to budding local businesses/initiatives?
Embrace your passion, and the pieces will align. The path of an entrepreneur entails facing countless challenges and skillfully navigating through them. Perseverance is key; as long as you persist, transformations are inevitable. Stay committed to doing what you love most, and success will follow suit.
If you have a homegrown venture and would like to be featured in our #VocalForLocal segment, fill out the Vocal for Local sign-up form.
_____________________