Dessert is the one thing that nobody can say no to. They give a befitting end to any meal. Indians indubitably have a penchant for sweets. Not only are desserts part of our staple fare, but they are also offered in our places of worship. Be it the karhaa prasad at Gurudwaras or the boondi ladoos (sweet jaggery balls) served at temples, desserts form an integral part of our sacred offerings. India's celebrations and ceremonies involve copious amounts of mithais (sweets) and Navratris are no different! Now just because you are fasting does not mean you cannot have desserts that you can eat during Navratri fast.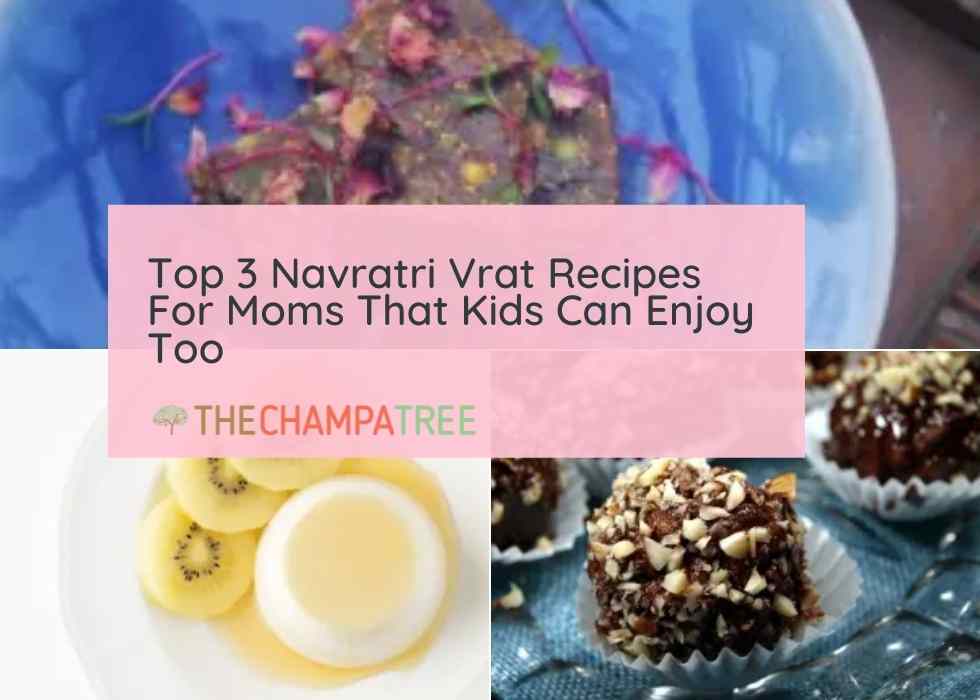 1. Coconut Pannacotta/Coconut Set Pudding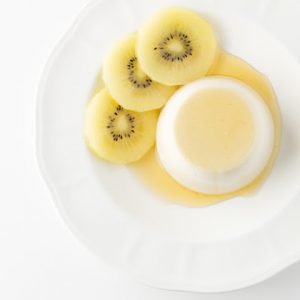 Coconut Pannacotta
This set pudding is inspired by the Elaneer payasam (Tender Coconut Payasam), a very simple and quick-to-make dessert from South India. The bits of the tender coconut pieces along with the blend of evaporated milk and coconut milk make this dish an ideal Navratri special recipe.
Ingredients
200

ml

Milk

400

ml

Heavy Cream

5

drops

Vanilla essence

75

gm

Dried coconut powder

100

gm

Sugar

60

gm

Agar-Agar
Instructions
Combine the milk with sugar and bring it to a boil. And remove from flame and add vanilla. Stir.

Now add agar flakes, followed by heavy cream and coconut powder.

Set in desired glasses or cups and top up with nuts and fruit to serve.
2. Banana Hazelnut Laddoos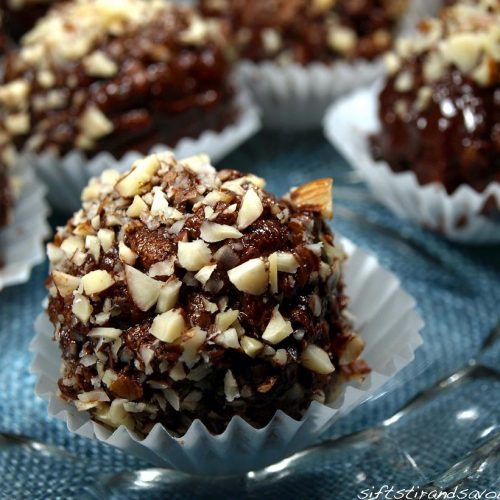 Banana Hazelnut Laddoos
Banana Hazelnut Laddoos are that perfect low cal mithai that not only has significantly less sugar content but is actually healthy because banana is a key ingredient. This is a sweet that is good enough for those who choose to eat healthily as well as for kids who shy away from eating fruits.
Ingredients
Laddoo
2

pcs

Bananas, mashed

100

gm

Hazelnut powder

50

gm

Hazelnut pieces

Crushed

50

gm

Icing sugar

30

gm

Hazelnut paste/Nutella
Coating
250

gm

Dark chocolate

1

pack

Digestive biscuits or puffed rice
Instructions
Combine all the ingredients (except dark chocolate and digestive biscuits) in a large bowl – best to use hands to ensure the consistency is uniform and there are no lumps. Knead the mixture for a minute like you would knead the flour.

Take a small lump of the mixture and roll it between your palms.

Refrigerate for 30 minutes until firm.

Coarsely powder the digestive biscuits and keep them on a plate.

Dip each laddoo in the melted chocolate – roll over the digestive biscuit crumble to coat evenly.

Let it set in the refrigerator for half an hour. Serve chilled.
3. Rose and Fig Bites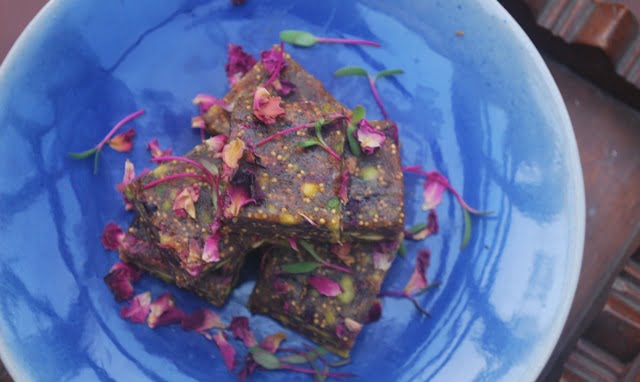 Rose and Fig Bites
The Rose & Fig Bites are the perfect dish for Navratris. They are super healthy and not so heavy. And the best thing is they look really exotic, but are unbelievably simple to make.
Ingredients
500

gm

Dried figs

100

gm

Pistachios, broken

100

gm

Almond powder

50

gm

Butter

20

gm

Dried rose petals

100

gm

Castor Sugar

100

ml

Water
Instructions
Boil the figs with water and sugar until soft paste-ish texture, add the butter.

Fold in pistachios and almond powder and rose petals to this buttery paste.

Remove from heat and spread on a tray greased and lined with paper or preferably a silicon mat.

Cool for about thirty minutes and refrigerate for another thirty minutes till firm.

Cut into square bites and serve.
About Chef Neha Lakhani: Neha, is a Cordon Bleu-trained Patisserie Consultant. She has trained with Chef Fredrick Monti, Stephane Treand, Stephane Glacier, Jean Francois Arnaud, Peter Yeun, Martin Lipo, Sebastian Chavilliar, Martin Lippo, and Roland Delmonte, among others. She is also a member of the Indian Culinary Forum (ICF), the Penang Chefs Association, Saudi Arabian Chef's Table Circle, and also Indian Federation of Chefs Association. You can check out some of her most amazing food recipes on Facebook.
Subscribe to Blog via Email