A growth-spurt indicates that your child is healthy. My pediatrician states that between 2 years and 10 years, a child continues to grow at a steady pace and tend to feel hungry (especially preschoolers). They are invariably active, and exuberant. The calories they consume would be burned in no time. You are worried about your kid's health and are constantly (and desperately) hunting for new healthy food recipes while asking others to share their innovative snack recipes for kids. Hence, TCT has brought you two snack recipes that you can prepare at home.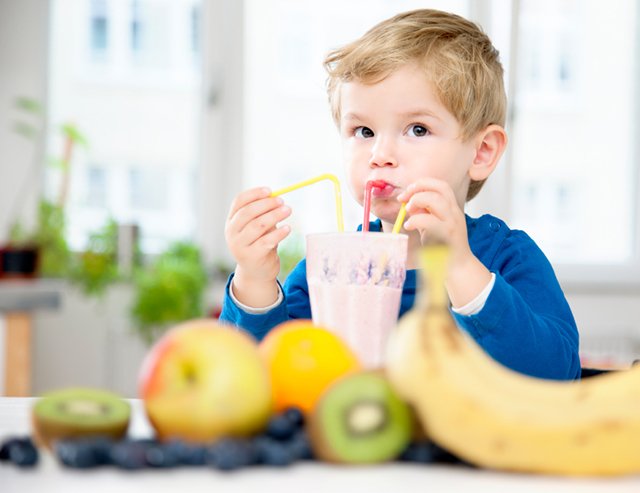 Entice your fussy eater with these snack recipes for kids:
1. All-fruit smoothie recipe
This delicious sippable treat is packed with nutrients. This delicacy can be served as a dessert after the meal or as a snack between meals. Alter it to suit your child's needs. Add a scoop of ice-cream or fresh or frozen fruits to enhance the appeal (and a way to sneak in some fiber into your child's diet).
Ingredients
1 apple – peeled, cored, and chopped

1/2 cup of plain yogurt

1/2 cup milk (toned)

1 cup of raspberries/strawberries/blueberries

A few slices of mango (seasonal)

50 grams of seedless grapes

1 banana

Sugar to taste 

A few ice-cubes (optional)
A pinch of cinnamon (optional)
Preparation
Blend fruits, sugar, milk, and yogurt. Add a few cubes of ice. Blend until smooth. Pour into a glass and serve.
Tip: You can also try out spinach, very-berry, peach, mango, banana, pineapple and chocolate smoothie! Further, replace sugar with honey. The ingredients are enough for 2 servings, so mommas, you too can relish some 🙂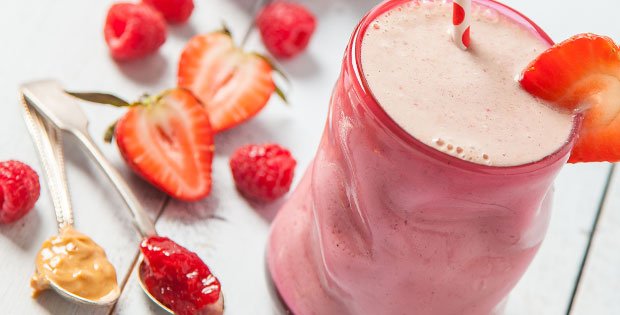 2. Quesadillas Quick and Easy Recipe
To say that a calcium-rich cheese quesadilla goes with any ingredient is not an exaggeration. A few freshly-chopped vegetables, some cooked chicken, or even, boiled kidney beans (rajma)/chickpeas (white chanas) can make a good combination with a quesadilla. Brat H enjoys bean and cheese quesadillas, which are easy snackS for kids. This recipe is rich in Vitamin E, lycopene (found in tomatoes), and fiber.
Ingredients
1 cup chopped tomato

1 green onion, chopped

A few dices of green/yellow/red bell pepper (capsicum)

1 tablespoon chopped cilantro

1 tablespoon lime juice

1/2 cup cooked black beans (or Kidney beans boiled)

1/2 teaspoon salt/rock salt

1 spoon tomato sauce (can be easily prepared at home)

Softened butter or vegetable oil

1/2 cup of corn or sprouted corn

Whole wheat tortillas

Mozzarella cheese, grated
Preparation
Combine the tomatoes, green onion, bell pepper, cilantro, lime juice, black (or Kidney) beans, salt, and tomato sauce in a bowl. To prepare this quick and easy quesadilla, spread or brush the softened butter or vegetable oil on one side of two tortillas. Place one tortilla butter-side down in a frying pan over medium heat. Spread some grated cheese on top of the tortilla and top it up with a generous spoonful of the bowl mixture. Place the other tortilla, butter side up, on top of all this. Cook until both the sides of the tortilla is golden brown. To serve, cut each quesadilla into 6 small wedges.
Tip: A few add-ons such as black olives, pumpkin seeds, guacamole, or jalapeños will enhance the taste! Also, you can prepare salsa dip at home and serve this yummy quesadilla with it 🙂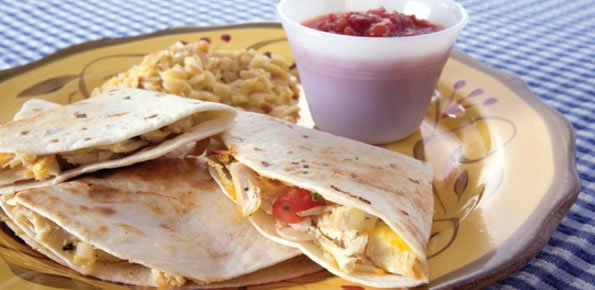 Disclaimer: Please do consult your pediatrician before you introduce these recipes to your baby. Don't forget to specifically discuss any foods that may pose allergy risks to your baby.