A strong mother gives birth to a strong daughter. The vision of the #RealMom series of TCT has been to bring the spotlight on mighty mothers who have proven their mettle with a strong emotional quotient and never-give-up attitude. But today our real mom story is unique. We have a mother and her daughter – both equally strong-willed, persevering, and compassionate. When Real Mom Monika Sharma spoke to us about her weight-loss journey, the conversation bore fruit to another breathtaking motherhood tale of her mother Nirmal Sharma.
Real Mom Monika Sharma and her real mom Nirmal Sharma
After not one but seven miscarriages, at the outset of the third trimester, my mother, Nirmal Sharma, had nearly given up on her dream of having a child. But nothing could quell the urge to hold her baby.
When I heard the 'tale' of my birth, I presumed that it is nothing short of a piece of fiction.
"You didn't move inside the womb! The doctor came out and declared that our eighth child is stillborn. The hospital walls closed in on me", my father says.
"While I remained rooted to the spot, a nurse came out with a tiny little being. She placed the child in the crook of my elbow and said 'beti hui hai' (It's a girl)." My father remembers the doctor's expression. "It was priceless," he added.
I thought they brought someone else's child to pacify me

– Nirmal Sharma
When the seventh child was also declared dead, my mother was prepared to accept fate. But when the nurse went back with a living infant, she refused to believe that it was her child. "I thought they had brought someone else's child to pacify me," my mother would laugh.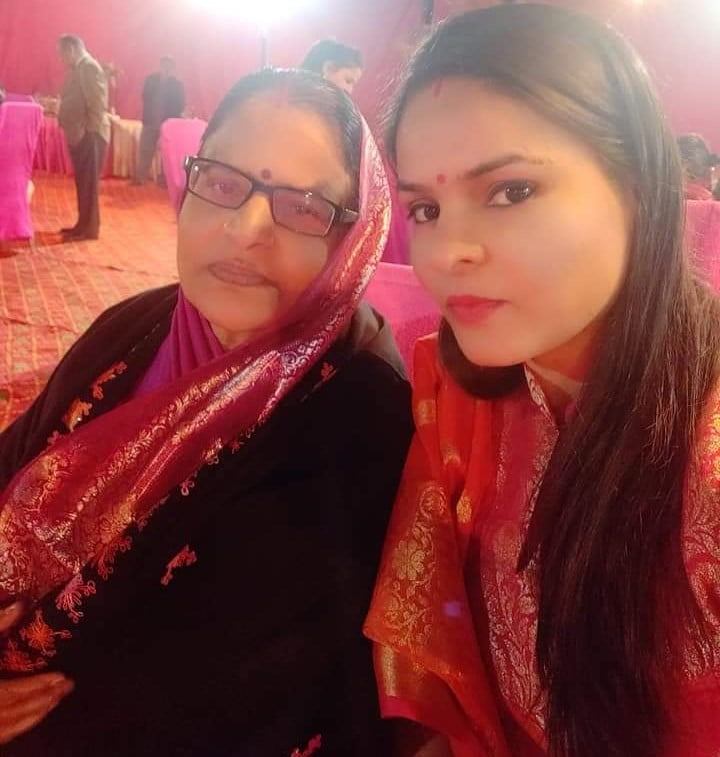 Being a cool bean woman, her motherhood tale didn't end with me. It went on to add two more daughters and a son. We belong to Morena, Gwalior, and I was born at a time when sons are treated as princes. But my father was a modern man. Modern, because he never had any gender biases. He was proud of his daughters.
After the loss of her husband, my mother, an educated woman whose veins were namesake lines, didn't shed a tear. Instead, she emerged as the pillar for her bereft children – the ones who would break down every single day.
My water broke at 24 weeks:
The first few months of marriage is blissful for most couples. In my case, it was double ecstasy coupled with uncertainty. On the 28th day of my journey of being a wife, I took the baby steps of being a mother but was hardly prepared. It took me a few months to imbibe the fact that I was pregnant. The next few months were a haze for me. But the real shock was yet to come when my water broke. I was uncertain about how to manage the situation as my baby was just 24 weeks old. The doctor advised complete rest but I was still working.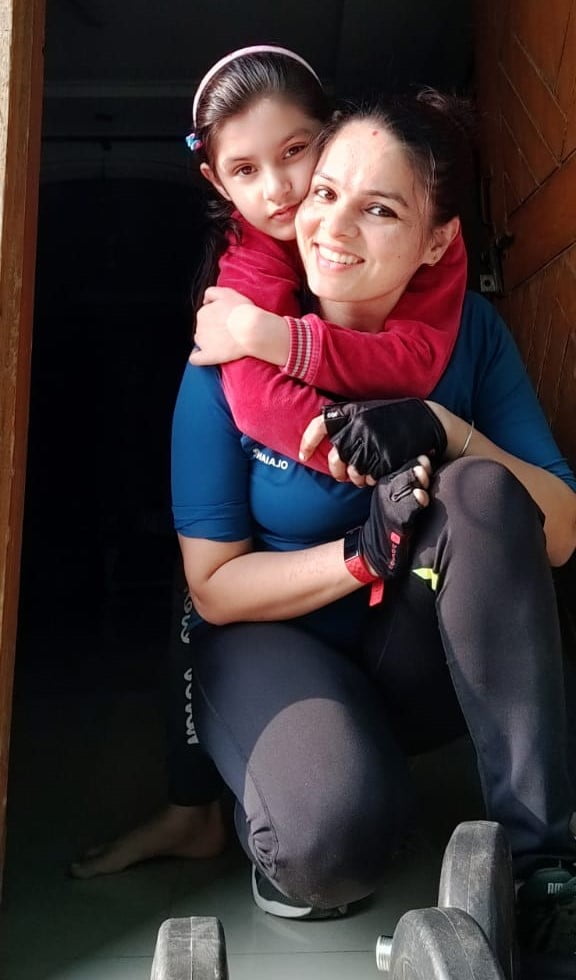 I could not afford to leave my job, hence I continued working from home. First pregnancy, an unplanned one at that, and a history of miscarriages in the family: it was unsettling me. Lying on the bed, gazing at my uncertain future, I knew that my life would no longer be the same. Although we educate ourselves, we are never prepared enough for a delivery — more so, a premature one. When Paavni came into my life, everything changed irreversibly.
Separating from my three-month-old daughter
With a preponed maternity leave, I had three months left, postpartum, to rejoin. I was working in Gurgaon, nearly three hundred kilometers from my place. The daily commute and taking my daughter along weren't the options I could choose. Hence I had to have a long-distance mother and daughter relationship. It affected me badly. Somehow the thought that I am being unfair to my daughter started eating me from inside. To add to the travail, we had odd working hours.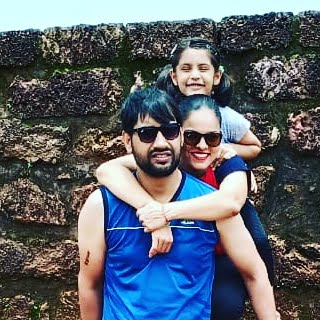 Food became an easy way to quench hunger. I forgot how to taste my food. Instead, I gobbled up whatever I could access easily. Junk food became my daily diet and I knew that I was pushing myself towards lifestyle diseases.

Monica Sharma
When I hit 90 :
Like every woman, I gained weight postpartum but in our area, women have to move after delivery let alone do post-pregnancy exercise. I too did not see the relevance of post-pregnancy exercise. I started growing massively postpartum. My life was so mechanized that by the time I realized it, I was 90 kg.
My body was massive and my legs couldn't carry that weight. I couldn't climb steps, my thyroid levels were dangerously high, and palpitations became a part of my life – I was sinking.

Monika shares her experience when she was obese.
My doctor told me outright that I had to reduce my weight to lead a normal life. The trauma of not being with my daughter at her tender age had already saddled me and this was the decisive moment.
I rewound myself to the past three and a half years. Was this worth it? Shall I continue like this? When the words like Moti(fat) and Bhens (buffalo) became my synonyms, anyone could get back at me and break my soul by body shaming. I still cannot forget the contemptuous stares of people when they looked at my husband and back at me.
I was earning enough but my health and family at large were deteriorating. Finally, I put my foot down and quit the job after three and a half years. My greatest gain is that I could be with my daughter and build a strong mother-daughter relationship and be the real mom for my girl. Now that I am back to my daughter, with adequate time for myself, I decided to work on my soaring body weight.
If you have the resolve, it is not difficult to find half an hour for yourself

Monika Sharma
90 to 61 – Weightloss journey of Real mom Monika Sharma
I started doing weight loss exercises at home. My bodyweight deterred the workouts as my stamina was nil. I couldn't do any heavyweight loss exercise at home other than basic cardio and couldn't afford to go to a gym or any fitness institutes. I knew sweet Fanny Adams about workouts. Left on my own, following fitness instructors was the best bet for me. What started as a basic warm-up became a routine in my life.
Slowly but steadily with basic weight loss exercises at home, my weight started coming down. When we start losing weight at some point we reach stagnancy. I reached the point after a year and a half when I was 72 Kg. I couldn't bring down the weight after the point as I was doing active workouts only. Now it was time for the passive workout but how? I could not go to any fitness centers!
2020 – The year with the fluctuating graph
To intensify my predicament, my father was diagnosed with cancer in 2018. For two years he struggled with the proliferating cells and it was breaking me to see his pain. My weight loss exercise at home took a backseat as I could not think of anything but my father. My mother used to take him for chemotherapy even during the blood-chilling winters despite being weak herself. None of it sufficed as we lost him in 2020 January.
When I lost my father, I thought it was the end but my mother gave me strength. I still can't decipher how she gathered the power to pacify us when she was in deep pain. She, being a real mom, gave a new meaning to motherhood and the mother-daughter relationship at large, by being a father too. Slowly I was recuperating, when the lockdown happened. Strangely as it seems, staying back home exclusively was a welcome change for me.
The final lap
I bought weights and with the help of a few good-hearted fitness trainers who shared authentic information online, I started my weight loss exercises at home. Lack of post-pregnancy exercise made it difficult to burn the baby fat but I couldn't give up.
Within 6 months I lost 11 kg. Now I am 61 kg, feeling light and confident about myself. Now I share my story of weight loss exercises at home. My journey was never easy.
When I started weight training, I spent days burning muscles. With no household help, I was struggling but probably my father gave me the strength to go on and my husband helped me immensely.
To all women out there, if you don't have access to fitness training, don't lose heart. With the right guidance, you can do weight loss exercises at home and keep your body weight in check.

Monika Sharma
We make many wrong decisions but, trust me, never regret your past. It is these experiences that make us stronger. Life is full of learning. We should be aware of the fact that what is today may not be there tomorrow. We should not be disappointed, but rather work on ourselves. It is important to know that we can still be what we were before. Had I not taken that decision and persevered with it, I wouldn't have been Real Mom Monika Sharma today.