Cherishing every moment with your little one has been the best blessing one could ever receive. From the moment babies are born to when they start walking around, most parents apprehend this feeling; they want to give their children the best of everything. Be it with respect to best food choices, clothes that are high on quality, or the best diapers, and superior toys; they ensure that all the products are safe for their children. Undoubtedly, to be protective towards your young and loved ones is an inbuilt feeling every mother and father naturally inculcate and nurture.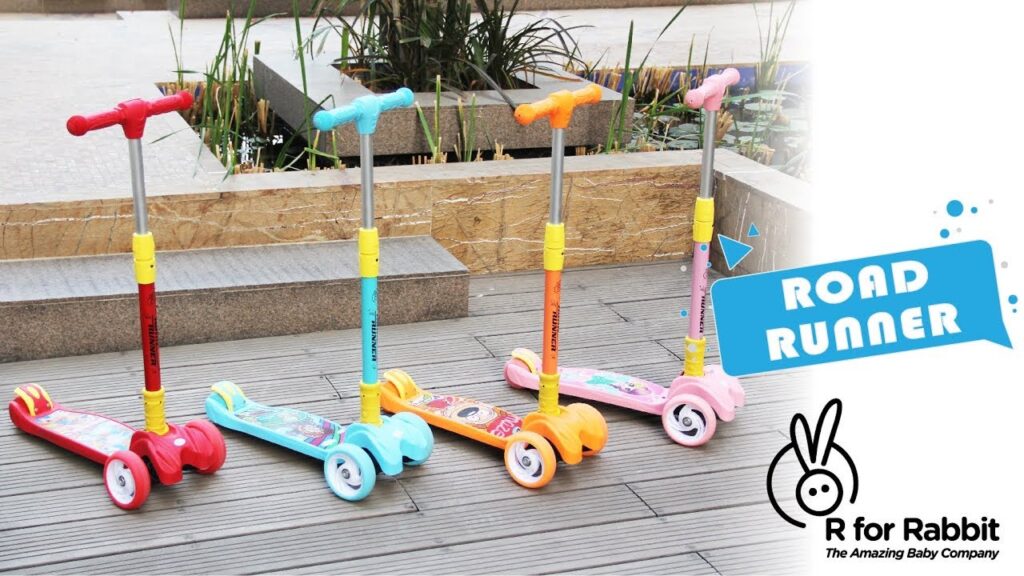 R for Rabbit understands this need of parents very well and has therefore come up with an in-depth variety of baby products. The products are crafted with the utmost care and safety; another reliable product is the R for Rabbit ride on toys. The assortment comes equipped with unique features, colours, and designs.
However, there are certain things that one should keep in mind before buying ride on toys as kid's companions.
Important factors you can't avoid when buying ride on toys for kids:
1. Driving surface
Consider the area where your child would spend time riding – would it be flat or rocky. It is recommended to choose plastic wheels if the surface is flat otherwise, go for rubber tires if you have a rough surface.
2. Remote control enabled
Child's safety is your priority. Having a remote-enabled ride on toys would let you control your child's speed and distance. After your child turns 4 or 5 years old and hones their motor skills like steering and pedalling, you can leave them free to ride around anywhere.
3. Baby riding toys design
Baby riding toys come in several designs and colors. Right from pedal models to remote-enabled features, these ride on toys have become a classic choice for every parent. So, ensuring the product that you buy is from a licensed brand, made of premium quality, and guarantees about child's safety should be on your checklist.
Why are ride on toys important?
Ride on toys are designed to build stronger muscles and they also encourage better body balance. There is a wide range of ride on toys in India, but R for Rabbit ride on toys are one of the best due to several reasons. These toys come in varieties like kick scooters, ride-on cars, and battery-operated cars. These toys help to enhance motor skills in children and develop a sense of judgment and concentration. Unlike the traditional kick scooters, ride on toys in India have been redesigned with two wheels in the front and one wheel behind with the foot brake. This feature makes these scooters more secure since the chances of imbalance decrease, making it safer for your kid.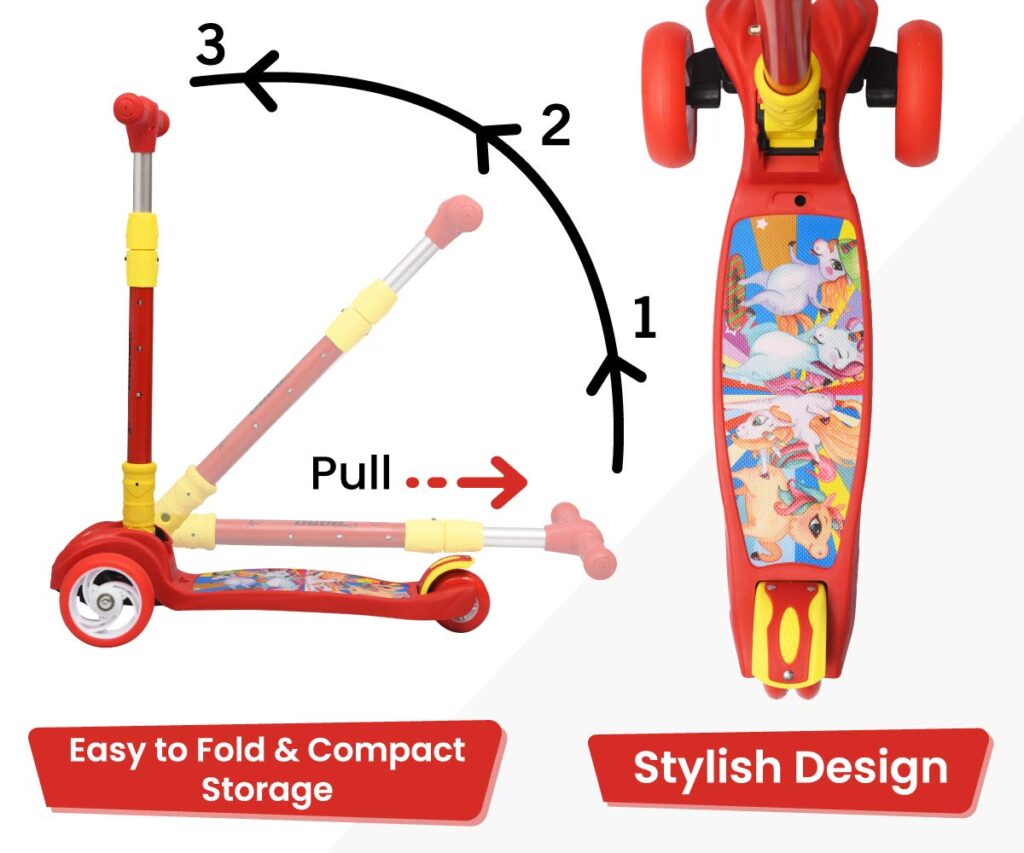 R for Rabbit always loves to surprise parents and kids; hence it has come up with, yet another lovely feature of PU-LED wheels that glow brighter when your baby is riding their beloved kick scooter.
A cute two-wheel kick scooter with four height levels and PU-led wheels with light to entertain your baby is a good choice for your little one. It is easy to travel with this ride on toy as it folds 90 degrees. It has a safety back heel brake that the kid can use quickly and an anti-slip deck to prevent your kid from suddenly slipping off. These kick scooters from R for Rabbit ride on toys come in 3 attractive colours: red, yellow, and purple-pink and can be purchased at an affordable price of ₹3449/-* during its ongoing festival sale.
Like other two-wheel kick scooters, this also has four height levels and folds fully, making it easy to travel. They have PU-led light-up wheels and anti-slip wide foot area and handles. The ride-on toy scooter is made of solid material that extends the life and durability of the scooter. There are three colours available: blue, bottle-green, and baby pink, and can be currently purchased online at a price tag of ₹3899/-*.
This kick Scooter is designed to give your little one enjoyment and safety, for it has an anti-skid wide base, easy-to-control heel brake, and anti-slip PU-led wheels that light up when moving. The T-handle has a comfortable grip and can be folded 90 degrees, so it becomes easy to carry around. Choose from purple, red, and blue with common black that attracts your kid and keeps him busy for a long. Priced at an exclusive rate of ₹3,779*, this ride on toy is budget-friendly, and can also be used for a longer period.
Gift your little ones the care and freedom that R for Rabbit's ride on toys provide and watch your little ones enjoy their growing days.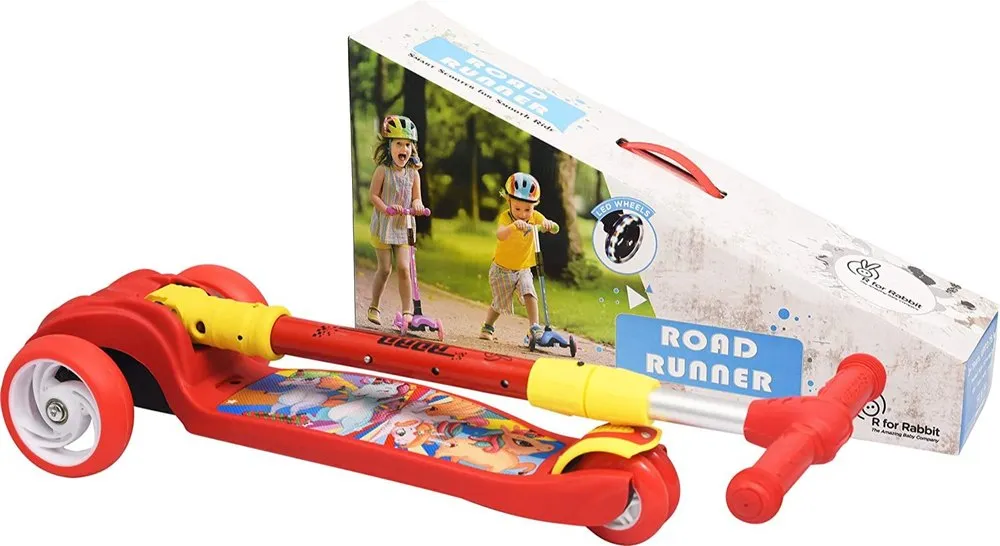 We hope that the options mentioned above will help shorten your list of kick scooters for your darlings and you will get a better idea of which product is more apt and beneficial for your child's specific needs and age.
One thing good about these baby riding toys is that their handle is adjustable as your baby grows and could be used for a longer time. Also, the money invested will be put to a great and longer use.