Parenting a baby is a tough job, and diaper-changing isn't always the part mom, dad, or caregiver looks forward to the most. But as every parent knows, it's an unfortunate reality that needs to be dealt with. Right from selecting a healthy meal to choosing the best baby accessories, like high chair, spoons, diapers etc; parents have to do a lot of research and experiments before trying something on their little ones. And when you are a new parent, selecting the perfect diaper size for your baby, i.e, a diaper medium size or size 1, size 2, or more, is the most difficult task one could experience.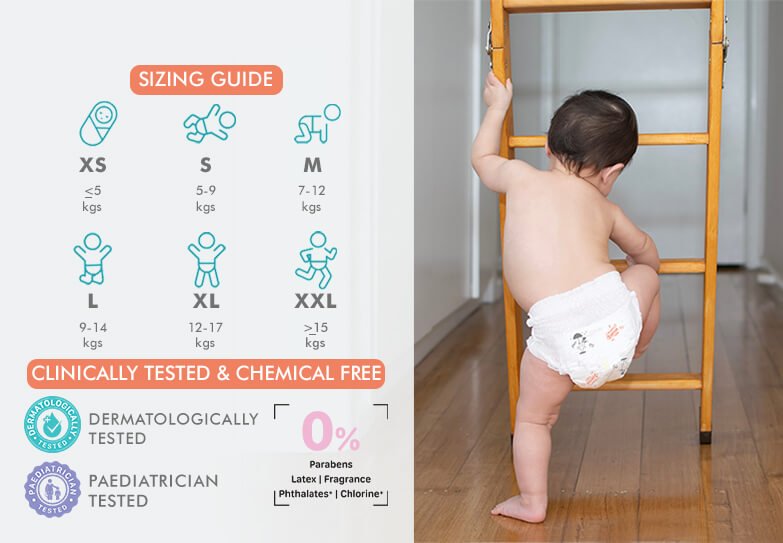 Whether you are selecting disposable, flushable, or cloth diapers, choosing a diaper that is environment-friendly, comfortable, great absorbent, flexible, and most importantly by a trusted brand, like from R for Rabbit, are a few key points that should be on the checklist. So, before you buy a diaper for your baby, ensure that you know about the types of diapers available and size chart measurements.
An ultimate guide to knowing if your baby is ready for diaper medium size:
If there's one thing that you must know before picking the diaper for your newborn, diapers are sized according to weight and not by age. Also, different brands show different diaper size guides. Remember, baby sizes are typically measured in pounds and then by inches in height. For instance, a baby weighing 16 pounds or less is most likely a newborn size and can wear the newborn diapers until 24 weeks old or till 17 pounds or more. Baby diapers are available for children up to 10 years, so if your child does not fit into any weight range of lbs/inches for any reason, it might be time to change the baby diaper size.
When should you buy a medium size diaper for your baby?
Before you pick any diaper size, ensure that you know the exact weight of your little one. You can use a bathroom scale to weigh your baby. Remove the clothes and diaper of the baby and step on the weighing scale while holding the baby in your arms. Then, subtract that baby's weight from your weight to get the exact figure. Let's now know the signs that indicate the changing of diaper size from newborn size to baby diaper medium size.
1. When diapers don't cover their bottoms
If you notice that your baby's diaper is not covering their bottom completely, then you should go for a bigger size.
2. Tightness of the diaper
Check the tightness of the diaper through the waistband. Using your fingers, pull up the diaper's waistband. If you find it difficult to pull up the diaper, then it's time you should go for a baby's diaper medium size.
3. Red marks
If you see red marks on the baby's skin when you change the diaper, it is a sign of discomfort that your baby is facing. The red mark is a sign that you should go up for the next size.
The diaper should fit comfortably without being tight. Run your fingers around the diaper to make it a bit loose. Ensure that the fastening tape reaches the centre of the waistband for a perfect fit.
5. Diaper size guide
Check the guidelines given on the diaper package that recommends the baby's weight and perfect diaper size. If the weight of your little one is above or below the suggested weight, then it's time to switch to a new diaper size.
Why you should go for R for Rabbit baby diapers medium size?
When you are a new parent, you should always consider a few things before buying a diaper set. For instance, the diapers should be made of breathable materials, be environment friendly, come in all sizes, and so on. Feather diapers by R for Rabbit have become the preferred choice for new parents for several reasons.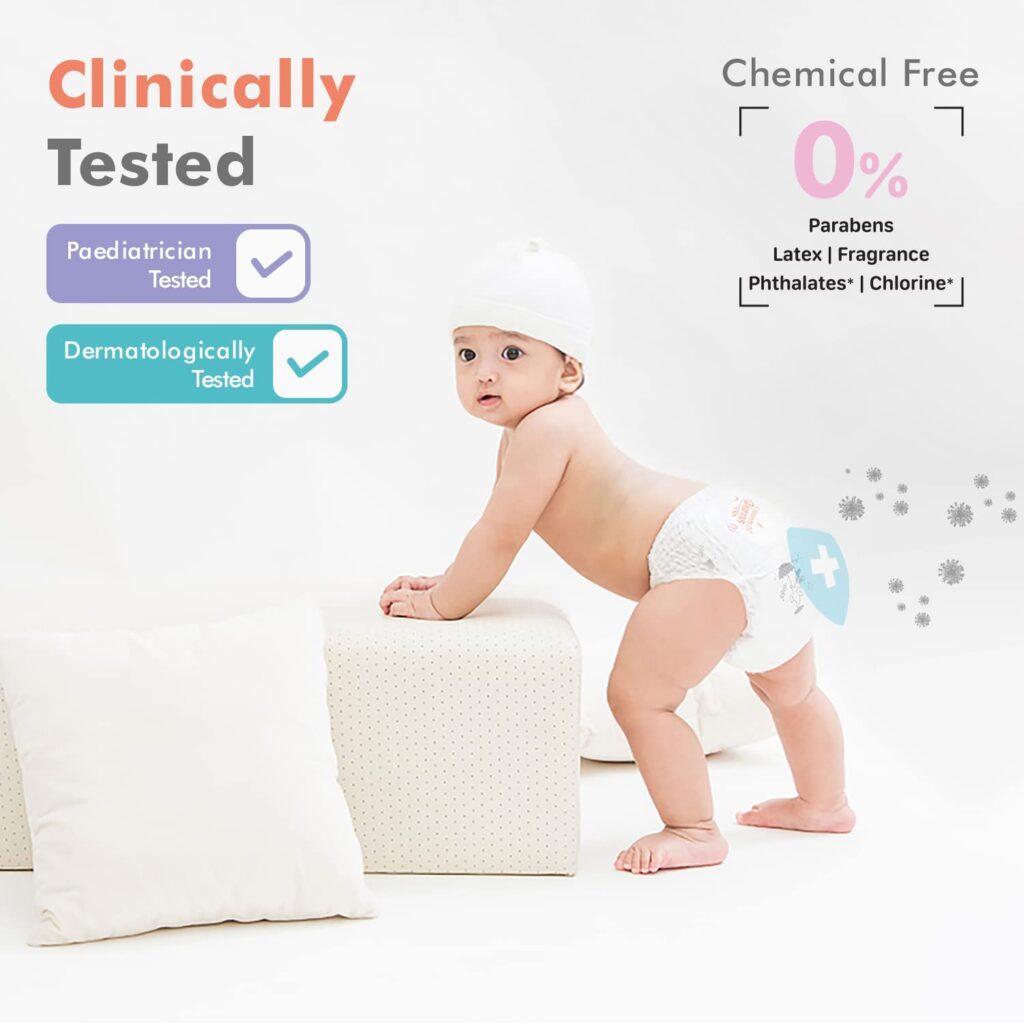 1. Tested for absorption
These medium-sized baby diapers by R for Rabbit are not ordinary and are tested to prove absorption, breathability, and softness. Baby diapers medium size diapers by R for Rabbit are fit for kids weighing 7-12 kgs. These diapers offer up to 12 hours of dryness with gel and have over 10 million* breathable pores that prevent the baby from rashes.
2. Disposable tape
Medium-sized Feather diapers come with a single strap and allow you to throw the diaper with the utmost ease. The disposable tape makes it easier to conveniently wrap the soiled diaper and does not create a mess in your home.
3. Value for money
R for Rabbit Feather Diapers are worth buying. You can buy these medium-sized baby diapers at an affordable price of 459/-* INR with different packing sizes. What's amazing is you can even save up to 10% on every subscription plan.
Conclusion:
R for Rabbit is the perfect brand for your little one because it offers a variety of quality products that your baby will love and can use for a long time. Buy R for Rabbit Feather Diapers in medium size to make your baby's diaper journey happier.
There are many factors to consider when choosing the best diaper for your baby, including your baby's age and weight, the number of diaper changes per day, your baby's preferences, and the environmental impact of each diaper. You should also consider the cost and ease of use of the diaper medium size, as well as your baby's comfort. With so many options available, it can be difficult to make an informed decision about which diaper size is best for your baby. Ask experts, check reviews, and then choose the best for your little one.