The first time I gave my baby a bath was quite a stressful 30-minutes for me. From the position in which I should place him on the baby-bath-tub to the temperature of water I must use, everything worried me. But one of the major concerns of bathing a new born baby was which cleansing bar to use? Should it be paraben-free or smell-nice? Should it be organic, ayurvedic or homemade? After doing a lot of research, I have shortlisted 3 mild and gentle soap-free bars which are good for baby's soft, delicate skin among which tedibar soap is the most recommended one (Oftenly recommended by parents). These soaps-but-non-soapy bars keep baby's skin moisturized. Slathered with Vitamin E, which helps in soothing the skin, also contributes to keeping your child's skin supple.

Check Out these 3 Amazing, Tried-and-Tested Bathing-a-Baby Soap Bars:
1. Curatio Tedibar Soap
Our personal favorite! It suits sensitive skin. My baby's skin goes through breakouts during summer months and around that time, this soap is exceptionally effective. Here are some of the other benefits of Tedibar:
pH is even less than neutral hence same as skin pH.

Works in all climatic conditions, but super effective around summer and monsoon months.

Very mild fragrance and therefore causes no irritation to the skin.

A very nice soap stand comes with the soap. It prevents soap from sticking to the soap-dish!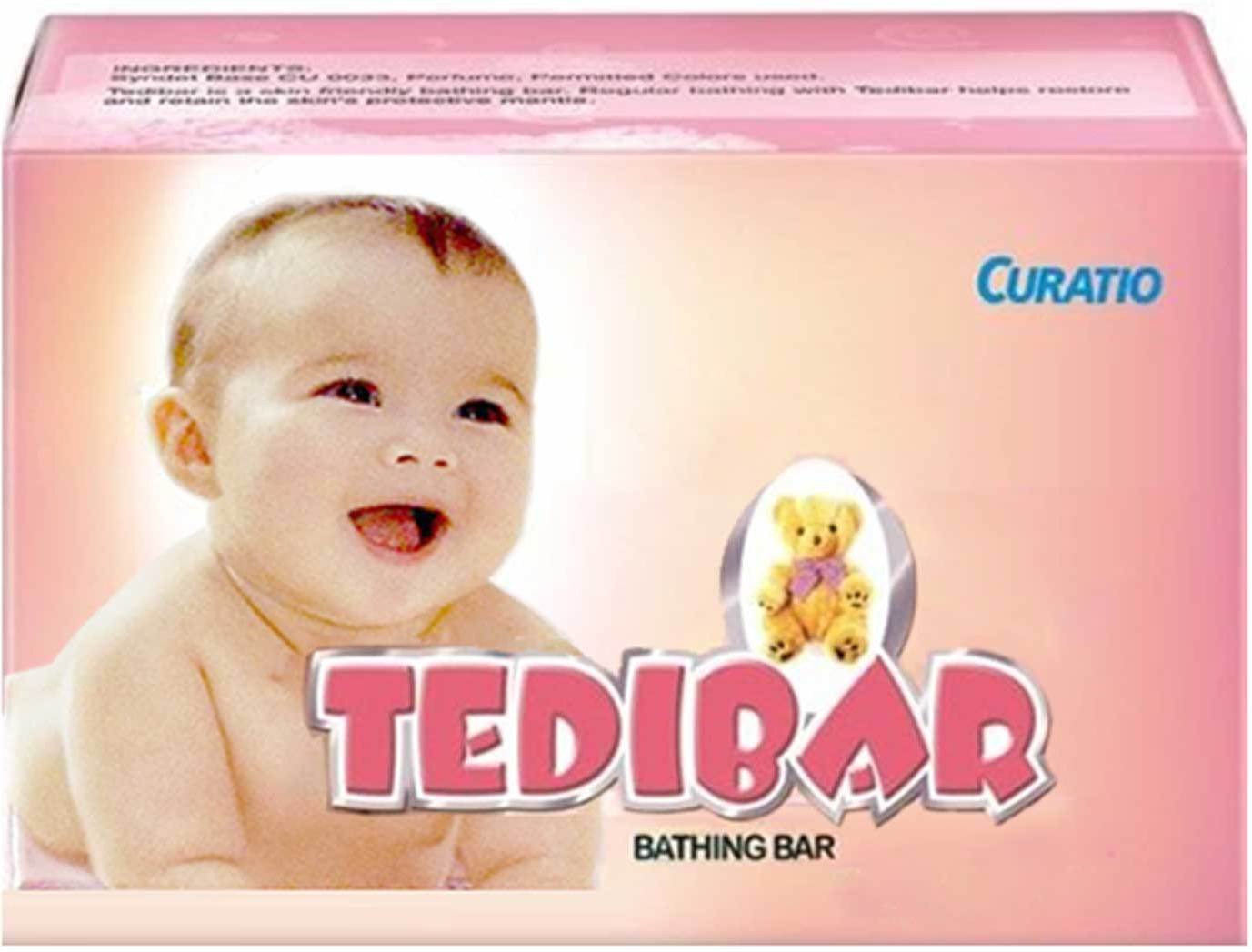 2. Himalaya Refreshing Baby Soap
We love this exceptionally refreshing soap for new born babies and kids. Made from some of the best summer ingredients such as watermelon, Khus Grass and Neem (which is a revered herb in Ayurveda), baby's skin is well looked-after with Himalaya Refreshing Baby Soap. Here are a few things to look forward to when applying this soap bar on your baby's heat-stricken soft skin:
It has an ultra-cooling, refreshing feel to it.

The antibacterial and anti-inflammatory properties are effective in helping to manage prickly heat in babies.

It contains Watermelon that cools, Khus-Khus to soothe and refresh the skin while Neem's antibacterial properties prevent skin ailments. Ideal for use during the summer.

Mild fragrance and the fact that it's free from artificial colors makes it safe to apply on baby's skin.

It doesn't strip the moisture from your baby's skin.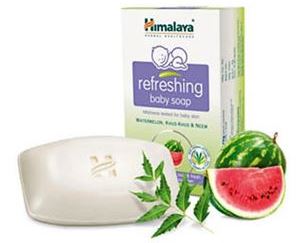 Click on the picture to buy it online! For more information, click here!
3. Sebamed Baby Cleansing Bar
This cleansing bar by Sebamed is specially designed as per the texture of your baby's tender skin. This Sebamed baby-cleansing bar contains amino acids and Sodium cocoyl glutamate, which helps to keep your baby's skin soft. This Paraben free composition of this soap makes it irritation free.
Applicable to sensitive skin (can also be used by kids, teenagers and adults who have skin issues such as pimples, blackheads, and skin impurities)

Presence of Vitamin E, Sugar insulin and Panthenol helps to nourish your baby's skin

Alkali free formula maintains the skin's pH balance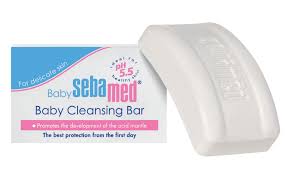 Click on the picture to buy online!
Disclaimer: Do note that the soap free composition of these bath soaps does not leave your baby's skin dry after bathing. However, do a patch test on your own skin and consult the pediatrician/skin doctor if you have concerns.