A happy childhood almost always includes tricycles. Children learn to explore the immediate vicinity, which slowly becomes an expanding world of their own, while learning to coordinate their physical and cognitive abilities on tricycles. Let's see how tricycles help kids enjoy their ride while reassuring their safety.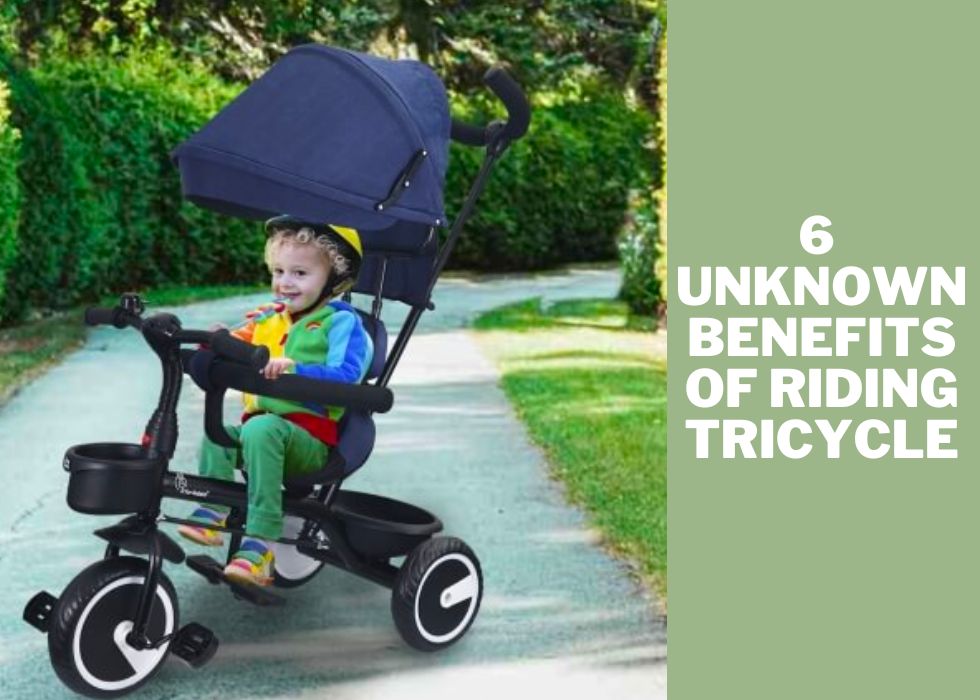 6 Early childhood benefits of tricycles:
1. Role of tricycles in physical development
Riding a tricycle is a great way for children to improve their balance, coordination, and motor skills. As they pedal, steer, and balance, they are working on the muscles in their legs, core, and arms. While offering all the physical development benefits of traditional tricycles, the R for Rabbit Tiny Toes T30 Ace tricycle, comes with an adjustable seat for added comfort and a sturdy frame for stability and security of your child so we don't have to compromise on, or worry about their muscle development and coordination skills.
2. Tricycles assisting in cognitive development
Navigating through the environment, however familiar, isn't a walk in the park. Along with the usual exploration, children are also developing their spatial awareness, hand-eye coordination, and sense of direction. A storage basket in the front lets your child carry their stuff – a practical way to develop organisational and problem-solving skills.
3. Building character with tricycles
Riding a tricycle boosts confidence and independence as children discover their surroundings and interact with them on their own. Riding gives them a sense of accomplishment and a level of mastery as they learn how to navigate through a changing environment, which is necessary to build a strong character.
Riding solo is fun but nothing beats having company. This provides an opportunity to learn sharing, take turns, communicate with peers and develop empathy. When the tricycle comes with a storage basket, it brings forth a fun way to store and share toys, books and snacks while riding tricycles together.
5. The outdoors on tricycles
We live in a digital age which makes it all the more important than ever for children to spend time outside since it is linked to physical and mental wellbeing. Some time spent in nature can be really beneficial for their character development too.
6. Safe tricycle riding
Always make sure the child is wearing a helmet and appropriate gear to ensure their safety. While investing in a tricycle, make sure it meets all the safety standards.
If you are looking for a tricycle that meets all these standards and requirements, R for Rabbit's Tiny Toes is one of the leading children's brands. Your child's safety is paramount to them.
Tiny Toes T30 Ace tricycle comes with a sturdy frame and an adjustable seat, ensuring a safe and comfortable ride for your child. The easy-to-grip handlebars provide a secure grip and the protective footrest prevents your child's feet from getting caught in the wheels. With proper supervision and safety measures in place, the tricycle is a safe and fun way for your child to explore and embark on a developmental journey. The tricycle is BIS safety certified and has safety belts for the complete safety and security of your child.
The Tiny Toes T30 Ace is made for the outdoors, which helps with physical and mental wellbeing, and also cognitive development. Sunshine, fresh air, get your fill of whatever you crave for as the tricycle comes with a sturdy frame made for the outdoors. Also, Parental control enables safe rides and a pull-down canopy protects the child from dust and dirt.
Conclusion:
The Tiny Toes T30 Ace tricycle with a storage basket is the perfect product for supporting your child's growth and development. It offers all the traditional benefits of tricycles, with the added bonus of a comfortable and secure ride and a practical and fun storage basket. With its sturdy frame, adjustable seat, and easy-to-grip handlebars, this tricycle is sure to be a favourite among children and parents alike.
The physical, cognitive and social skills that children develop through riding a tricycle have broader applications in other activities such as sports, hobbies and other academic pursuits. The Tiny Toes T30 Ace in particular stands out for the riding experience it offers, extending an experience beyond childhood.
Parents! Make beautiful childhood memories with such useful toys.