One of the most important purchases any parent makes for their baby is a stroller. It's not always easy to carry the baby everywhere, especially where there's a constant flux of crowds. Strollers in this case are an essential tool to transport the baby and it can be really handy until they learn to walk on their own. The market is filled with a plethora of strollers, each with their own features.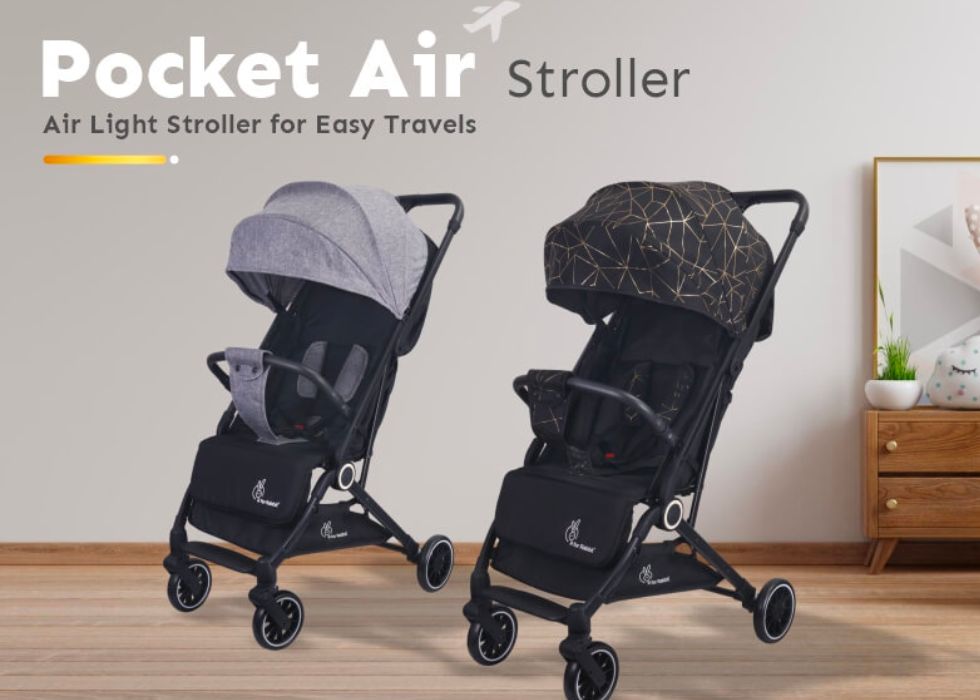 Things to consider before investing in a stroller that suits your requirements:
1. How safe is the stroller?
If there is something we cannot compromise on, it's safety. Strollers, as you know, are used when you are out and about; which increases the need for safety and protection of the baby while being easy to manoeuvre. Look for a stroller with a sturdy build, a secure harness and a flawless braking system. The stroller has to meet all the safety standards too.
2. Is the stroller convenient?
The most basic thing we look for before a stroller is convenience. Look for a stroller which is easy to fold, unfold and one that can fit comfortably into storage spaces, like your car trunk. If you are walking for long distances or hours, the stroller has to be lightweight and easy to manoeuvre. The stroller must be durable, right? Strollers are a big investment and we must make sure they last long. The stroller should be made of strong and durable materials for a sturdy frame. If you frequent different types of terrain every day,especially when you're out walking or jogging, choose a stroller with large, air filled tyres that don't wear out. Great build always trumps hard terrain.
3. Is the stroller comfortable?
Comfort is one of the deciding factors while looking for a stroller. After all, it's a baby's ride. It is important to consider the ones with a comfortable seating, adequate padding, footrests and those that have a full recline. Check for a canopy and whether it will provide enough shade and protection from dust and sun.
4. How big must a stroller be?
Does the stroller fit your lifestyle? That's an important question to ask yourself before buying one. There has to be enough space in your house for the stroller when you aren't venturing out. If you live in relatively smaller apartments, there's a chance of having limited storage space. In that case, look for one that is compact and easy to fold and store.
5. What type of stroller are we looking for?
There are many different types of strollers in the market each with their own unique features and benefits. Think about the budget, the features you are looking for and what you will use it for. Some common types of strollers include:
Full-sized strollers: These are the most popular type of stroller and are great for everyday use. They usually have a large canopy, adjustable seats and storage space.
Umbrella strollers: These are lightweight and easy to manoeuvre, making them great for travelling. They do not have as many features as full-sized strollers, but they are more affordable.
Jogging strollers: These are designed for parents who want to jog or run with their babies. They usually have large, air-filled tires and a sturdy frame.
Double strollers: These are great for parents with twins or two young children. They come in a variety of configurations, including side-by-side and tandem.
6. How much does the stroller cost?
Like we said, strollers are a big investment. The price of a stroller varies greatly depending on the quality and the range of features it offers. Before making the purchase, check for the features you need, considering your budget and storage space at home. Remember that a higher price doesn't always mean higher quality and there are other affordable options out there which are equally safe, convenient and durable as the expensive ones.
7. What do others think of the stroller?
Never forget to compare the strollers according to their features, price, brand and always discuss it with parents who have used one before. Check eCommerce websites like Amazon or The ChampaTree marketplace for user ratings, read both positive and negative reviews.
R for Rabbit is one of the best reviewed stroller brands available in the market right now, offering the best products with great features at affordable prices.
Why choose R for Rabbit Pocket Air Baby Stroller?
Safe: The strollers we offer have been certified to meet the the most rigorous and stringent certification criteria of EN 1888 standards.
Ready to ride: The Pocket Stroller Lite features a One Hand Fold design, making the folding process so effortless that it feels like child's play. Additionally, the stroller is incredibly lightweight to provide a smooth and easy manoeuvring experience.
Lightweight: With a net weight of just 6.6 kilograms, the Pocket Stroller Lite is crafted with a steel frame, ensuring that the stroller remains lightweight and luxurious.
Portable: Incredibly compact, our stroller fits into narrow spaces during travel by car, train or a flight. It is also compatible with luggage check-in for air travel.
Stylish: The material employed is sturdy and long-lasting, with the cotton fabric having excellent air permeability, allowing air to flow through, providing ample breathing space for the baby or toddler's body.
Comfortable: The suspension on our stroller is specifically designed for the bumpy roads of India, ensuring that your baby enjoys the smoothest ride possible.
Superior Braking: You can lock and bring your stroller to a stop by tapping your feet using the one-step linked brake.
Multi-position recline: The seat reclines effortlessly in multiple positions for a cosy ride.
5 Point safety harness: The five-point Safety Harness holds your baby in a safe position while riding so that you can walk in peace.
As we discussed already, strollers are a big investment, yet the most important one. Make sure you make the right choice for your little one.