There would not be a single person who has not dreamt of being a part of the Guinness World Record. Now, it is your golden chance of being a part of it with AI technology. How? Let's find out
AIForIndia event
AIForIndia event – Does this name ring a bell? What is the connection between this and the Guinness World Record? Keep reading for the answers to all your doubts.
A decade back we would not have imagined a world without AI technology. But now it is scary to think how the effect of technology has dominated all walks of life. Bots are there in proactive health care devices, self-driving cars, robots, marketing bots – the list is endless. Also, these AI technology-driven equipment are mindblowing with unparalleled technological outcomes. Onboard gadgets are used to provide the intelligence of AI inventions. These gadgets operate in a pattern with the help of sensors implanted in them. These sensors give them indications about the environment and help them figure out the chances that it is indoor or outdoors.
Kids are inquisitive. Their four Ws and one H ("Why", "What", "When", "Where" and "How") help them develop their knowledge and builds confidence. To pursue this awareness we should ideally introduce them to AI technology at a young age.
This is where GUVI comes into the picture. It has a deep understanding of kids and AI technology. Hence the experts in GUVI believe in introducing AI technology at a young age effectively
A window to GUVI
GUVI(Grab Ur Vernacular Imprint) is an IIT MADRAS incubated company. Its innovative teaching processes makes GUVI unique. It offers more than 200+ Programming & IT courses like Java, Python, Artificial Intelligence, Data Science, and many more in native languages. Moreover, with GUVI, you can learn programming languages in Telugu, Hindi, Tamil, and many other along with English.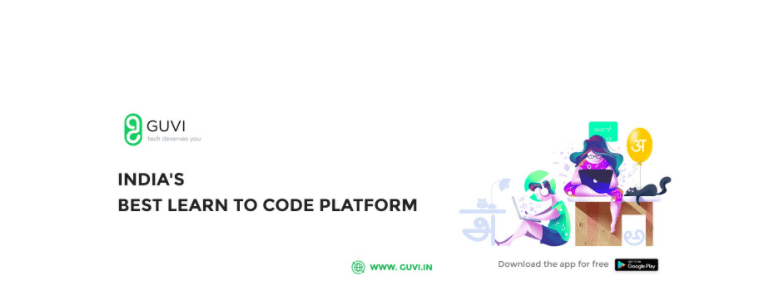 GUVI provides 200+ Tech-Skill Certifications, develop the skills of the candidates and prompts job notifications. Moreover, these candidates get free access to programming skill-building platforms like CodeKata & WebKata too. GUVI's website offers all the details of the courses and technologies. Check the website for further inquiries.
GUVI's Hackerkid is the most trending exclusive segment for Kids. Hackerkids are renowned for their pedagogical approach to coding. It has been observed that children learn and explore more if they are left on their own. This user-friendly platform ensures that kids learn to code indirectly by playing the games. Isn't that awe-inspiring? Adults can rewind their childhood memories through nostalgic games by Hackerkid!
What is #AIforIndia after all?
GUVI, in association with AICTE, will host its visionary event AIforIndia and partner with BUDDI.AI. This is a unique event that will be live from April 24th, 6 pm to 25th, 6 pm, 2021. In this workshop, you will learn to build a Face Recognition app using Python. Master the Python skills from the experts with this Python workshop. FOR FREE! We are not joking. You can register for the program for free and become an expert in AI technology.
Firstly, to achieve glory in AI you have to master a programming skill. GUVI and other coding experts believe that Programming in Python is the easiest and the most versatile to grasp.
AIforIndia, as the name suggests is an event for all! Each and every person who likes AI technology should register and master the skills required to achieve AI. So, we wish everyone from 8-80 years should join this AI revolution.
The opportunity to learn Python with AIforIndia is for both kids and adults alike. In short, anyone who doesn't even have coding experience can also join.
To add an oomph factor to this, we have news for you. GUVI has registered this AIforIndia 1.0 for Guinness World Record. Yes! This massive event will supposedly break a World record by upskilling over 1 million participants in a single virtual event. So, this is your chance to be a part of this GUINNESS WORLD RECORD.
AIforIndia is an initiative to make India lead among the Top 3 countries in Artificial Intelligence. This can be achieved easily. Just register for free, attend the event, and let this AI revolution spread wide!
Why should you register your kids for AIforIndia?
Activate your Python Course: An opportunity to unlock a free Python course is knocking at your doors. Your child's presence in this AIforIndia event can present them with a neverending list of possibilities.
Building a Face Recognition App on their own is not a small achievement you see! It will increase the confidence tremendously and make kids a recipient of all the opportunities that come up their way.
GUVI Certifications marking the World Record Participation need no further expression of excellence. It will be a symbol of achievement for your young champs.
Well, many concepts in learning are mastered only with the help of mentors. Free Expert Sessions on AI is the next big thing on our list that might appear appealing to parents.
All these free surprises will augment the kids' AI skills and let them excel in AI.
No pain, no gain! But in this event, you only gain without any pain. Just make your kids attend this 90 mins learning session, and make your kids ready for this AI revolution.
Share with all your friends because undoubtedly, sharing is caring. You can also be rewarding as well with this sharing! Share the learning opportunity and get back a share of love from GUVI as the best surprise gifts. Yes, you share to 10 to 50,000 people and earn prizes as exciting as a free Netflix subscription, iPhone X, etc. It is indeed a great opportunity to master AI technology. It is a super win-win event!
Register here @guviofficial & Get GUVI's Python Course Free for learning.