Expecting a baby? Looking for creative and cute baby birth announcement ideas? Then, here we go with the top 15 lovely pictures and announcements for your to choose from!
Announcing the birth of baby is one of the best news to share with your near and dear ones. Taking your baby's birth announcement photos can be a lot of fun. Go all out, play with unique colors, be open to neutral themes, source a few cute little props and dress up your newborn baby as per the theme. That doesn't mean that your little one is dressed in an uncomfortable clothes, wearing tight baby shoes or the headgear is almost falling on the forehead. This can be a task though, but by the time all the photos come out, you would have forgotten all the hard-work that would have probably gone into arranging for the photo-shoot. Infact, some of these creative baby announcement photos can be taken at home and you can create your own DIY announcement card.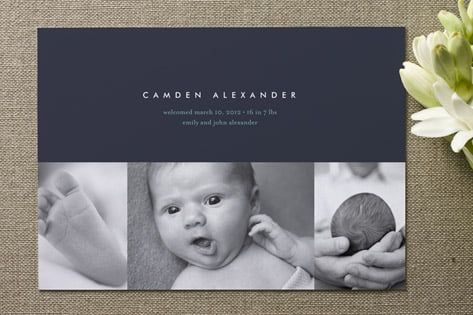 So, whether you plan to announce the baby birth through a paper card, doing it electronically or using social media platforms, here are a few things that you must keep in mind for an ideal baby birth announcement:
1. The star of the announcement should be your newborn baby. Make sure that the design or the template of the card/ format doesn't overshadow the picture of your baby
2. Once you are through with the photo-shoot, don't immediate decide which picture to shortlist for the baby birth announcement. Think over it. Shortlist atleast 4-to-5 pictures. Mom and dad must mutually decide on the final picture 🙂
3. If you are not comfortable sharing the picture, go for a creative/ unique birth announcement template. Play with words. If you aren't comfortable sharing the basic information then remember less is more. Go creative with the content. Let the design and colors speak on your behalf..
4. It's not necessary to stick to the typical color theme. for instance blue for baby boy and pink for baby girl. Be creative, be quirky!
5. All the necessary information (birth details) should be mentioned properly. There should be no room for any confusion!
6. Keep it short and simple. I will repeat- less is more! Those who are going to receive the baby birth announcement news are not going to read through the entire birth story.
So, get ready and take a look at our handpicked baby birth announcement photo ideas that offer inspiration and tips to help you create your own DIY birth announcement card. Now, share the news of the arrival of your new bundle of joy in style..
Subscribe to Blog via Email
Image source: 01, 02, 03, 04, 05, 06, 07, 08, 09, 10, 11, 13, 14, 12 and 15 provided by a new mother- Archana Iyer
You might also like: [display-posts tag="new-born-baby" image_size="thumbnail" posts_per_page="5″ wrapper="div"]