by Vaishali Sudan Sharma updated on June 2, 2015
"Human Body

Heat'

also known as normothermia or

euthermia varies from time to time. But how does a mother feel when her child goes through temperature swings! Read on to learn a new meaning of body heat..

We woke up to an exceptionally hot morning. And while I was turning you towards me for your early morning comforting latch-on, that's when I felt the heat. You were burning hot. Daddy wanted me to be sure so he started recording your temperature. But, mommies know their babies just so well! So I and daddy decided we prepare a dose instead. We had to hold you really tight and there it goes, the pink syrup is forced to guzzle down your throat (after how many tries!)

Before your father left for work he whispered to me, "Keep him close to you".  And, that's when I felt a gush of heat coming over me. It wasn't the June heat or your body's heat, It was a strange maternal heat..

I could have just put you to sleep to take care of the laundry. I could have gone to take a shower and fixed myself a meal thereafter. I could have washed your dirty dishes, I could have switched on the laptop and reported to work

OR

I could have just stood beside you, snuggled you, let your head rest over my arm, your soft skin, wet lips, gorgeous eyelashes.. Its your heat..It didn't let me leave you even for a second.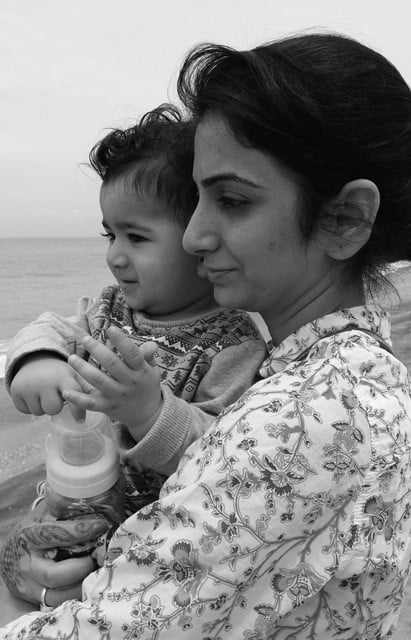 My son, you matter the most to me. That pile of laundry and the dirty dishes or my smelly shirt, yes that same shirt you threw up on as our first attempt while administering pink syrup failed miserably this morning..
Nothing of that matters at all!
What matters is how tight we hug each other, how nicely have I been able to put you to sleep. What matters is your smile, your laughter that fills this house with warmth, what matters is the way you and I sing along, you babble but I know how much you love it when I sing your favorite rhyme. What matters is the way you turn towards me and daddy just a few minutes before the three of us kiss each other goodnight. There are so many beautiful moments that have and shall continue to matter to me.
Each and every day you give me life, a smile and a reason to forget about the laundry, the dishes, the messy state of affairs. It's this heat of yours that reminds me of how lucky I am to be a mother!