Hilarious or emotional things only Indian moms say can really set the ground for some humor! As cliché as it might sound, mums won't stop being their usual jovial and loving self. And Indian moms aren't behind in this. They are honest, but also very dramatic. In fact, they go one mile ahead in expressing their emotions to children in the form of sumptuous home-cooked food, and their unparalleled love even if the children are full-blown adults. If you are an Indian, you know this and if not then let's just leave you with this statement- 'It only happens in India.'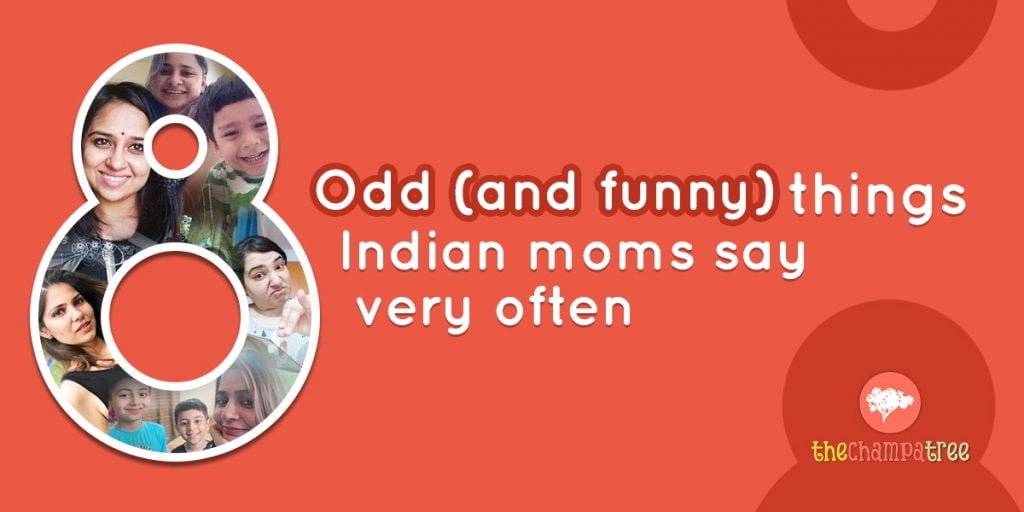 Millennial moms would disagree. They always feel like they aren't like typical Indian moms. I too was one of them until I found out that I was gradually turning quite like my own mum. Funny as it might sound, and why not, since there is a little hint of our own mums in us.
May was all about celebrating mothers, all thanks to our lovely Mother's Day video which went viral. Special thanks to MotionJokey for an awesome video. As we reach the end of this month, we take you on a hilarious ride. Not one but 8 peculiar things Indian moms say most frequently to their children. We asked our lovely mom influencers who love reading The Champa Tree blog to share their daily mantras/things they say and here's what they had to say. Also, let us decode the mystery behind them saying all of it:
So, we are ready to tickle your funny bone with these 8 peculiar things Indian moms say very often (and why?)
1. 'Sab kuch is phone ke wajah se hua' / Ghus jao phone ke andar
Everything happens because of this phone!/ Why don't you get inside the phone
You get low grades, get late for school or office, or just break the milkshake glass. The first thing your mum will tell you is that all of it happened because of that cell phone! Cell phones are perpetually an Indian mom's enemy. You name it, and she will blame the phone for that mishap! I've had my mum blaming my cell phone, where the two incidents weren't even related!
Mums can be funny!
2. 'Apne Papa se puch lo beta'
Ask you dad!/ Why don't you ask your dad?
Ugghh, isn't this the most irritating thing to hear when you have gone to her asking for permission for a girl's night or that quintessential College – Goa trip? Night-out and Goa trip – is probably the last thing an Indian Mom would want to hear in her span of motherhood! Very conveniently she has passed on the baton to Papa. I think they just cannot say a NO to us (her little piece of the heart) and that is probably why they use this statement so often!
3. Aaj dinner mein kya khana hai?
What would you like to eat for dinner, my dear one?
Long before even breakfast is served, the first question which comes hovering over our heads is 'Beta aaj dinner mein kya khana hai'. And most of the time, my first reply is – 'Maa, you still haven't served the breakfast and the questions of dinner have started popping up! Ok, let me take a wild guess, I think she wants to get free of her entire day's kitchen duty all at once, hence that question!
4. Andhera hone se pehele ghar aa jaana
You must come back home before it gets dark!
If you've lived in Delhi, then you would probably agree mummy has said this a zillion times! As an unmarried girl, I don't remember going out after sunset. Whenever I did venture out during the day, the evening was a penultimate threshold for everything! One minute here and there and my mum used to frantically start calling me to take updates about my whereabouts!
5. You will realize when you have kids of your own!
This was the end of the discussion of most mom-daughter fights! I am convinced there would be a hundred percent agreement to this. This was like the brahmastra which my mom used to store for the last leg of the fight between the two of us! With just one sentence she used to close all discussions! I am a mom and I understand each and every bit of it.
Point noted, mother!
6. That T-shirt is right there on the top left corner of the bottom-most shelf of the cupboard!
Ain't no hood like motherhood, and ain't no memory as sharp as moms'! Missing socks pair, can't find your favorite dress? Your mum probably knows where all of this and a zillion other things are at home! You name it and it is right in front of you, all thanks to our mum who can beat any detective or any global positioning device!! Did this comparison just leave you in splits? Because I just cannot control my laughter.
7. Come, I will fix this for you!
I don't think there is anything a mom can't do! A torn shirt, a rough bruise, or a broken heart – she will fix it all of that! No wonder someone said God couldn't be everywhere hence he made moms.
8. Ghar ke Khane se koi mota nahi hota
No one gets fat by eating homemade food!
We've lived and survived this statement over all these years. And the record will prove that our kids will also survive on this statement from our mouth though! Sounds funny. Eh! All diets on one side and maa ke hath ka khana on the other. No one, I repeat no-one can gain weight because of that. Raise your hands if you also agree to the same.
Summer special bonanza- Peculiar thing Indian moms say very often: in summers
Bottles bhar ke fridge mein rakh dena
Please refill the bottles and load them in the friedge!
Each one of us has spent at least a quarter of our lives standing in front of the filter and RO filling water bottles. This dialogue is an Indian mums' favorite! Just when we are about to hit our couch for Netflix, pat comes the voice- 'Beta bottle bhar do'.