Our real mom Namrata Sadhvani is an architect by education, a teacher by passion, writer by accident, and social media influencer by choice. A Jill of all Trades is what she'd like to call herself.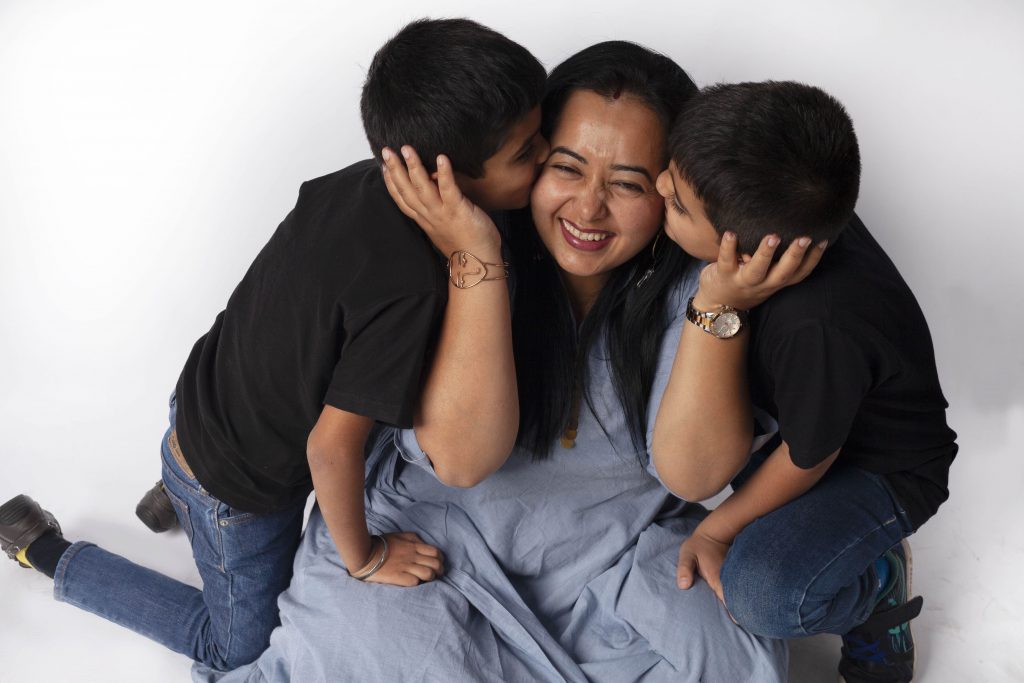 Born and brought up in Dubai, she moved to Hyderabad, India, got married in 2008. Her husband works in logistics and she has twin boys with him. Agastya and Advait are now 7 years old. They stay in a joint family and are absolutely loving it.
She was raised in an environment that provided the best of both worlds – The modernity of Dubai and the culture of India.
I'm a family-oriented person. My father always had big dreams for me and I am living them now, with his blessings and love!
Tell us a bit about the real story behind this 'real mom'?
My journey of blogging and writing began for the reason that I wanted to show the world the picture of 'real motherhood.' Yes, it's beautiful, lovely, precious, a blessing – but it is ALSO extremely hard, packed with sleepless nights, laced with a lot of discomforts and a sense of loss of identity.

When I had my kids back in the day, there were very few resources to reassure a new mother like myself that all moms go through a similar ride in parenting. I didn't fall in love with my kids (at the onset), there was no love, at first sight, the responsibility of nurturing them overwhelmed me and I was taken aback by how uncomfortable motherhood seemed to be. Why had no one warned me about this? Why weren't more Indian women talking about this? Why was motherhood glorified and defied in our country? Why were women expected to know everything about raising their kids the minute they gave birth to them?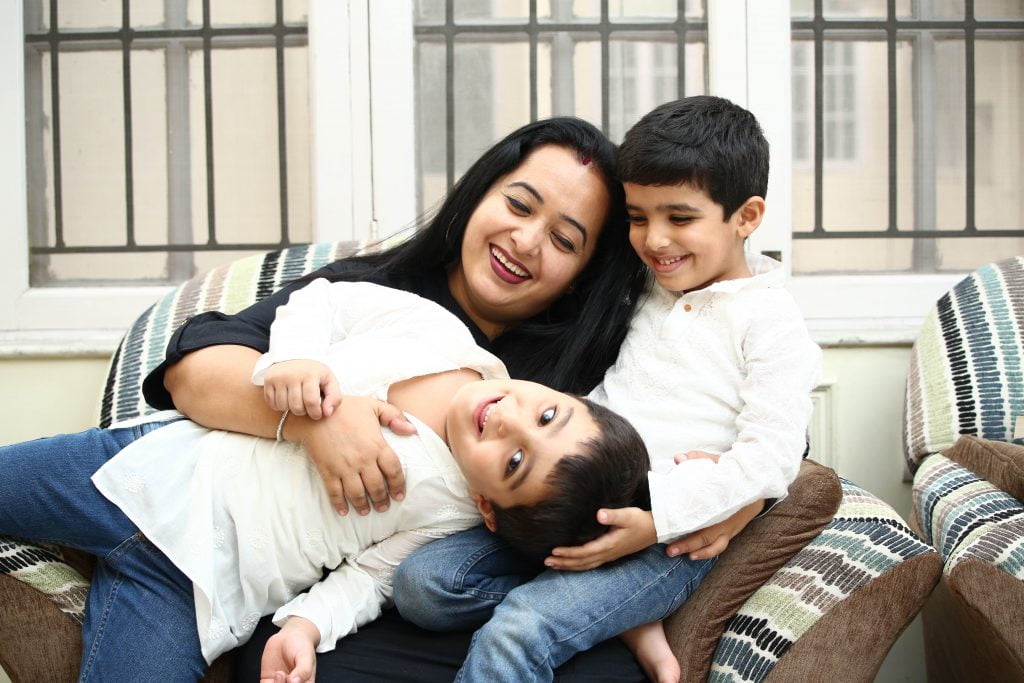 Yes, the maternal instinct is strong and must be respected, but it is equally important to reassure every woman out there that motherhood is difficult and challenging and every mother needs every kind of support possible whether she is asking for it or not asking for it.
What it's like to be you?
Hahaha! That is for someone who views my life as an outsider to actually answer, right?

But if I had to put it in my words – being me means being energetic, embracing life and all its challenges with an open mind and a giving heart, trying to stay positive always but acknowledging that some days are tougher than the other. And of course, being the best mommy ever to my twin boys!
What's that one classic saying /rule you swear by in this journey of motherhood?
Never say never!
They say it takes a village to raise a child – tell us something about your village.
I am thankful that I get to do all I can do because I have an absolutely incredible support system around me. This village makes it possible for me to spread my wings and explore every new challenge that comes my way. I am grateful every single day for the army of women (and men) whom I am surrounded by, who pacify troubled waters and love my family almost as much as I do.

From my mother whom I can call at the drop of a hat to come to look after the kids whenever I have to go out. To my co-sister who relieves me of all home responsibilities when I have an outside commitment. To my sister-in-law who cooks up delicacies for my boys…to my domestic helpers who keep the house clean and sparkling. To my kids' nanny when they were younger who loved them exactly like her own. To my wonderful friends and extended members of my family, my blogger mates who acknowledge my hard work and all the effort that goes into creating content. All these wonderful women, with the men supporting them, make me what I am.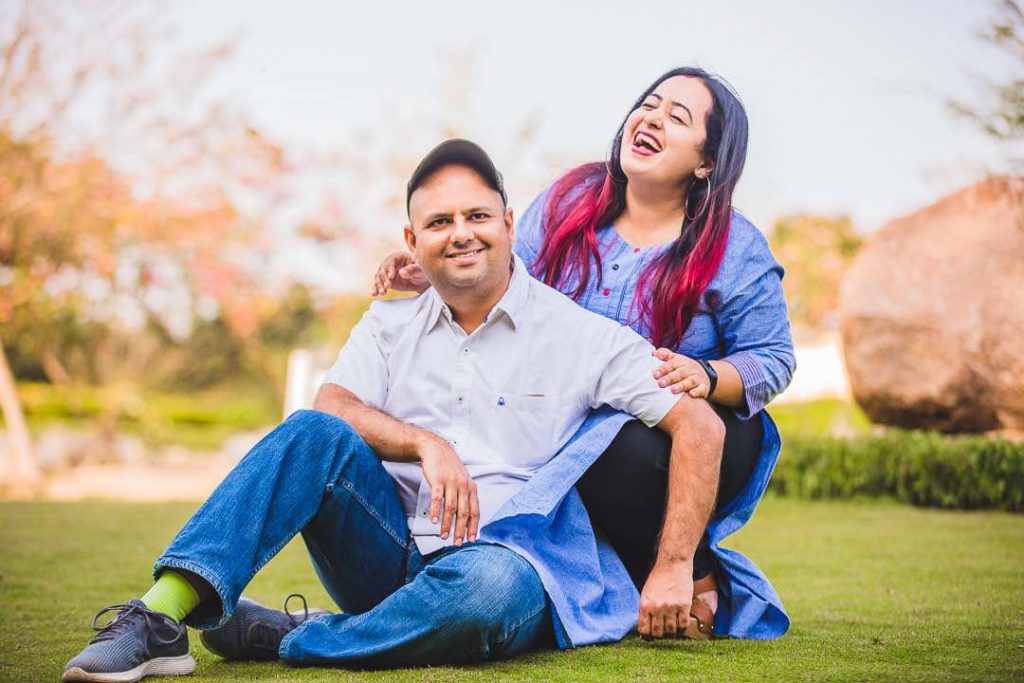 What's something you always wanted to do but didn't ― and why didn't you?
I've always wanted to stay alone for a while to discover what the whole experience would be like – away from family, in a new city, exploring and making new friends. Never had that chance in life!
Was there something your parents did when you were a kid that you swore you'd never do yourself?
I got scolded a lot as a kid because I was a bookworm and would lose myself in my books at all times of the day and night, and I was never apologized to. Now, I scold my kids too sometimes, but in hindsight, I always go and apologize to them and try and make them understand where I am coming from.
What is it like being a working mom? What would you change?
I believe with the work I am doing, the option that I have taken to balance both work and family makes both my dreams come true in the best possible way. (for me, everyone has different solutions, not everyone's lives are the same.)

And the one thing I believe that makes it work seamlessly is recognizing the importance of my work. Also, the ability to explain to the other members of my family so that they understand it as well and are able to defend me when I can't take up a social commitment, have to sit out a family dinner or even be a little less present for my kids on some days.

You see, as a work-from-home mom, I know how easy it is to put everyone else's needs before my own. The flexibility makes it easier, but also implies or makes it seem that I am more available than I actually am. Most people don't understand the amount of work that goes into balancing things and getting work done.

What's worked for me? Being firm about the time that's supposed to be mine and sticking to the time I've blocked off for my work. The housework can wait, the phone calls can wait, the errands can wait. Moreover, my work cannot. And the kids can't too – But that's a different story! Also, I can work for 2 hours or for 72 hours (my call as a work from home mom) – I'd rather be really intentional with the stuff I do and get better value for the time spent.

Yes, I've said goodbye to office life (for now, who knows what the future holds!). Having said which, I have carved out space for myself to do the work I love while spending more time at home, with my kids.
Have you ever done something really impulsive? How did it go?
I took a giant leap of faith, and let go of my career in Architecture despite having a Masters's degree. Can't get more impulsive than that!
What do you want or wish most for your children?
That they grow up and say that they had a happy childhood, filled with laughter, joy, and love, believe in equality for all sexes, are responsible and kind!
Follow Namrata's Instagram handle Namratabs!