The dining room is one part of the house that you should never overlook, from Sunday brunch to celebratory dinners, this is your setting. It must have the nicest appearance possible. So, if you're someone who organises a lot of parties and is tired of the same old dull dining room design, pay attention to the signs: you're in need of a dining room makeover. Giving your dining room a new design no longer necessitates tearing down walls. You can utilize easy ideas to give your dining room design a new look. What exactly are they?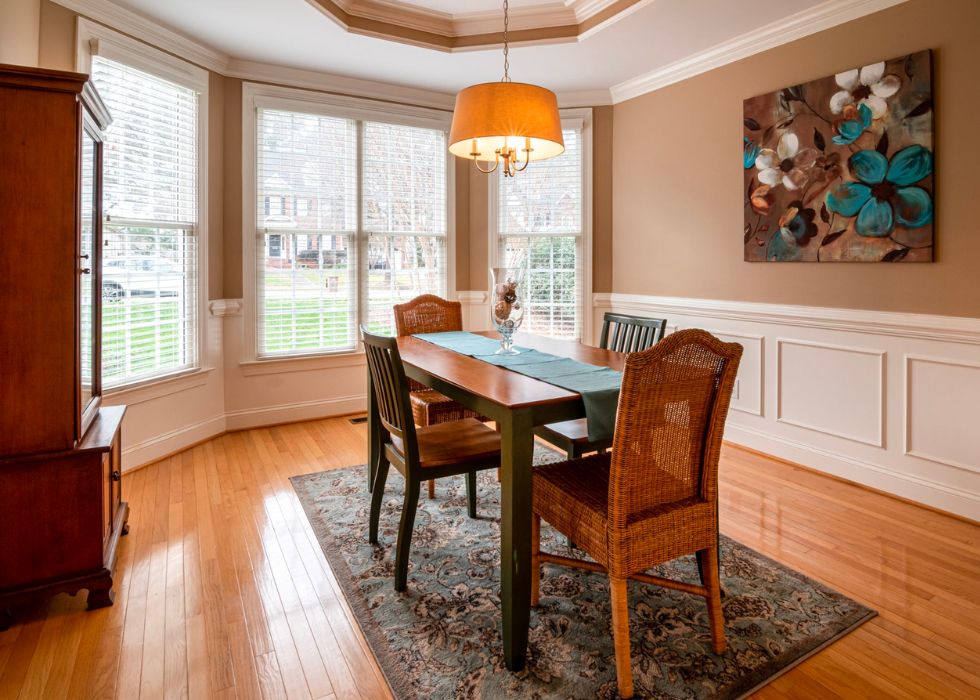 A one-of-a-kind dining area should pique guests' interest and spark conversation. It's crucial to create a unique environment that reflects the homeowner's personality and lifestyle, while also ensuring the room is effectively designed, whether it's through attractive artwork, colours, or furnishings.
So, here we are, revealing everything.
Here are some dining room decor ideas and suggestions to get you started:
1. Add a rug to the dining room
Rugs are a boon to your dining room design, so make them your closest buddy. They provide elegance and vibrancy to your dining room décor. They're the go-to method to make a statement and fill your dining room with vibrancy, and they come in a variety of designs and hues. Rugs also serve to warm up a room. This is especially beneficial if you live somewhere where the winters are bitterly cold. They also shield your floor from harm. Rugs might be your knight in shining armour if you have wooden flooring that is particularly vulnerable to harm.
2. Include lighting in your décor
Lights may completely transform the look and feel of your dining room design by setting the tone. You can select between a chandelier and a hanging light. A chandelier can be chosen if space and budget are no limits. If so, hanging lights could be an excellent addition. While you're at it, avoid using harsh downlights because they can create strange shadows. Furthermore, they may concentrate on a single place; the appropriate lighting should be dispersed around the dining room. If your dining room has a corner table, you might want to consider adding lamps to your decor.
3. Select the correct dining room furniture
Consider a dining area devoid of any furnishings. Doesn't make any sense, does it? The argument is that a dining room's design is defined by its furnishings. All the more reason why you can't afford to make a mistake. You must choose the size and shape that best compliments your eating area. How many people will be seated around the dinner table? Is your dining room also small? Consider all of this while selecting furniture for your dining room design. You don't want to spend money on a dining table that takes up a lot of room. For a small dining room, choose modest dining tables.
4. Incorporate some personality
Adding a personal touch to your home is always a wonderful idea. Create a gallery wall in your dining room to achieve the same effect. Gallery walls are very popular these days, not only because they provide a personal touch, but also because they add colour and elegance to your living space. The icing on the cake is that you can change them out whenever you want to give your walls a new look. However, before you begin, you must map out a layout. Take into account the size of your wall. Use only a portion of the available space; otherwise, the wall will appear congested.
5. Select the proper décor
If you don't want to go for an over-crowded dining room interior, simply changing your décor pieces might improve the aesthetics of your dining room design. To begin, consider purchasing new table mats and matching the furnishings properly. Fresh flowers can also be used to add freshness to your dining room design.
6. Include mirrors
If having a small dining room is the one thing that concerns you the most, we have a solution for you. No, upscaling is not the answer here. It's much easier to just add a mirror to your eating area. Because of their reflected power, mirrors have a reputation for making any area appear larger. The icing on the cake is that including a mirror in your dining room design not only adds grace to the décor but also creates a sense of more space. Just so you know, enormous round mirrors are currently the centre of attention in the world of home décor.
7. Come up with new themes
Creating new themes is the cheapest approach to refreshing a dining room decor. You might begin by developing a colour or pattern theme. If you have wall frames, consider switching them out to create a theme. You can do the same by changing your décor components.
Final thoughts:
You're covered with these decorating ideas for your dining room. Livspace, on the other hand, is the place to go if you want to try something different, seek expert guidance, or simply want a makeover without putting in a lot of effort. Livspace is the leading interior design firm in India. They've created over 25000 homes and are working on more. If you want to make your dining room the focal point of your home, they should be your first pick.
So, what are you waiting for? Visit their website to book a free consultation today!