Creative writing is one of the top skills of the 21st century which includes an amalgamation of multiple skills such as imagination, persistence, resilience, grammar, vocabulary, and writing ability. These skills manifest themselves in masterpieces such as stories, blogs, comic strips, captions, slogans, dialogues, book reviews, and much more. Encouraging children to write a story or blog of their very own can give them an enormous confidence boost, as well as help them consolidate their literacy learning by putting their phonics, grammar, and reading skills into practice.
What is Creative Writing?
Creative writing is any kind of writing that goes outside the norms of professional or technical literature. The bounds of creative writing are endless because you use your imagination to inform what you write. Creative writing is more than just forming one sentence after another. It's about weaving together a narrative or message that has a profound effect on the reader. This is achieved by using literary tropes and devices to make the writing compelling and able to win over the reader's attention.
While there are different elements of writing that can be created, there are really only four main types of writing – expository, descriptive, persuasive, and narrative. Each of these four writing genres has a distinct aim, and they all require different types of writing skills. When we read creative writing, it has the power to show us new perspectives, take us to new worlds and give us a deeper knowledge of the world around us through words.
How Learnifii solves this ?
Designed for young learners between the age of 4-16 yrs of age, Learnifii Creative Writing Program enables children to write stories, comic strips, poems, blogs, and more. The program includes regular feedback and guidance from our highly experienced and certified teachers. With Learnifii proprietary curriculum, activity-based learning and a gamified approach, creative writing skill gets easily embedded in the child which directly helps them not only to become a professional writer at a young age but also setting them for success in any career they choose.
With weekly competitions, exclusive clubs, and monthly progress reports, we ensure kids are grasping what they are being taught. Students also get a chance to interact on a range of discussions and activities with other budding writers to help them reach their full potential as a writer through Learnifii writing community. We help students develop essential life skills such as Communication, Independent Thinking, Analytical Abilities, and Confidence. All are achieved through high-end content, technology, and mentoring by expert teachers.
Learnifii's Creative Writing Program – A holistic approach to developing writing skills:
The goal of the creative writing program is to ensure kids develop creative thoughts, use their imaginations, broaden their thought process, become fluent in expression, develop their voice, portray their opinions, and gain confidence.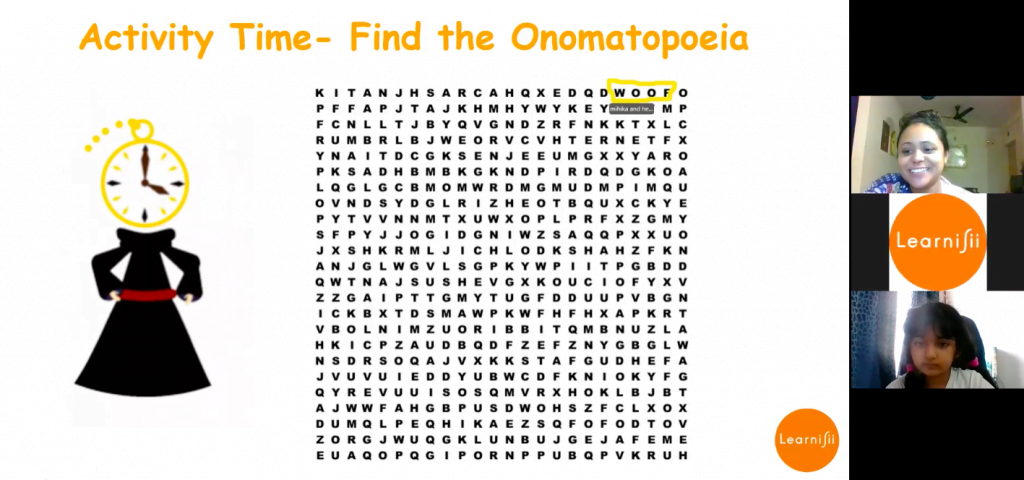 We have segmented the course into three different levels based on kids' skills, interests, and knowledge.
This is a beginner-level program. In 24 sessions, your kid will learn the foundational concepts of writing like expressive writing, micro-fiction writing, and more. This will sow the seeds in kids for developing proficiency in creative writing. The students will be able to understand key elements of a language – idioms, similes, metaphors, and personification thus enhancing their ability to use these writing styles which would enhance the quality of their writing.
At the end of the program, the students develop a basic sense of writing and thinking skills – critical and creative thinking and problem-solving skills. Students create their own comic strips and publish their own micro-fiction stories at the end of this level. Despite being online classes, they are efficient.
The next level course focuses on the organization and sequencing of ideas for writing. This is the next step in the journey of creative writing. Kids learn writing techniques to organize ideas, write summaries, form and voice their opinions, and write for newspapers. The students are exposed to various styles of writing and are able to deliver information in a crisp and meaningful manner. The students thus become more expressive in their writing and develop a strong vocabulary base. At the end of the program, the students understand various writing techniques and are able to organize and structure ideas. Students create their own slogans, dialogues, and captions. They also publish their own book reviews.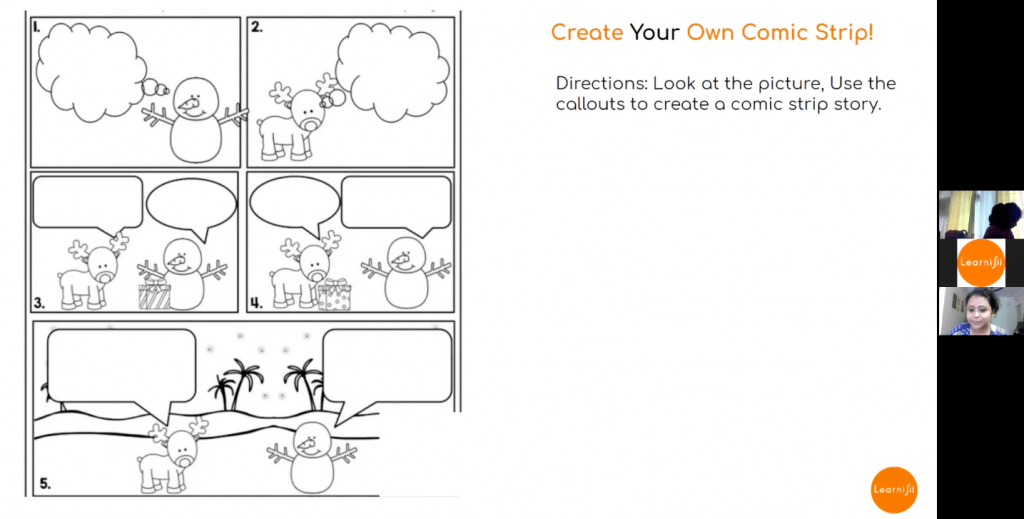 Finally, as students proceed to the advanced program, the students are able to gain mastery over their writing skills. This is the final step in the journey of creative writing. Kids learn to write informative paragraphs through research thus enhancing their research, writing, and problem-solving skills. At this level, the students are exposed to informative writing through research thus enhancing their research skills. The students are able to write problem and solution essays thus enhancing their writing skills. The students are also exposed to delivering opinions in writing thus enhancing their critical thinking skills.
At the end of the program, the students develop fluency in thinking and written expressions and gain confidence. Students publish their own blogs, journals, and film reviews at the end of this program.
So, book your FREE DEMO class today and set up your child for success.
Why learn creative writing?
If it didn't convince you yet, here are a few reasons why you should opt for a creative writing program.
Why learn creative writing?
If you are still not convinced, here are a few reasons why you should opt for a creative writing program.
1. Increases imagination and creativity
Writing will encourage and make children use their creative minds and practice using their imaginations. This will improve their ability to come up with alternative ideas. This widens their thought processes, which can lead to success in different areas, including solving problems and analysis.
2. Helps in expression
It is important for children to express their thoughts and express themselves. Through stories and fiction, kids can create their imaginative characters with their special abilities. This improves their imagination and also the ability to pen down their thoughts.
3. Writing helps kids do better in science and math learning
For those who think kids should be focusing more on math and science skills due to the boom of new STEM jobs like coding, it may be surprising to learn that multiple studies have shown that writing actually helps the brain develop the logical functions required for successful math and science learning. According to brain research, "writing can illuminate sequential procedures that students need to learn in mathematics and science, from factoring an equation to the photosynthetic chemical process."
4. Improves self-confidence
Writing gives children more opportunity to assert themselves and their opinions and develop their "voice." These developments can really strengthen their self-confidence.
5. Increases communication and persuasion skills
When kids practice finding the right word to put in a story or poem, they engage the same parts of the brain that are active in everyday writing and speaking. The importance of precise language and self-advocacy translates well into both interpersonal relationships and working environments. Take it from this expert on how writing and self-advocacy result in career and leadership success.
6. Boosts critical thinking skills
Without language, our thoughts wouldn't have formed. We might not need language to think "I'm hungry" or "I like cats," but when it comes to more abstract concepts, language is key. How would you think about things like justice, revenge, or equality without the words to express them?
7. Leads to Job Success
In reality, almost every job requires some sort of written work. Whether that's simply something you write as communication or something more elaborate, like publishing data or marketing materials. In a creative writing class, you practice the style and grammar rules necessary for effective writing, both within the realms of literature and in career-related writing. Sharpening your writing and creativity skills might just land you your next promotion.
Creative Writing gives a child more chances of self-assertion and their opinions and develops their own identity. These developments will boost their self-confidence. Studies show that reading helps in developing your writing skills, but writing helps in developing your cognitive growth and organizational abilities, and the power in influencing others through persuasions. In short, writing powers the brain. So, book your FREE DEMO class today and set up your child for success.