If you are a new mother, you will know how tricky dressing a newborn baby in winter can be. They cannot tell if they are cold or comfortable, and as mothers, we do have a tendency to overdo the bundling and the swaddling. 
Taking care of a few points can make dressing your newborn baby in winter, a hasslefree task:

There is one way that you can tell if the baby is warm enough. Feel her toes and belly as soon as you come in from the cold. You want her toes to be on the cool side, but not cold, and her belly should feel warm. A baby with warm toes and a warm belly is overdressed. A cool belly means your baby is not able to warm herself and needs another layer.
Here are some general tips to bear in mind so that your baby is at that absolutely perfect spot between too cold and too hot this winter:
1. An extra layer
A good thumb rule is to dress your child in one more layer than you would wear in the same conditions. So if you're going out in a shirt, light sweater, and jeans, put your little one in a long-sleeved bodysuit, a shirt, a hoodie or sweater, and pants. If you're opting for a heavy winter coat as well, tuck your baby into a snowsuit or bunting, or layer on a blanket.
TCT Recommends: Baby Hug Full Sleeves Night Suit; Baby Hug Full Sleeves Hooded Romper
2. An Effective First Layer:
An effective thermal base layer is key for babies and toddlers. A cotton thermal is ideal. For really cold days, Merino wool is the best as it is the only natural fiber that can absorb up to 40% humidity without feeling damp and also has the ability to respond to changes in your baby's body temperature.
TCT Recommends: Cucumber Full Sleeves Thermal White T-Shirt With Print Set of 3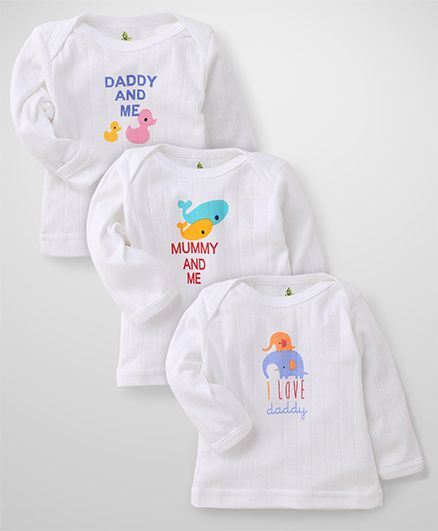 3. Easy-on, easy-off outer layers
A snowsuit or bunting provides a great buffer against the cold and snow. Once your baby is dressed in the outfit for the day, you can simply slip him into the snowsuit or bunting just before you head out the door or get out of the car. Snowsuits have form-fitting legs and arms, and most are equipped with hoods, while buntings are more like little sleeping bags, with a seam between the legs to make stroller snap-ins easier. Look for gear with a good layer of insulation and a water-repellent exterior fabric such as fleece, flannel, or fiberfill. If you are choosing an all-in-one, consider how easy it'll be to put on and take off your baby. Look for a full-length front opening which makes nappy changes or undressing a sleeping child much easier.
TCT Recommends: Baby Hug Full Sleeves Hooded Jacket Mint Green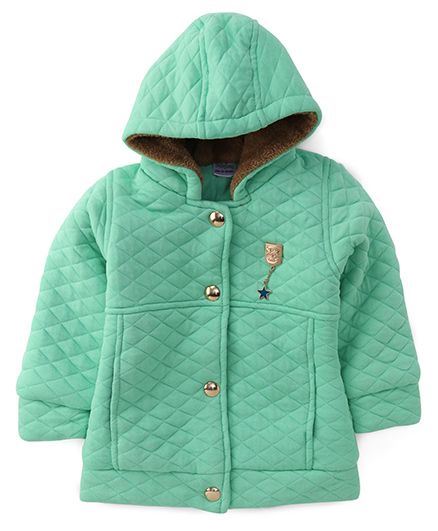 4. A hat and mittens
Your little one's head and hands need to be protected from the cold. A cozy hat that covers the ears and has a chin strap is a smart choice. Tug mittens over your baby's hands if they're exposed. If he sucks on his hands, though, keep an extra pair or two handy — once they get wet they'll make him colder rather than warmer. Some infant bodysuits have tiny hand-covers at the cuffs, pick those.
Make sure your baby has on very warm socks or booties, too. Whether you opt for a coat or all-in-one, protecting little hands and feet will help to maintain your child's core temperature. Snug feet always keep the baby warm and we recommend warm socks or soft-soled moccasins.
If you don't want to invest in a bunting or snowsuit, dress your baby in warm, layered clothing, then wrap him in a cotton receiving blanket, and top it off with another, heavier blanket made of wool or fleece.
TCT Recommends: Carters 3 Pack Beanies; Jubination Super Booties Winter Season; Pluchi Cotton Knitted Baby Blanket Twinkle Stars
4. Take It Easy Indoors
You may be tempted to bundle your baby up even when you're inside, but don't go overboard. The ideal temperature is between 68° and 72°F, and the one-more-layer rule of thumb applies indoors too. So if you're comfortable in one layer, your baby needs two. Once you're indoors — even if it's just for a stop at the supermarket — take at least one layer off your baby so he won't perspire. Otherwise, the dampness will make him colder when you get back out in the winter air. And if you've covered your baby with a blanket in the car, you'll want to take it off once the car warms up.
A couple of layers are a good bet for a baby who's spending the day inside. Start with a bodysuit or onesie and add a top layer such as a fleece one-piece with feet. If you're opting for pants and a top, socks under booties will keep those tiny toes toasty.
TCT Recommends: Bubbles Multi-Color Romper Suite; Heart Winter Woolen Multi-Color Months
5. Warm Beds Mean Good Sleep
Keeping your baby from becoming too warm is especially important when he's sleeping since overheating can be dangerous. At bedtime, zip him into a sleep sack (or a receiving blanket that is carefully swaddled and stays below his armpits) instead of using a blanket. Sweating, damp hair, flushed cheeks, and rapid breathing are all signs of overheating, so if you observe them, remove a layer of clothing. But there's no need to go crazy checking on him every five minutes. If he's sleeping soundly, his crib is clear of loose bedding, and the temperature is set to the appropriate range, he's probably just right.
Choose a warm flannel fitted sheet for your baby's crib (and keep plenty of extras on hand for changes, too). Soft one-piece footed sleepers help your baby stay warm all night by keeping him toasty from head to toe. For an extra layer, put a bodysuit or undershirt underneath the sleeper.
TCT Recommends: Mee Mee Embroidered Baby Shawl Light Pink
Image source: 01, 02, 03, 04, 05, 06, 07, 08, 09, 10, 11, 12, 13, 14, 15