Your little delight is in your arms.  Your heart and life are overwhelmed with all that's changed. The only thing on your TO DO list is, eat, feed, sleep, REPEAT! YES … in that order exactly! To bottle-feed, or not to bottle feed, that's the big question. Honestly, over the years of raising two kids, I've come to believe, each style of parenting is unique. Advice is always welcome, but nothing teaches you, equips you better than your own experiences. What if the baby gets used to the bottle, am I depriving the child of breastfeeding, mother's touch, how to sterilize the feeding bottles, risk infection… and the list goes on…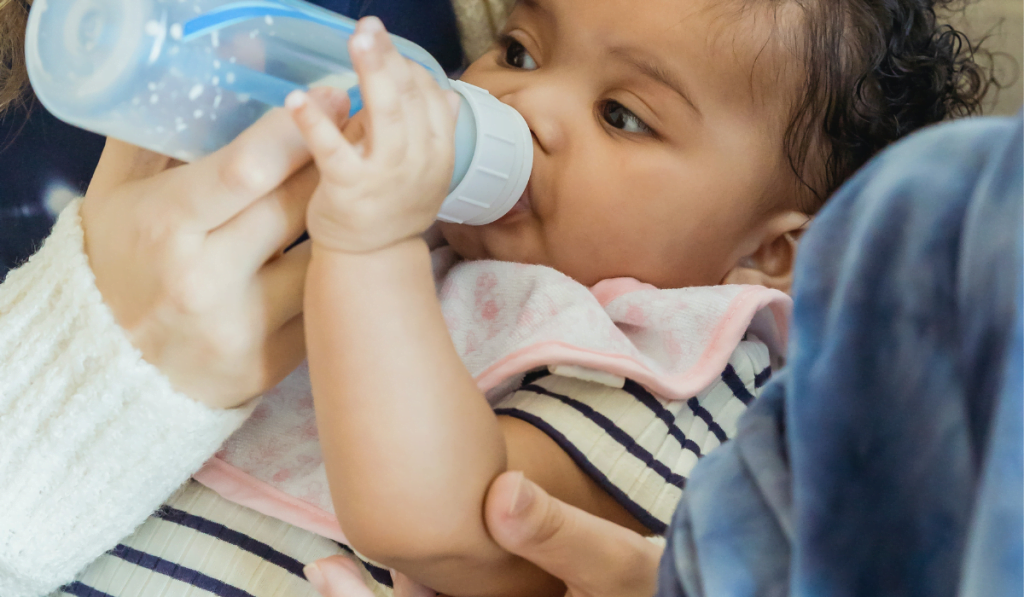 Feeding bottles:
Let's dive into the world of introducing bottle feeding to your breastfed child. This can be your whole source of feeding or a substitute for breastfeeding so you could get some much-needed sleep, some ME time.
I struggled with which bottle is the best, is this easy to hold, is the material safe, shape of the bottle and its availability, right kind of nipple… Overall reviews mostly helped me buy the right ones.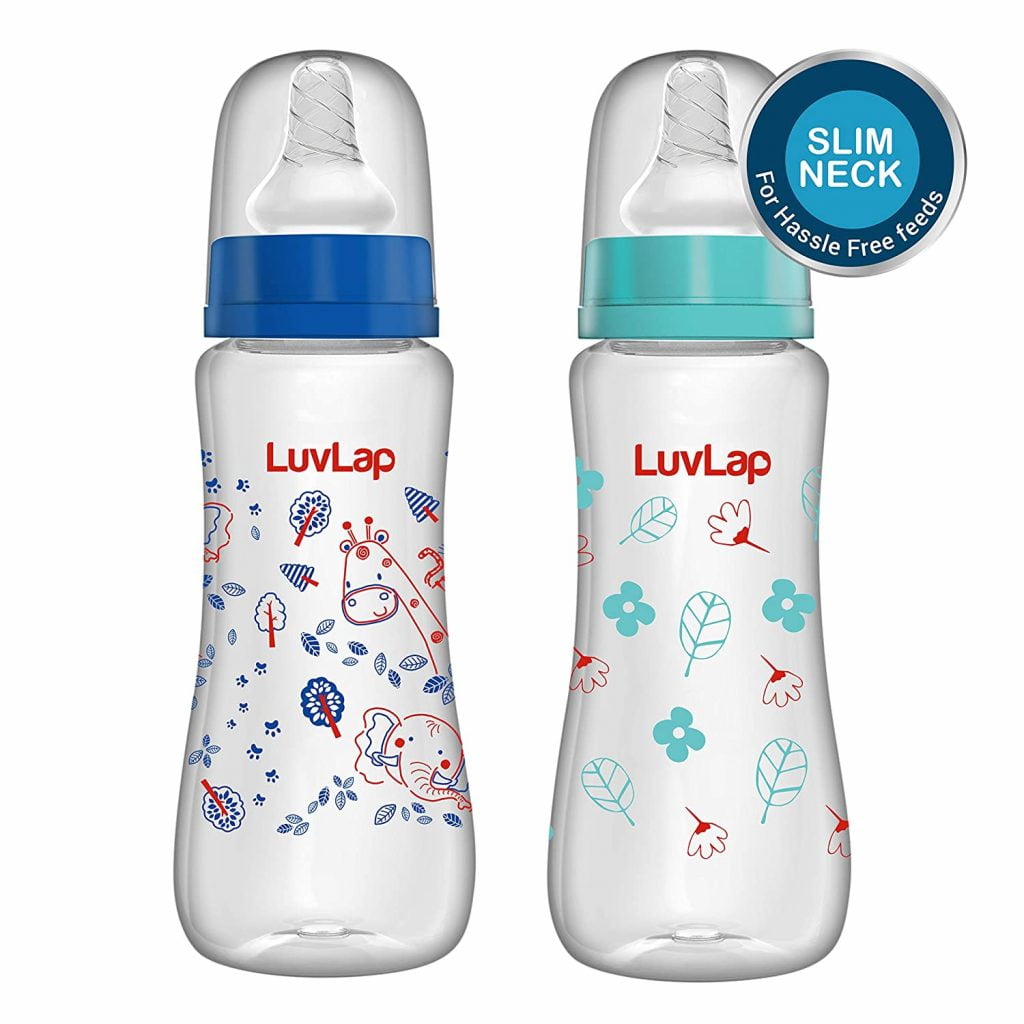 For me, my first choice is always LUVLAP.  Their Anti-Colic slim bottle is just the most ergonomically shaped and also very standardized for all bottle sterilizers as well.  It has an advanced anti-colic valve, that makes the post-feeding burping a breeze. These bottles with Anti-colic features, come in a wide neck, smaller variant as well, perhaps for times, when you need to toss in a snack feed.  The material you're looking for is BPA-free.  This also allows for safe sterilization of all parts of the bottle.  The bottles come at affordable prices and are also very easy to fit into any diaper/carry-on bag!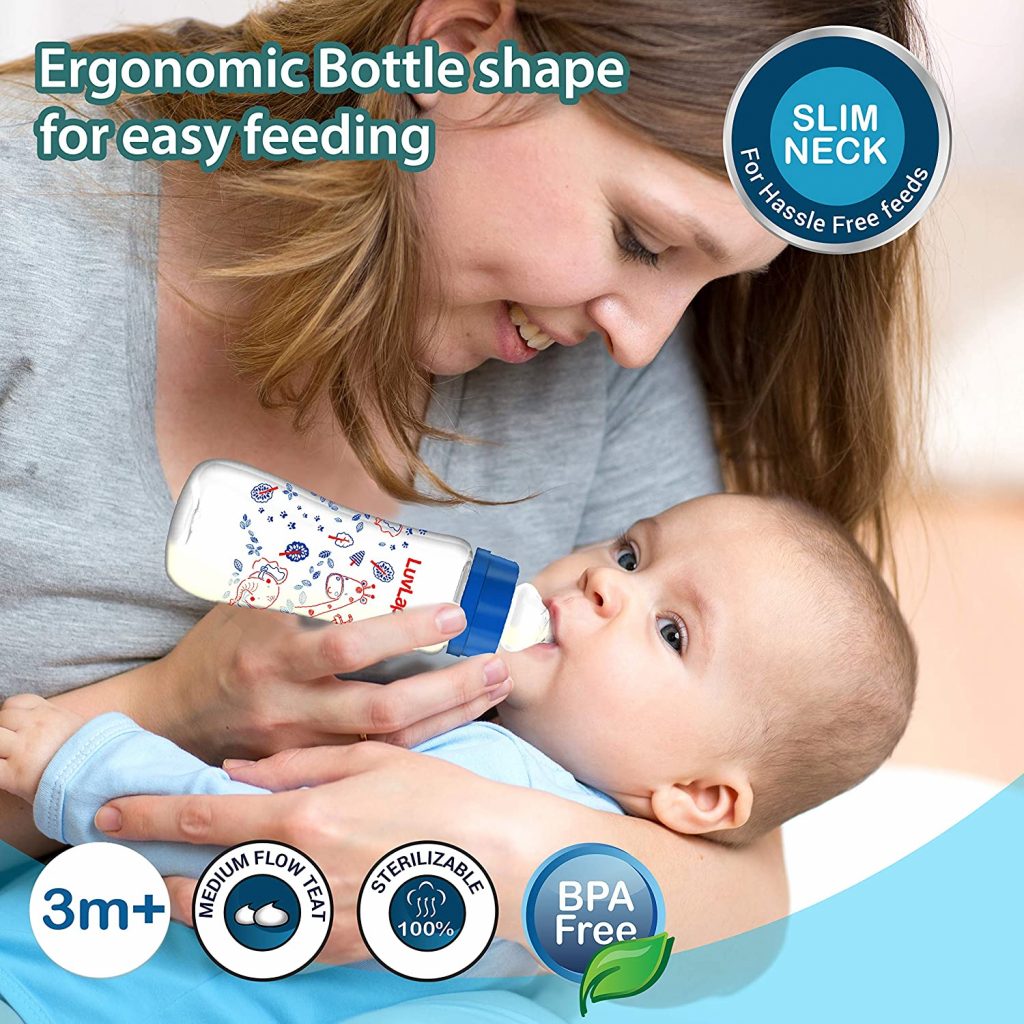 Following are a few other choices of feeding bottles –
There is Pigeon Peristaltic medium nipple Kpp nursing bottle, which is made of BPA-free tough glass that keeps infection away. 
Chicco wellbeing PP bottle is leakproof, and a great buy as a carry-on. ]
Dr. Brown's feeding bottles are a patented design with a vent. Can be used with or without the vent too.
How to sterilize feeding bottles without steam sterilizers?
1. Boiling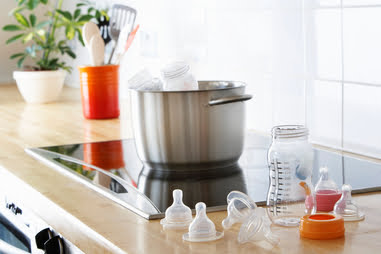 Now that we have our bottle shopping sorted, do I need to get nervous about how to sterilize feeding bottles? Not really, it becomes a habit very soon. How to sterilize bottles without a sterilizer? No worries, we go back to the age-old, a little cumbersome but the easiest way of putting all the parts of the bottle in a pan filled with water and boil.
Once cooled, you can use a tong or clean hands to pick all the parts out, shake off the excess water, no need to wipe, transfer them to a clean, air-tight container. My favorite place for storing sterilized baby items is the refrigerator.  Ideally, keep 2 containers handy, wash them daily with soap and warm water.
Ensure that you keep a very close watch on the nipples, for any cracks or cuts, especially as the baby starts to bite. This will prevent any excess milk from going into the baby's mouth and any bacterial/ fungal infection to the baby.
Yes, the process of sterilizing nipples is the same as for baby bottles. Sterilizing and cleaning your bottles after each use, is a must! I would usually empty the bottles after every feed and fill them with a little soap water. Would wait till I had a few lined up and wash and sterilize them together.
2. Microwave
How to sterilize feeding bottles in a microwave? The principle is similar to the steam sterilizer. Ensure the inside of the microwave should be extremely clean. To sterilize in a microwave, fill half of the baby bottle with water, and in a separate microwave-safe container/bowl, submerge the nipples, rings, and other accessories too. Place them in the microwave and turn on the high setting for one and a half minutes at least.  Wait for all of it to cool before you handle them.
Now you know how to sterilize feeding bottles. All the methods of sterilizing feeding bottles are perfectly safe, keeping the various kinds of feeding bottles in mind. Wondering if you'll need to sterilize bottles every time and till what age?  Well, my answer would be a yes! Do this for 12 months of your precious baby's life. It will protect your baby's very delicate system from some serious infections and you from unnecessary guilt and heartache!