One of the best blessings to a couple is the birth of their child. This is the transformation period, where a woman becomes a mother. The first instinct of a mother is to keep her child safe and protected. Hence she will go to any extent to do so. Mothers are always in search of products that are chemical-free and gentle on their baby's delicate skin. Many brands have guaranteed the product's safety, but sometimes these claims do not live up to the promises.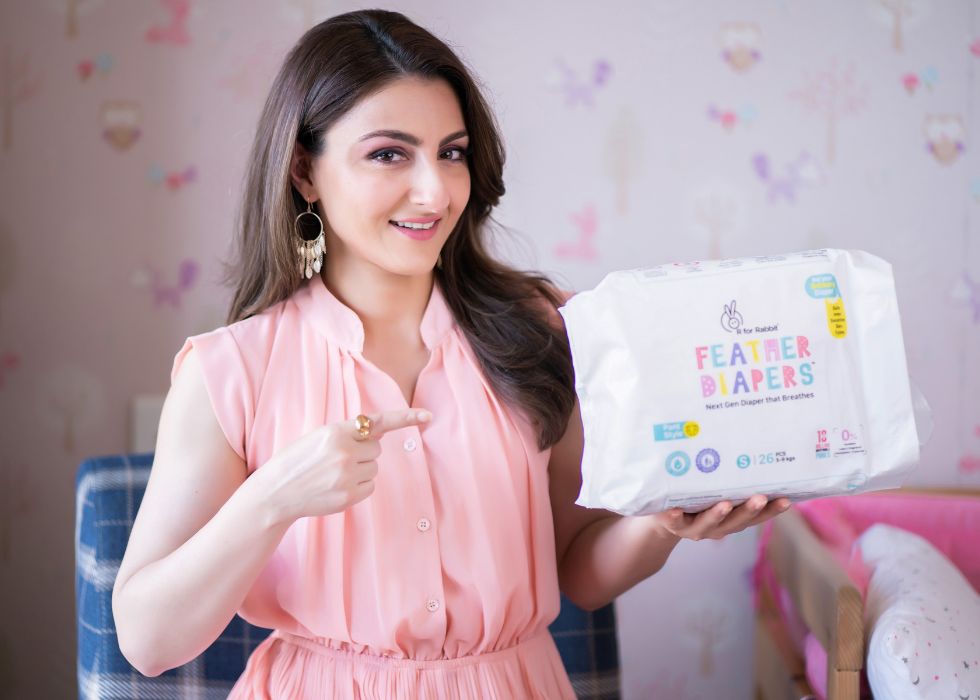 But you don't have to worry when R for Rabbit is there. The brand focuses on selling baby products that live up to the expectation of mothers, and through this promise, they have been able to spread happiness to more than 1.5 million parent customers. They have successfully created baby products from a mother's point of view. Right from newborn parents to Bollywood actresses like Soha Ali Khan are using Feather Diapers from R for Rabbit and have shared positive feedback.
Introducing Feather Diapers – So thin and so so soft
R for Rabbit has introduced India's thinnest and softest diapers known as the Feather Diapers. These Feather Diapers have been manufactured with a lot of research and proven tests by dermatologists and paediatricians. Every mother, especially women who are becoming mothers for the first time, gets very confused when it comes to choosing the right diapers for their newborn child. They are worried about whether the nappy would suit their baby's skin and not cause infections or rashes, which would lead to the baby being uncomfortable as we know how painful and irritating rashes are.
Even Soha Ali Khan, in her video, mentioned that as a new mother she too faced this situation, and when she started using R for Rabbit Feather Diapers, she was amazed by the comfort it gave her daughter and how these Feather Diapers helped in the development of her child. The B-town diva, Soha Ali Khan also mentioned that once she started using these diapers, her child did not get any rashes or infections once.
What makes Feather Diapers so special?
The specialty of these diapers is that they are the thinnest diapers introduced in India. They are chemical-free, which means that if your baby has sensitive skin, then Feather Diapers are the perfect nappies for your child. R for Rabbit has claimed that these diapers have 0% Paraben, Latex, Chlorine, and Phthalates which could cause irritation and rashes on the baby.
1. Light in weight
As it is the thinnest diaper, and very light in weight, so your baby could wear them on with no hassle of the nappy slipping down or bulging out from the clothes. These diapers are specially designed keeping the important fact in mind of how necessary it is for diapers to be breathable to prevent rashes which is a major problem faced by mothers with most diapers. Therefore for proper air supply, these nappies have about 10 Million* Breathable Pores that allow the nappy to breathe and let air pass. Due to a large number of pores, the diaper does not cause a rash.
2. Comes with an indicator
Another feature that makes these Feather Diapers special is that they come with an indicator. Mothers will be able to relate to this. How many times have your mothers pulled open your kids' nappy from behind, to check if the diaper is full of soiled stuff? Well, now you don't have to worry, since these diapers have an indicator on them that turns to the colour blue whenever the nappy is full, and it's time to change the diaper. This diaper also has disposable tape, which is used to wrap the dirty diapers up so that they could be disposed of without any mess. It has been proved that the Feather Diapers from R for Rabbit have a high absorption capacity for up to 12 hours which is a beneficial feature as the child could sleep peacefully through the night.
3. Sizes by weight
Feather Diapers by R for Rabbit have launched these diapers in sizes as per the child's weight, such as XS: upto 5 kgs, S: 5 Kgs to 9 Kgs, M: 7 Kgs to 12 kgs, L: 9 Kgs TO 14 Kgs, XL: 12 Kgs to 17 Kgs and XXL: More than 15 Kgs. This size as per weight makes it easy for mothers to purchase the correct diaper size for the child, and also this is very helpful for first-time mothers to buy the right size without hesitation.
4. Try before you buy
R for Rabbit is giving all mothers the advantage of getting a small trial pack before purchasing the entire Feather Diapers packet. You could order a pack of three diapers sample pack and try out.
these diapers before you decide to start using them for your darling child. This way mothers will get an idea of the working of the Feather Diapers before investing in purchasing the entire packet.
Conclusion:
Overall, Feather Diapers are far better than other brand diapers as they are thinner, lighter, and softer than other diapers. They are highly breathable, making them rash free, and they are 100% chemical-free which makes them suitable for babies with extra sensitive skin.
Since they have a high absorption capacity, it allows babies to sleep peacefully through the night, which is very important for the child's growth. It has a very comfortable grip around the child's waist and allows the baby to move and play freely, helping in the baby's development. The wetness indicator provides parents an easy way to know when to change the diaper, and the disposable tape makes throwing soiled diapers hygienically and without a mess.
R for Rabbits Deather Diapers is a revolution in the market of diaper manufacturing. It is also pocket friendly and fits every parent's budget. It lives up to the promises made, and like a mother keeps a baby safe and protected.