I read somewhere, "Parenting is the easiest thing in the world to have an opinion about, but the hardest thing in the world to do." So, when my son was just about a month old, my maternal grandmother asked to apply kajal around his eyes. That thought was revolting.
Earlier this month, we visited a relative. The daughter-in-law delivered her first baby. A  gorgeous boy, all of 20 days and guess what? He was wearing a frock. A pink colored girl's outfit! In this hot weather, he also wore socks and pink booties. He was wrapped around a thick cloth. The baby was extremely uncomfortable. The new mom was caught by postpartum blues. Guess, all she needed was some together time with her husband and the newly arrived member of her family. Instead, her mother-in-law took the entire charge of deciding everything for the little one, from what he wore to how he slept and how often should he be fed…
And all this makes so much (no) sense now that I am raising my own baby. I am not averse to getting free tips from experienced mothers/parents. In fact, it's actually good to hear them out and evaluate at your own ease/end. If the rationale behind practically trying out certain remedies justifies the very thought/reason behind them, then good, it will come handy, else ignore.
So, to all the moms of today's day and age… Cheer up! I do understand the entire trauma that you may be going through.. I want you to know that we are together in this. You are definitely not alone!
Here are 5 traditional parenting styles and baby care tips that need to be unlearnt right away:
1. Applying kohl to a newborn's eyes
Bangalore-based Anamika Agnihotri, mother of a 2-year-old boy, founder of The Bespectacled Mother, "my mom's and my mother-in-law's over emphasis on having milk for the child. They opine that if a child drinks milk he/she will be healthy. My son does not like milk or anything prepared using milk. He eats well and keeps healthy inspite of no milk in his diet."
2. Pouring drops of warm oil in newborn's ears and nose
3. Hiring a masseur for baby's massage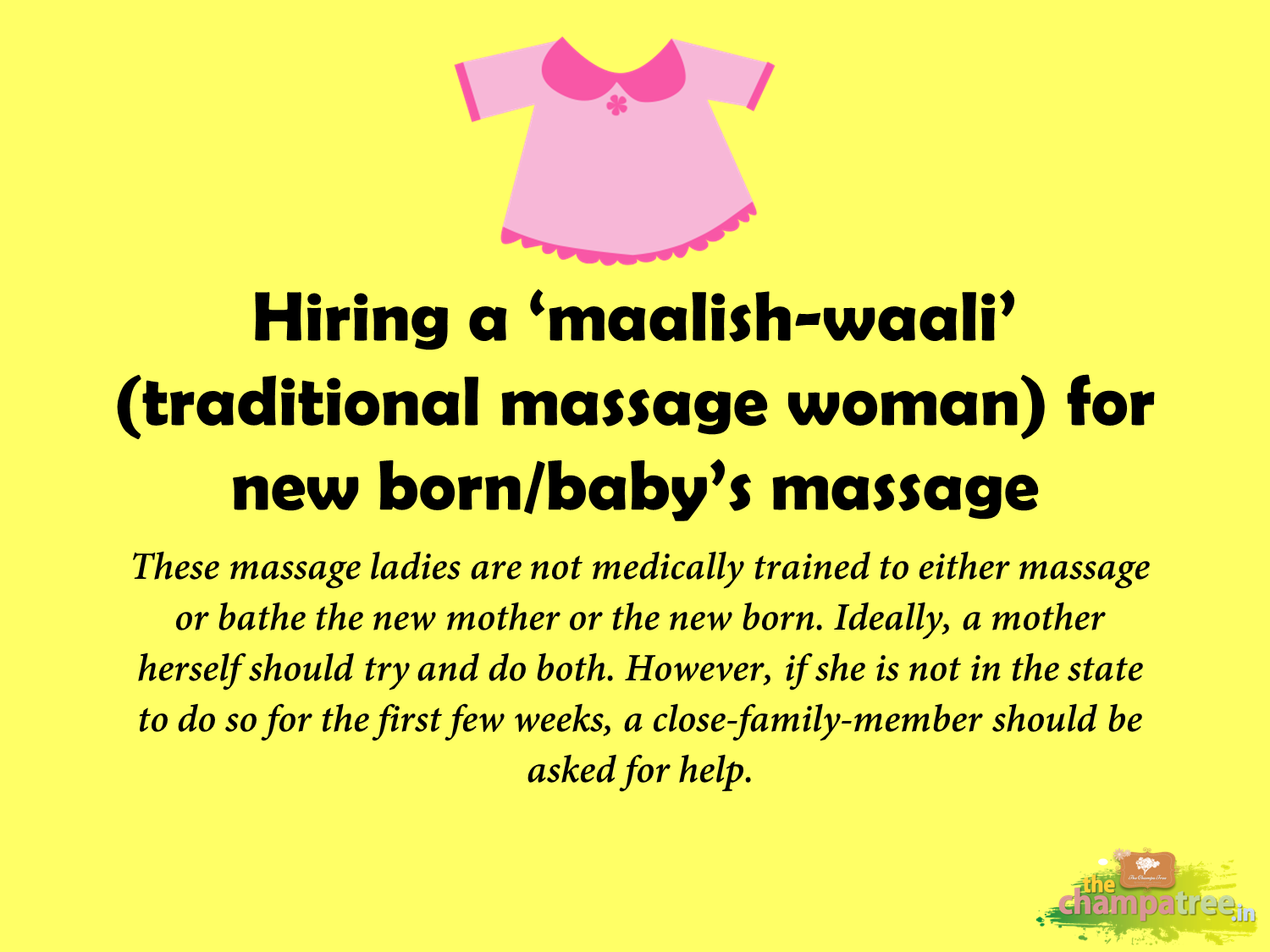 Vani Khurana, a new mother, PR consultant with an MNC, "Starting cow's milk for top feed babies. Older generation is not in favor of giving formula. The myth is that cow's milk se sehat banti hai (Cow's milk helps in the overall growth and development of your baby)!"
4.Breastfeeding positions and frequency
5. Stepping out during the first 6-weeks of delivery is a 'No-No!'

Through this post, I would like to reach out to as many parents as possible. I want them all to know that your baby's safety is extremely important.
Don't please let others decide for your baby! There are many similarities (some more popular while others are really obnoxious) parenting practices that have not been discussed here. Feel free to share your thoughts in the comment section.
Disclaimer: You are advised to consult your pediatrician before planning to practice or ignore any of the above-mentioned tips/remedies for your newborn baby. Through this post, the author only requests you to avoid blindly following the instructions of any relative/friend/colleague with little to no knowledge on this subject/matter, whatsoever.