It is a new year, decade, and month. The world is at the outset of a dream that this year would be better. With life having been dormant in 2020 due to the pandemic and lockdown, 2021 definitely looks like a ray of hope to all of us! The past year surpassed every scenario that anyone could envisage. This year stalled unbounded visions and got the entire world to its knees. Personally, I have had mixed feelings about the pandemic due to the unrelenting support from the immediate family and extended friends spread across different geographies. Just like me, there are tonnes of women who deal with a mixed bag of emotions. I had the rare opportunity of speaking to women from different spheres of life. When I spoke to them, there was just one thing I could narrow my focus on – What women want!
Post pandemic recuperation:
It is 2021, and women have prepared themselves to take the flight to their dreams more than ever. The aspirations are not restricted to just their career anymore but traverse far and wide to travel, relationships, and so on. And if you came here to read cliched stories, you would be disappointed. Prime yourself for we are taking you through stories of what women want to do in 2021. These might tug at your heart or leave you awestruck.
Indian society has come a long way slowly but steadily from gravely skewed gender disparity to witnessing women making key choices when it comes to their personal as well as professional ambitions. Gone are the days when motherhood was a blocker for women's progression in life. This is an era when women say that being a mother makes them better at the job. In fact, mentioning motherhood as the reason, when they return to work after a career break, in their resume is something most women have started to do. It represents a lot about what women want apart from the societal norms which are expected out of them.
What women want – A tete-a-tete with 10 strong-willed subjects:
As TCT got into a tete-a-tete with 10 women from different spheres and backgrounds, here is saluting each one of them. Here's what makes them truly excited for the year – 2021.
1. "I cannot wait to go back to the campus life" – Ravijot Kaur
Ravijot Kaur, a single mother to six-year-old Malhar from Chandigarh is waiting to go back to college. Commencing her Master's this year is something that keeps her on her toes. What makes it enthralling is that she goes back to student life after almost eleven years! Moreover, she will be travelling abroad for education while her daughter stays back home under the guardianship of her parents.
Ravijot Kaur says, "I always wanted to study for as long as I could, but due to marriage and then single motherhood, it never could materialize. My daughter is now six years old and is self-sustained or capable of asking for help as and when required. I am sure she will adjust well to the new normal and my parents will take care of her. Like they say it is never too late to go back and start afresh. Indeed 2021 is the year when I will be doing just that.
I have zilch qualms about leaving my daughter under my parents' care as I travel to a different country to pursue the career of my dreams.
As women and especially mothers we tend to put ourselves on the back burner. I think it was time for me to put my choices into the self-starter mode and finally take the leap of faith towards this new journey. Pursuing my Master's in Business Administration is just the right step for the kind of career growth I needed after doing a corporate job for 5 years! We regard being a mother as a deterrent, but it's absolutely not true! What women want is to let them live on their own terms!
2. "Super eager to launch my first ever styling course for women" – Jainee Gandhi
Jainee Gandhi, a mother of two and a fashion image consultant based in Singapore, takes one on one styling classes for her clients. But with time she realized it was not really working with her Indian audience. The reason was that it was a bit expensive and she was not able to reach out to a wider audience. That is when she decided to launch an e-course on styling specifically for the Indian audience.
Jainee believes in the ideology that dressing is not rocket science; everyone can look good in their clothes! The course will have a lot of helpful resources on body type, the kind of dresses one can wear, and how one can re-use and re-wear. Women don't want to hear what you think. What women want to hear is- what they think- in a deeper voice.
Jainee says, "Australians and Americans are doing such courses on Udemy for quite a bit, but when it comes to Indian women the options are nominal. The principal reason behind this is that Indian women's body type is very different. This is also the primary rationale why Indian women do not find the right size in a lot of foreign brands. Jainee says her course caters to 90% of women from India ( as Indian geography in terms of dressing varies from North to South and East to West).
3. "Totally upbeat about participating in Mrs India" – Ritu Kumar Singh
Meet Ritu Kumar Singh, a coach, an Ex-army officer, who participated in Mrs. India! From being a mother of two beautiful girls, struggling to shed the pregnancy weight to the first Indian to get a license as a Tupler Technique Trained Professional, Ritu's journey has been quite remarkable and extraordinary. SheBehind every successful woman is – HERSELF
Ritu was one of the semifinalists at Mrs India this year and bagged two titles – Mrs India Beyond Motivation & Mrs India Beyond Digital Reach. She doesn't shy away from admitting that it was no less than a childhood dream for her. "Through the Mrs India platform I would want to spread awareness on Diastasis Recti.", says Ritu.
She is back home and her girls just can't get enough of her crowns and the winner sash! Oh, the charm of motherhood and having daughters! I think what women want is not fancy gifts, but support from family. There is definitely no doubt that it takes a village to raise a child!
4. "Bursting with eagerness to set up a new green area for more clients" – Aditi Khattar
Aditi, mom to a three-year-old, recently registered her company as a proper business entity. She primarily creates green spaces at offices and homes. When I approached Aditi, I was honestly not aware of the concept of green spaces with the Greenish affair. In fact, I had not even heard about that term. Aditi says it all started after motherhood when she got back to her regular job as a stay at home mother. Within a few days, she found herself not loving it and not getting any satisfaction out of it.
So one fine day she decided to quit and start with the concept of Green Spaces. She started by doing projects for her friends initially. Aditi tells that Green spaces literally mean creating beautiful nooks in your home with elements like plants and home decor. Take one look at her Instagram handle and we are sure you would also want to curate a green space at your home.
She says, "This is still a growing concept in India and not many people were aware initially. When I started out people thought I was selling plants!" Aditi muses, "This is still a niche career, which can be exciting and daunting at the same time."

Aditi
In the year 2021, Aditi is excited to create more green spaces and will slowly venture into selling home decor products. She says, "Motherhood can make anyone change their perspectives. I really hope if someday people ask what women want, and her answer is ' a career', then it shouldn't be looked down upon.
5. "Waiting to break more stereotypes" – Parul Arora
When Parul did a backflip during the national lockdown, little had she thought that it would be the inception of one of the many journeys. This year in January she did the celebrated backflip in a saree! The video went viral and since then her phone hasn't stopped ringing.
A woman's growth and worth should not be dictated by society but by herself.

Parul
In 2021, Parul wants to take up new challenges and perform more stunts in different attires. She was a bit apprehensive about doing it in a saree, but then her coach motivated her and she nailed it! Parul says, "I want to break deep-rooted gender stereotypes. A woman, no matter what, can handle any role or career option. Our clothes are just a robe, but definitely do not define us. It is 2021 , and as a society, it is essential to reflect on what women want
6. "Wholeheartedly waiting to meet the elephant we have adopted" – Nidhie Raj Singh
That is Nidhie and her daughter Zoie for you. They are waiting for the day when they see the elephant they have adopted at the Wildlife SOS Centre. Both Nidhie and Zoie are nature and animal lovers. Their fondness for animals catapulted them into taking the decision of adopting an elephant in 2020.
However, Corona and the national lockdown stalled their dream. All the paperwork and formalities related to the adoption could not be completed. In late 2020, they finished the formalities in 2020, and this year the mom-daughter duo can't contain their excitement to meet the rescued elephant- Luna. From now on, whenever the SOS center opens up for visitors, Nidhie & Zoie would be visiting Luna. Nidhie says "Zoie is particularly thrilled to play with Luna. She can't wait to feed and even bathe her."
7. "Raising funds for my venture" – Ambika Shankar
If there is one thing that 2021 is going to see more and more of, it is women raising their benchmarks and the rise of women entrepreneurs! Gone are the days when women used to take a sabbatical after motherhood or go back to their regular jobs after a maternity break. It is 2021 and we continue to see an exponential rise in women starting their entrepreneurial journey from the comfort of their own homes.
Ambika Shankar is a classic example of what women want when it comes to both personal and professional aspirations. She is the Founder & CEO of a startup called A Writing Venture. and goes by the adage Pedes in terra ad sidera visus (translated to feet on the ground and eyes in the sky). Mother to two boys, she began as an assistant to an aviation lawyer for copy-editing aviation newsletters.
She then worked with The Energy & Resources Institute(TERI) as a Senior Editor. Passionate about writing and starting out on her own, she started her entrepreneurial journey with AWV. This year she is looking at raising funding for her startup AWV – her third baby(as she fondly calls it). On the personal front, she wants to go trekking all the way to Kedarkanta and learn how to ride a motorcycle!
8. "To make up for the promises I made to my then 17-year old self!" – Vaishali Sudan
Every year we make promises to ourselves and even go on to make new year resolutions. There are some we are able to keep up to, while others just don't see the light of the day.
Vaishali Sudan Sharma, the founder of The Champa Tree, plans to explore and accomplish those things – a promise she made to herself that after 2020 she would step out of her comfort zone and learn something new!
Handling her day job, along with TCT, managing finances, and fixing jobs that she thought was a part of a man's domain, she has been implacably working towards doing all that. Pushing limits and trying out new things, be it fixing a punctured tyre to learning to invest in stocks. She adds, "It's much easier to remain within the boundaries of where you feel comfortable than it is to face the fear of venturing beyond them."
But by limiting yourself to what you already know, you're likely missing out on professional opportunities, life experiences, and personal growth.

Vaishali
9. "Can't wait to go out into the ocean and get my scuba diving license" – Virali Modi
How many times have you seen a child who is just trying to walk and ends up falling more than walking? The child still gets back on its feet until he/she gains that confidence.
That is exactly the story of Virali Modi. A 3 X Ted X speaker, motivational speaker, and a second place holder in the Miss Wheelchair India Pageant. The list of her accomplishments is endless, and as she says it is her parents' grit that has given her wings!
One conversation with her and you will get to know that inspiration can seep in from the most unexpected places. All of us, and women in particular need to identify that they themselves are more important than anyone else. She says, "Start looking after yourself and only then you would be able to make others around happy! Do not compromise on your own happiness."Society unquestionably knows what women want- it just needs to start paying to heed to it!
Virali loves the water. She fondly calls herself "the water baby ". In 2019 she did instructor-led training for Scuba Diving. She has even collaborated with Nikhil Chinappa on Supersonic – Goa's beach music festival. In April 2020 she was due to travel to Lakshadweep to finally get her Scuba Diving License. The national lockdown put a temporary halt to her plans!
So there are absolutely no prizes for guessing what her plan is for 2021. She wants to go out in the ocean, complete her training and become a licensed scuba diver.
10. "I want to help more women gain personal financial education" – Neha Jain
It is often said that women and finance are two parallel terms and can never converge. Personally, I have seen a lot of women who are earning for as many as ten years and still do not understand their financial goals. And when I say this I put myself in a similar boat. There were umpteen times when I wanted to do financial planning but due to some reason or other, I always found myself speaking to a financial advisor!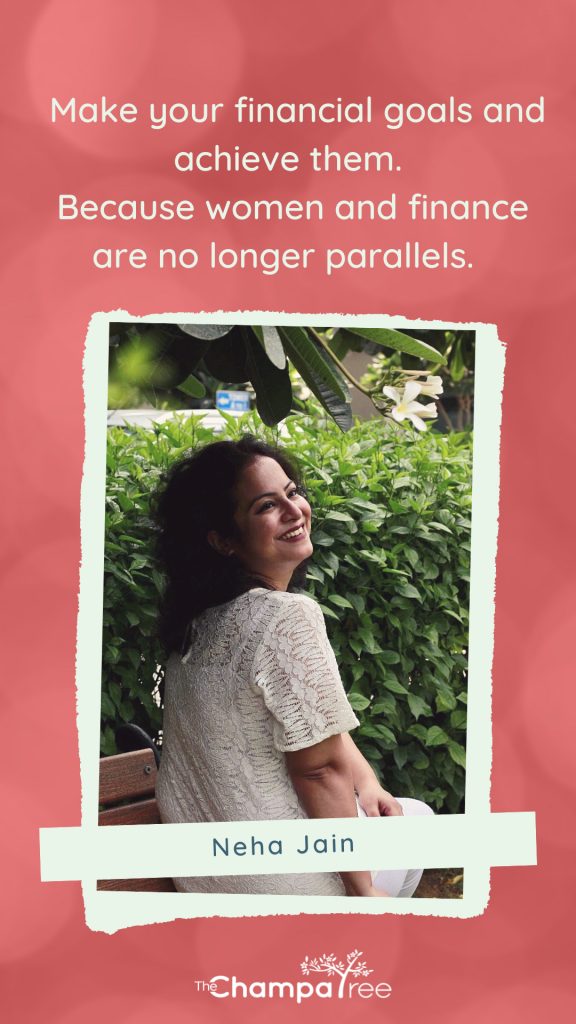 What I mean to say here is that it is not just the women in rural areas who suffer from finance phobia. Their counterparts in the metros are in the same boat too.
Neha Jain, a mother to two kids, has recently started an initiative to educate women on personal finance. Through this program, she helps women make financial goals and how they can work towards achieving them. She goes on to say that – "Women know how to earn money, but we are still scared of making choices when it comes to choosing certain investment plans. As many as 9 out of 10 women rely on their father or husband for making such decisions. 'What women want '-in terms of their finances is something they know pretty well. But how to achieve it is something they dawdle with the most."
In the year 2021, she plans to build a stronger network of financially literate women in India. She is currently taking 1:1 coaching for women through video calls.
Get inspired and get going:
These beautiful stories of what women want from different spheres of life must have left you feeling happy, warm, and inspired. All of these women inspire us to never give up and never stop dreaming! As it is said in all likelihood there is nothing we cannot do! In a sum total of what women want – it's a beautiful amalgamation of emotional, personal, and professional aspirations.