Shackled plans, daunting lockdown, unprecedented social transposal – the year 2020 was all about this and more. It taught humankind several facts. The concerns about failing relationships, couples (families at large) not finding time for each other, kids not getting enough attention, and long-distance relationships were the most discussed things this year. With the lockdown knocking at the door unceremoniously, everything changed, even our relationship goals are looking different.
Yes! It is possible to stay at home, spend time with family, conduct weddings privately. We met our new normal with the Coronavirus effects! Love in the time of Corona gave a new definition to love stories. It also reflected on some unique relationship goals that are inspiring.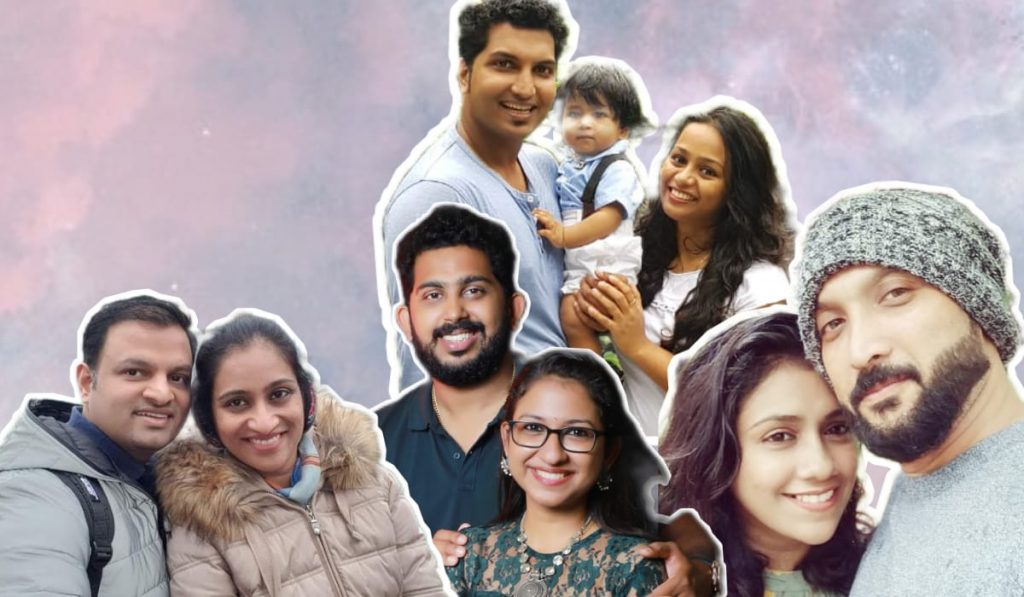 Families bonded and spent time together like never before, couples landed in different hemispheres due to an unexpected lockdown, many lost their loved ones, and the scenario was a mixed bag. I saw a different family in my home and hence looked around to see how it is for everyone else. In the pursuit, I met 4 couples who shared their unique tales of separation and cute relationship goals. The foray into the "Love stories" of the couples and families manifested into a few "love in the time of corona" stories.
Mind-blowing relationship goals to learn from these 4 couples:
1. The man who set out to Dubai for a month, in search of a job couldn't return – Anita and Manoj
"I am probably the first wife who rejoiced in her husband's loss of a job," laughed Anita. "It has been a year and a half since he was in Dubai without any monetary gains, to be honest. I knew something was off but I hardly cared because I just wanted him back." Kerala-based couple Anita and Manoj's life took a U-turn when the latter left his high-paying corporate job to start a business, which unfortunately didn't hit the right note. " When I realized that the business is plunging, I decided to start working again. A friend of mine invited me to Dubai," said Manoj.
"The man who set out to Dubai for a month, in search of a job couldn't return. Everything happened so swiftly that I was hardly prepared for a long-distance relationship," Anita mused. "I was both – happy and anxious (in the same breath). When life takes a U-turn without notice, we tend to sway and I did too. To make matters worse, I ended up with serious health issues and I was on the verge of losing my job due to an employee strike. My son missed his father badly and would cry to see him every night. All of this happened quickly within the span of a year and it overwhelmed me. I wanted to see him before I hit the bucket," added Anita.
COVID became a blessing in disguise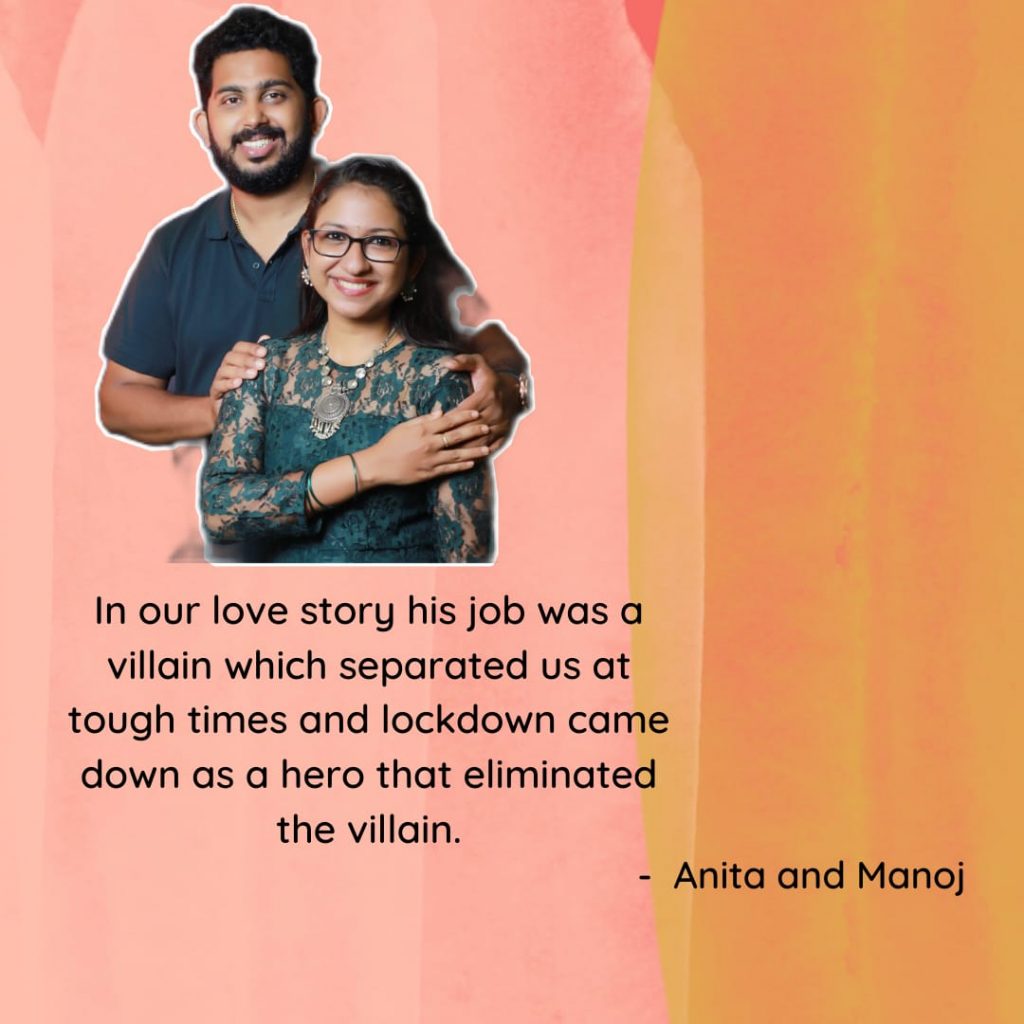 Finally, Manoj returned! When he was about to rejoin, we met with the lockdown story. Amidst the uncertainties, his company went on an employee cut down spree and they asked him to let go of his job unless he was able to make it in time. It was a blessing in disguise because in our love story his job was the villain that separated us during tough times. He joined my father's business and currently, we are in the happiest phase of our life. The icing on the cake is that we are expecting a new member, literally and metaphorically speaking- it's all thanks to 'Love in the time of Corona,' Anita blushed.
One of the cute relationship goals we learned from them: Make sure you understand each other. Often, relationships are spoiled due to misunderstanding, misinterpretation, or not listening.
2. An overseas scare story than a long-distance love story – Roshna and Shihab
Roshna and Shihab have never lived apart. "Even though we were miles away from family, Shihab never let me feel like I was missing anything," Roshna said. "He was there for me, always. Despite representing an orthodox background, my husband is a feminist. He believes a couple must share equal space. That kind of mindset pretty much laid the foundation for the best relationship goals we have built (and worked towards) over a period of time.
Roshna decided to come back to India when their daughter joined the school. "Somehow, I was not satisfied with the academic facilities in Dubai, and it was our combined decision for kids' sake," Roshna continued. "Despite being in two countries, ours wasn't a long-distance relationship. Shihab visited us every three months and hence we never felt separated."
With uncertainities in the kitty:
The lockdown emerged as a nightmare in their lives. Roshna confined herself to their apartment in an unprecedented and precarious situation. "Our kids were 7 and 10 years old. They were hundreds of kilometers away from our native place. Roshna and the kids were alone, without any family or close friends nearby she could seek help from. I couldn't reach them as the airports were shut for international flights," Shihab said.
"The situation was uncertain and we couldn't do much. To make matters worse, our kids needed a lot of help and Roshna on her own felt helpless. Ours became more of an overseas scare story than a long-distance love story. After the lockdown, the unrelenting wait took another turn. With just about a handful of operating flights, I was put in the waiting list. The moment I returned to India, we decided that we would not let anything come between us, ever," said Shihab with gratitude.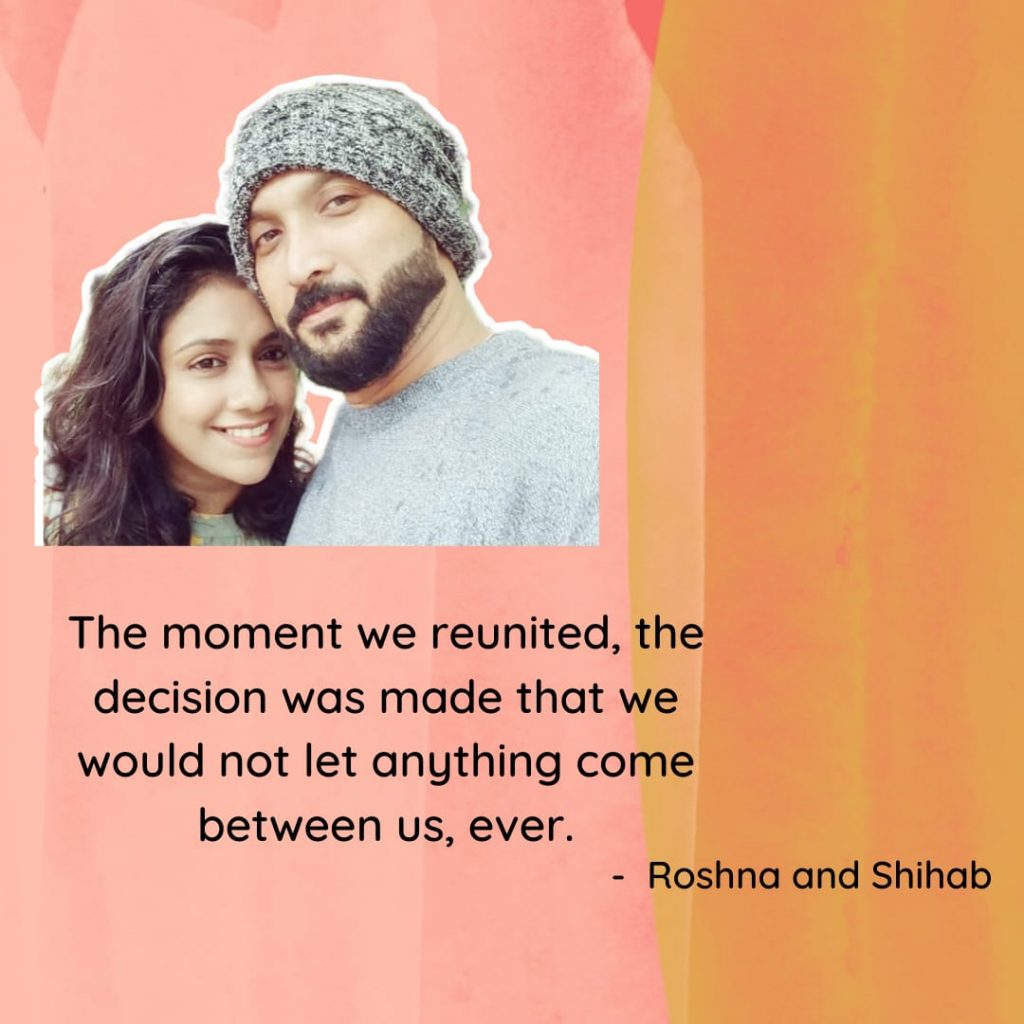 The smartest ever relationship goals to set for yourself: Make time for yourself.
3. "Haven't seen our aged parents for years" – Nisha and Sangeet
Nisha and Sangeet left their families in Mumbai to start a new life in Germany with their son Vihaan. "I had initially gone for a year, so Nisha stayed back in India as she was working and Vihaan had just started school. But when my contract extended, we decided to relocate," Sangeet said.
A week in Germany, Nisha felt homesick and started missing her family. "I came back to India within a year as my homesickness failed to relent. But the reality was staring me in the face. I would miss my family. Having said whcih, I could not afford to stay away from Sangeet. Finally, after much deliberation, I decided to put an end to the dilemma and returned to Germany. It was literal replanting as I had to start from scratch. The most difficult part was resigning from my job. I was a teacher and in Germany, we need to master German to join a teaching job. Hence, I joined German classes and started learning with my son."
The protected kids in unprotected world
Both Nisha and Sangeet belong to a close-knit family where there is no bias between parents and in-laws. From a protected environment to be on their own, Nisha and Sangeet got unfounded courage to go forth. "If I had undergone the hostel life, this experience would have probably been easier for me. My mother used to laugh and say that I am not the only one staying abroad," Nisha said.
We're hopeful
"Somehow a year went by at a snail's pace and we were all set to come back to India. The plan was to stay in Germany for two years but it extended to another two. Last year when we finally decided to return, the lockdown happened. Our parents were old and hence at risk," Sangeet added. "We could not keep a tab on their health. Thankfully our siblings were with them. Nonetheless, the fear is looming around always. The current scenario is such that lives change in the blink of an eye. A healthy person becomes a memory even before we realize what has happened. But we are sure that they will remain in good health against all odds. Hopefully, the situation will get better and we will be able to come back soon," said Sangeet.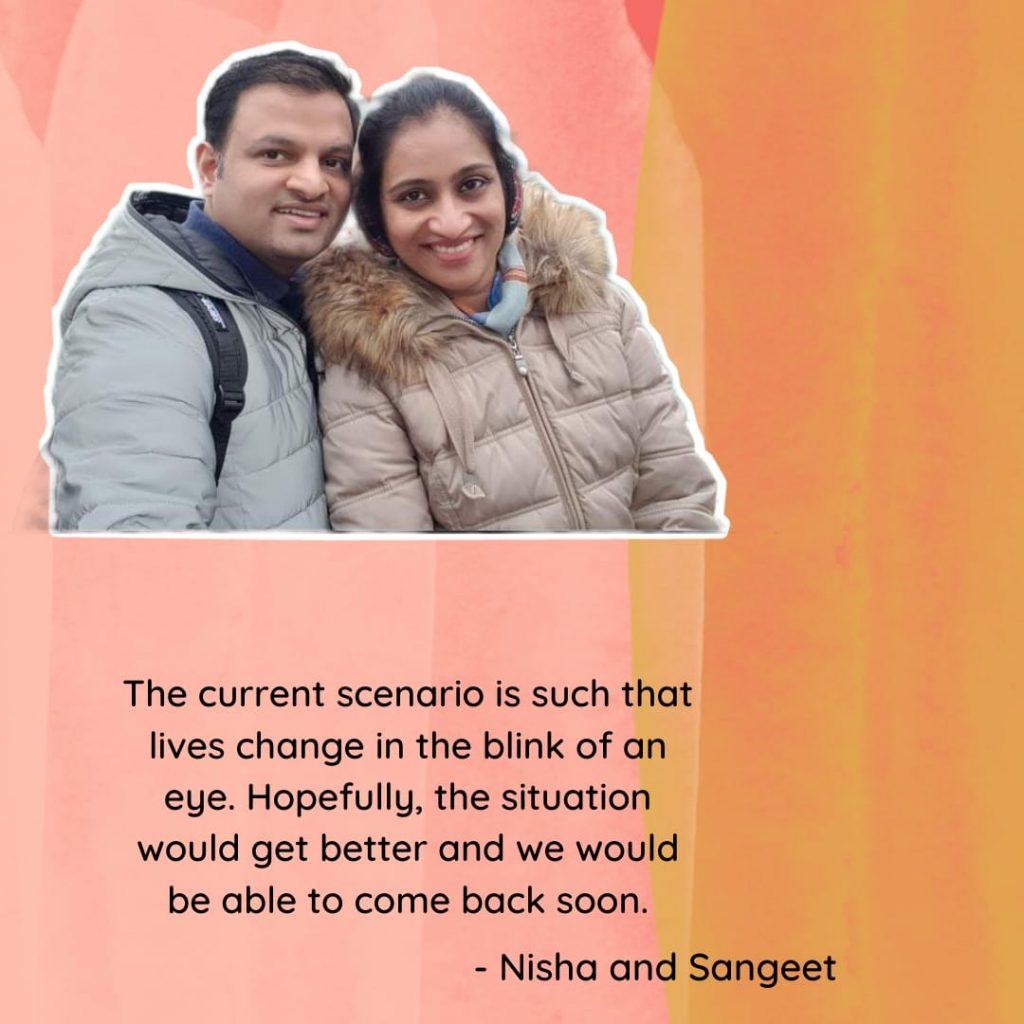 Amongst the best husband and wife couple goals: Be sure to understand what your partner said. Always listen, talk and ask questions to make things clear.
4. The forced honeymoon – Anjana and Vijesh
Anjana and Vijesh were a quintessential working couple. The busy bees saw a different shade of each other during the lockdown.
When asked about her 'love in the time of Corona', Anjana laughed. "This might be the longest time I have spent with my husband at home. Did it ignite the spark in our relationship or was I having a case of fireworks burning the house down?" Anjana continued, "During normal days I yearned for my husband's attention, but the lockdown changed it all. The initial month was like a honeymoon. We talked like never before about our aspirations, revisited our bucket list and memories. It was surreal. We binge-watched Netflix and Prime and gorged on food together adding a few inches on our waistlines."
There is an old saying — familiarity breeds contempt. This holds true for all relationships. Anjana realizes how being familiar with each other would lead to taking each other for granted. "After a baby, there is the added exhaustion, lack of space, and time. Though many couples stay in denial of this hard truth, the routine leads to frustration, piles up expectations, and in the long run partners become Mr. and Mrs. Bickerson. That happened during lockdown too," Anjana reflected. "We started taking breaks from each other sometimes intentionally. Although we love each other, the 'me time' is imperative."
When he became a stay-at-home, involved dad
"One of the major highlights of 2020 was how I became a circumstantial SAHD.", said Vijesh.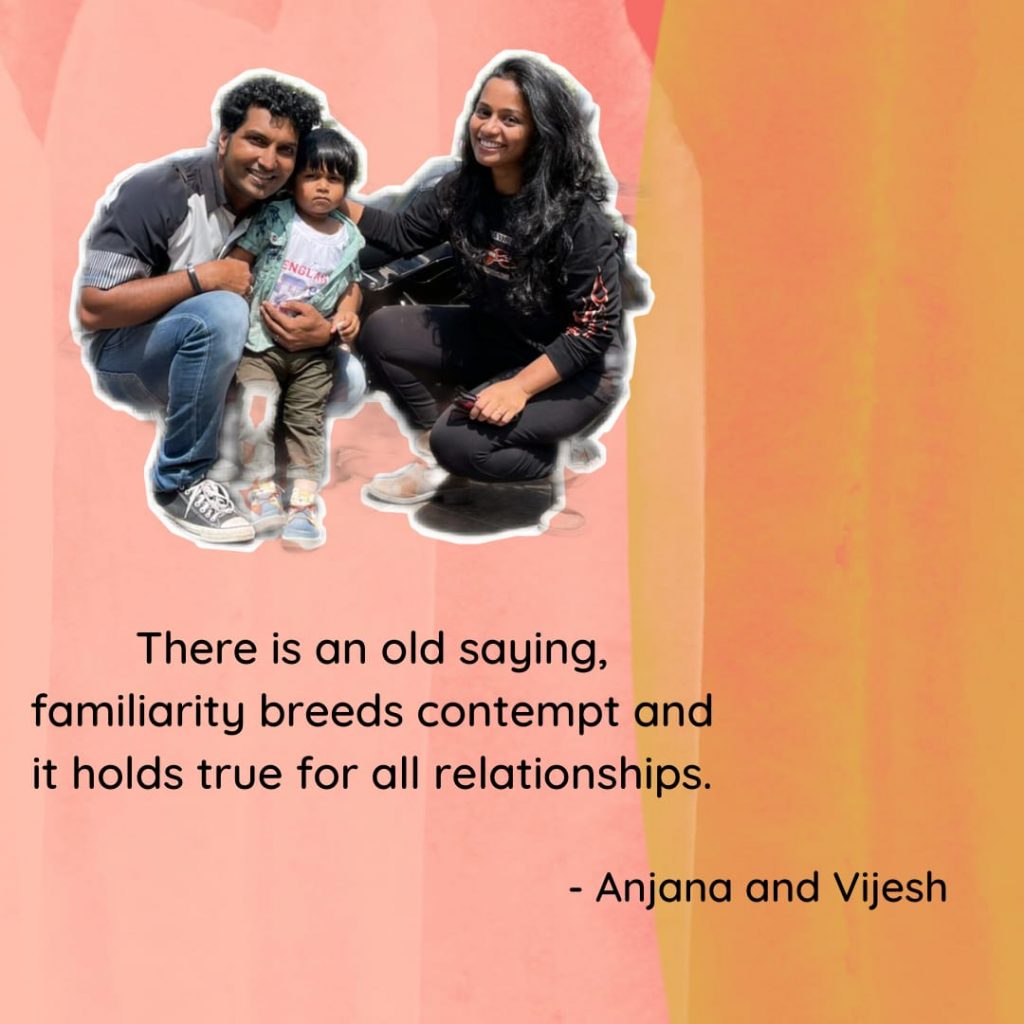 "I must admit it mighty impressed me when he started managing our son alone shortly after my parents and sister left for the hometown. We contemplated hiring a nanny but hubby stepped up," Anjana added. "The transition from a laidback father to an active one was tremendous." Anjana rejoined her work post lockdown and Vijesh continued to be a SAHD.
"I changed diapers, fed him, made him sleep, fooled around, engaged him in play till Anjana came late in the evening. Though some days I felt totally wiped out, yearning for some alone time, but it really relieved us at least on the baby front. Surprisingly, I was enjoying funny playful videos, and ridiculous pretend play," Vijesh added.
"The father-son bonding would crack me up and lighten my mood at the workplace. At one point I was getting jealous when my son was choosing my husband over me. My heart is full when I see these two goofing around, and their giggles and laughter," Anjana said.
Not one of the freaky relationship goals, rather, one of the most meaningful and sweet couple goals we love: When something is tough and uneasy, it does not mean that you have to leave it. On the contrary, it means that it is the most important in your life, and you need to deal with it.
These families had it tough. There would be families who had tougher times but there is one thing that is common to all. Love in the time of Corona changed lives irreversibly. What is your story? Do you have any unique relationship goals we've overlooked?