In the wake of the COVID-19 outbreak, almost every parent is confronted with the seemingly impossible challenge of managing screen time for kids. Schools remained shut and outdoor activities were completely curbed for most of 2020. Whether it is classes at school or interactions with their friends, kids had to do everything online. Due to this, excessive screen time for kids inevitable. Hence parents are always in search of educational games and toys for kids.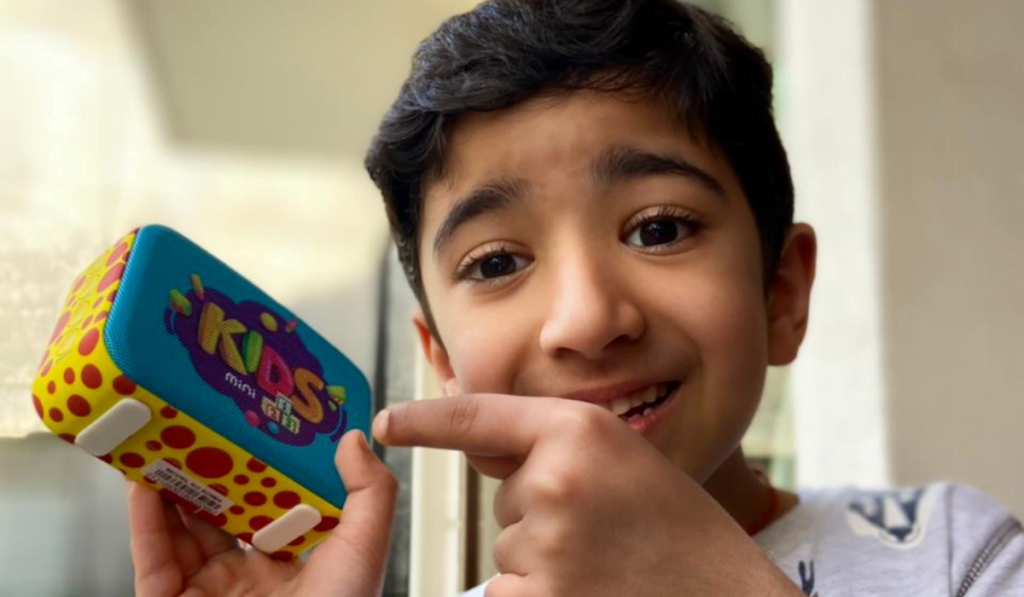 Despite this, kids keep complaining of boredom. They don't get to do enough and have little fun throughout the day. In fact, most of them even complain about repeatedly getting the same type of gifts.
The good thing is that we hear you and we hear the kids too. Hence, we have created a wonderful solution that will take care of all problems ranging from screen time for kids to entertainment to learning.
Entertainment without screentime for kids: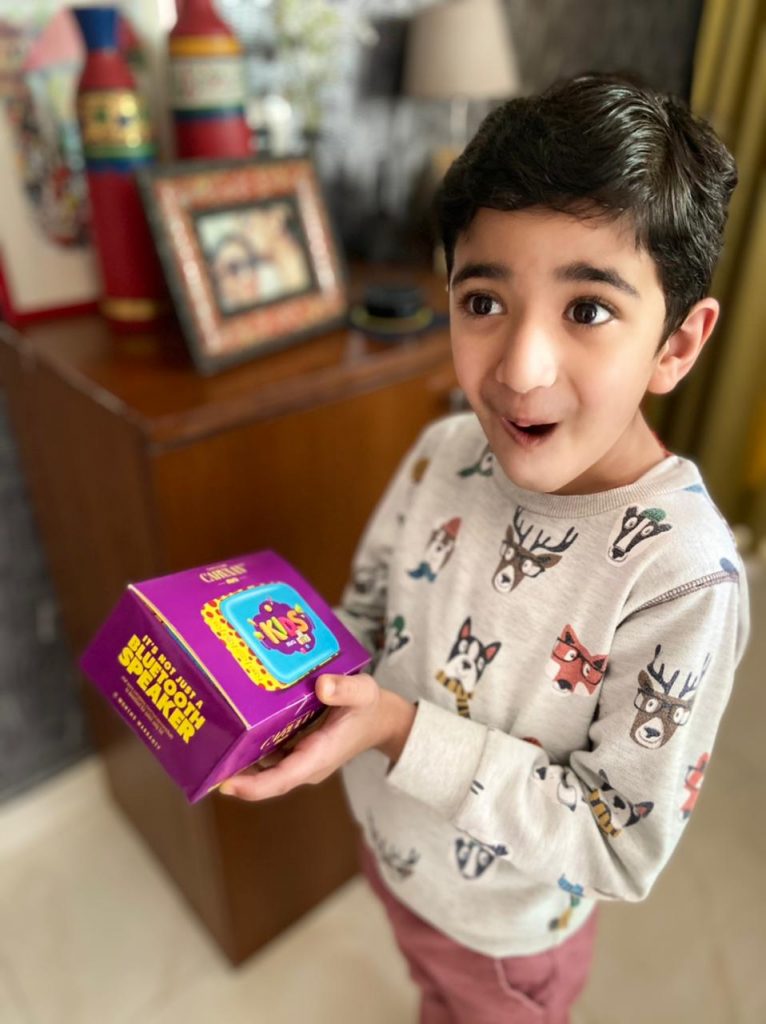 Saregama Carvaan Mini Kids is a portable and stylish audio player. It is designed specifically for kids in the age group of 2-10 years is a blessing in disguise. This is a compact, easy-to-carry, and lightweight audio player fashioned after the much-loved Saregama Carvaan Mini for grown-ups. It is ideal to play stories for kids, kids' rhymes, and even soulful mantras without screen time for kids.
The audio player is an easy-to-use and safe device. Children can use it without any help or guidance from the parents or other elders. There is no need to use the internet thereby reducing the screen time for kids. You can be assured of an uninterrupted listening experience for kids without ad breaks.
Designed in a way that any child can easily operate, the audio player allows kids to listen to their favourite rhymes and stories thereby reducing the screentime for kids. They can also learn things such as phonetics, alphabets, numbers, and tables, etc. If you are trying to make your child learn things such as Gayatri Mantra or other such mantras, Saregama Carvaan Mini Kids is what you need. The device has a dedicated mode that helps the children learn mantras from an early age.
It is not an exaggeration to say that Saregama Carvaan Mini Kids can play the same role in a nuclear family as the elders and grandparents who substitute the screen time for kids. The wonderful audio player is a holistic solution for the child's education and entertainment needs. Therefore, it tops the list of educational games and toys for kids. There are four modes that play– Kids Rhymes, Stories for kids, Learning options, and Mantras for kids. Thus, the child can select the playlist as per mood and requirement.
Saregama Carvaan Mini Kids – The 4 informative modes:
1. Kids rhymes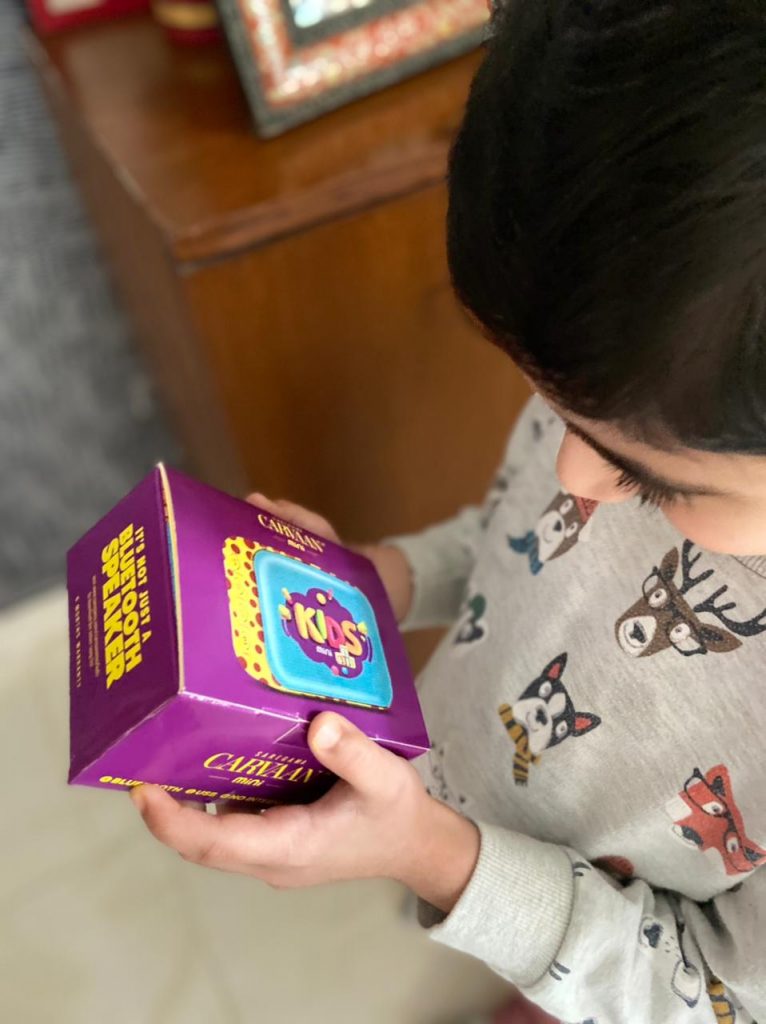 Whether you were born in New Delhi or New York, there are bound to be some popular rhymes you would have heard during your early years. Now, you can make your child experience the same through this wonderful collection of 80+ classic English and Hindi rhymes. Some of them include Humpty Dumpty, Mary had a Little Lamb, Ringa Ringa Roses, Jack & Jill, Twinkle Twinkle, Chanda Mama Aao Naa, Lakdi ki Kaathi, Akkad Bakkad Bambe Bo, and many more.
2. Stories for kids
A child's mind is highly impressionable and creative. Children tend to imagine vividly when they are listening to stories instead of watching a cartoon or a video thereby reducing the screen time for kids. That's why grandparents tell stories. Now, Saregama Caravaan Mini Kids is going to be your child's gateway to the world of stories. Children can think, visualize and learn from listening to more than 300 stories in English and Hindi. These include the Panchatantra, Akbar and Birbal, and other Fairy Tales. These stories can play an invaluable role in shaping the perception about the world around us without screen time for kids.
3. Learning for kids
There is probably no other more engaging and fun way for a child to learn things such as Phonetics, Days of the week, Months of a Year, Numbers, Tables, etc. at home. The device has 15+ pre-loaded and curated content library options to mix learning with entertainment for the child. The possibilities of engaging the kids with educational games and toys for kids are utilised to the T.
4. Mantras for kids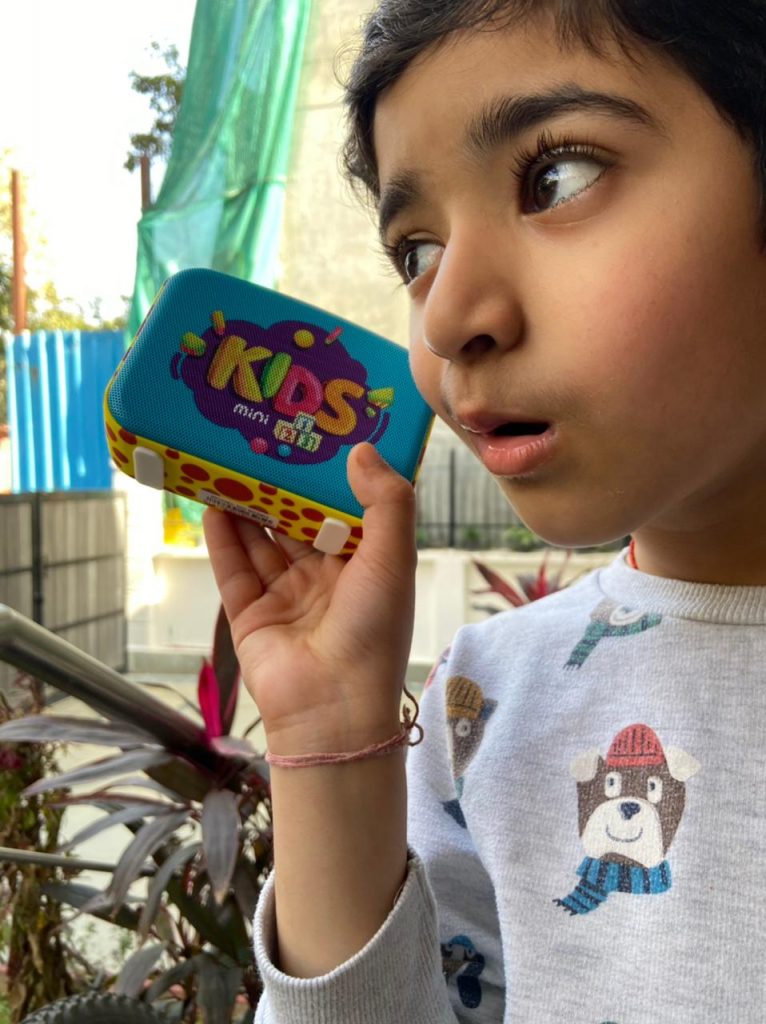 There are over 33 mantras and devotional songs like Om Shanti mantra, Gayatri mantra, Hanuman Chalisa, Sai Dhun, etc. There is not going to be any dearth of options for the child to sing along and learn mantra recital.
Beneficial features of Saregama Caravan:
Apart from the expansive and holistic content curated by Saregama, the Saregama Carvaan Mini for kids also has various beneficial features. This makes using it more fun for children. Let's take a look at them.
1. Loop
If your child has picked up his or her favourite audio content, then you can just press the loop button given on top of the device. This will make the audio play in repeat mode.
2. Charging and battery life
The music player has a Type C charger and a battery backup of 4 hours. You just need to charge it only once. Your child can play it all around the house for hours without repeatedly charging it.
3. Additional features
There are options such as Bluetooth, USB, and Aux In/Out which can make it a great listening experience for the whole family. If you are lucky and your child doesn't mind sharing the player with you then you can also play your music on the fantastic speakers and enjoy the experience.
With a six-month warranty, the Saregama Carvaan Mini Kids is an ideal solution that will reduce screen time for kids but not the quality of learning and entertainment. Go ahead and grab a Saregama Carvaan Mini Kids online for your child at home today!