The most memorable part of my childhood is the festivities and all the special food we hogged on. Food brings back memories. And the dishes served during small or big family gatherings have always been a reflection of our rich culture. Right from gatte ki subzi to daal bati choorma, Rajasthani delicacies hold a special place in my heart (and gut)! This month- August reminds me of Ghevar – the sweet traditionally associated with the Teej and Eid festival. Besides Rajasthan, it is also famous in the adjoining states of Haryana, Delhi, Gujarat, western Uttar Pradesh, Madhya Pradesh, etc. And because Teej coincides with Independence Day, I thought why not make a tricolour recipe for Independence Day – Tiranga ghevar?
The most cherished memories of my childhood are tied to the festive celebrations and the delectable dishes we indulged in. Food, for me, is a nostalgic journey, transporting me back in time. The culinary creations served during both intimate family gatherings and grand celebrations have always mirrored our vibrant culture. From the hearty gatte ki subzi to the soul-satisfying daal bati choorma, Rajasthani cuisine holds an irreplaceable spot in my heart (and my appetite)!
As August arrives, it brings a flood of nostalgia with Ghevar, a sweet confection intricately woven into the fabric of the Teej and Eid festivals. This treat doesn't just belong to Rajasthan; its fame extends to neighboring states like Haryana, Delhi, Gujarat, western Uttar Pradesh, and Madhya Pradesh.
Moreover, with Teej coinciding with Independence Day, an exciting idea took hold – why not create a tricolor recipe that embodies the spirit of Tiranga, our national flag? This is where the journey of crafting Tiranga Ghevar for Independence Day truly begins.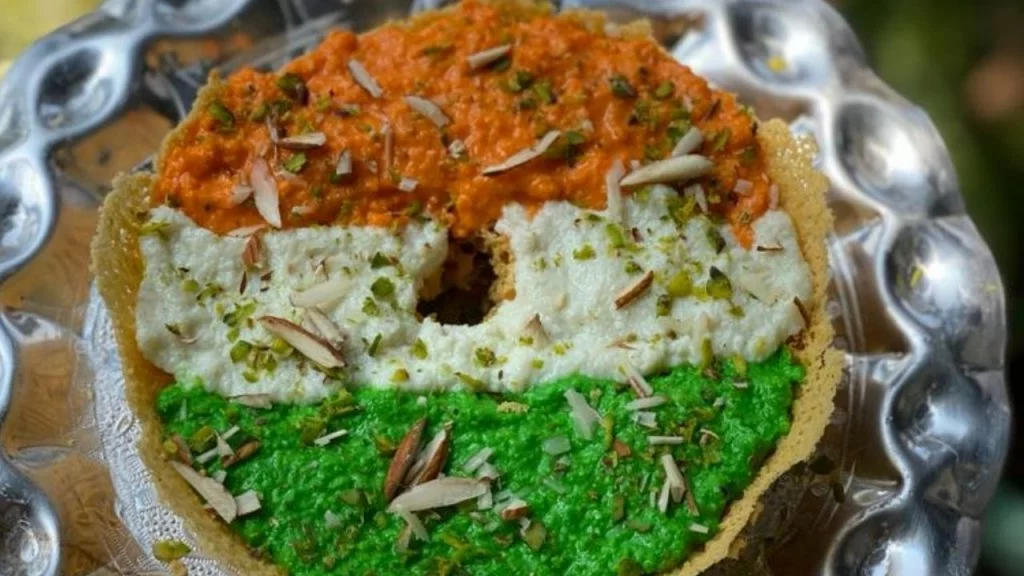 What is Ghevar?
It is a disc-shaped sweet cake made with maida (all-purpose flour) and soaked in sugar syrup. 
Here's the recipe of the tricolor recipe for Independence Day: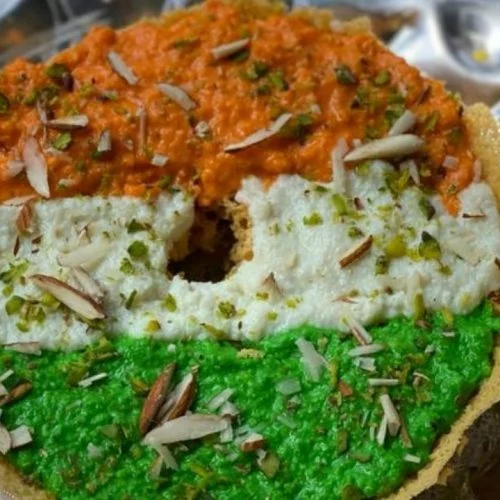 Tricolor Ghevar
Disc-shaped sweet cake made with maida (all-purpose flour) and soaked in sugar syrup. 
Ingredients
10

Cubes

Ice

750

ml

Water

250

gm

All-purpose flour

A pinch of beetroot powder

For red coloring

½

cup

Sunflower seeds

2

cups

Water

½

tbsp

Baking soda

350

gm

Pure desi ghee (clarified butter)
Instructions
Natural coloring
For natural red coloring: A pinch of beetroot powder

For natural green coloring: Make a paste using 1/2 cup sunflower seeds + 2 cups water+ 1/2 tbsp baking soda. Sunflower seeds turn green with baking soda.
Preparation
In a bowl add 250 gms of all-purpose flour

Then slowly add 750 ml of water in it

Mix it until there are no lumps

Gradually add ice cubes and then color into the mixing bowl

Continue to mix it for 10 minutes

Take a pan and pour desi ghee onto it (you can use refined oil as well) and inside the pan keep the Ghevar mould

Wait until the oil is extremely hot

Gradually start pouring the batter inside the mould. You will see a honeycomb structure is being built

Once completed, remove it with a ladle

Mix khoya and pure home made cream together

You can also add healthy organic nut powder/almonds/pistachios
Learn to make easy paper craft – DIY 3D kite with your child!
by Khyatee Sardana