The best thing about Holi is that you can literally smell the festival even if it is a couple of days away. I love the festival for not just the riot of colors that comes with it, but also the bonding it enables. Nobody is a foe smeared with color. No differentiation on any level – because everyone's face is one big splash of colors. Add the aroma of goodies wafting from your kitchen to the mirth and merriment with sweets and goodies your child can help you rustle up.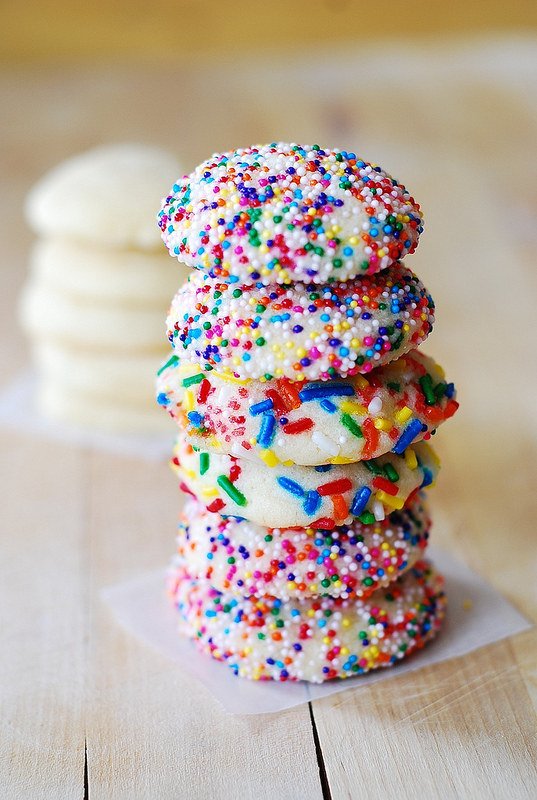 This Holi, try out yummy sweets inspired by the colors of Holi festival. The best part is that you can make them at home with your child!
Bring the colors of the day into these cookies that are popular with adults and a hit with the kiddos. Here is how you rustle this:
Preparation:
In a medium bowl, combine together 3 cups of all-purpose flour and 1/4 teaspoon of salt salt and mix. Kids love this mixing process.

In a separate bowl, using electric mixer, beat 250 grams softened butter and one cup granulated sugar until light in color and fluffy.

Add an egg and 2 teaspoons of pure vanilla extract – continue beating for a couple minutes.

Turn off the electric mixer, add flour-salt mixture and then continue beating on low speed until well-combined but without over mixing.

Roll dough into 1-inch balls. Ask your child to roll these cookie balls in multicolored sprinkles. Arrange on parchment-lined baking sheets, spacing 2 inches apart.

Freeze until firm, for about 30 minutes.Bake at 350 degrees for 14 minutes. Do not over-bake. Remove from the oven, and transfer to wire rack to cool completely.
2. Rainbow popsicles:
There is no grown up that can resist the childhood thrill of ice cream! This easy to do recipe screams Holi but can be enjoyed through the year. The multicolored layers also have the double delight of several flavors.
Preparation:
You can use fresh fruit juices or even squashes and syrups.

Just be careful to freeze one layer before you add the subsequent one.
3. Fruit skewers:
If you're looking for a quick and easy way to update the traditional bowl of fruit salad, try making these elegant fruit skewers for your next event. Though there isn't anything fancy about this "recipe," sometimes it's the small things – such as presentation – that can take a dish from ordinary to extraordinary. It doesn't get much easier than this:
Preparation:
Slice the fruit and slide each piece on the skewer in a rainbow-like fashion.

Feel free to switch up the fruit based on what's freshest or what can be found in season. And kids love these.

Just make sure they're careful with the sharp ends!

As a finishing touch you could sprinkle chaat masala on the skewers if you like.
Subscribe to Blog via Email
Image source: 01, 02, 03, 04 (featured image)
By Aarti Kapoor Singh