The biggest milestone in terms of your baby's growth and development is when to start baby food. Healthy cooking translates into healthy eating which means a good lifestyle! So, folks, do make sure to make your baby's mealtimes an enjoyable experience for all. Introduce a variety of tastes, textures, and flavors to widen your child's palate. Here are 2 fabulous and super healthy food recipes for kids packed with the nutrients that are helpful in the growth and development of your little one. These are really easy-to-make recipes and you can serve them at any time of the day (yes, even as a kid's snack recipes)!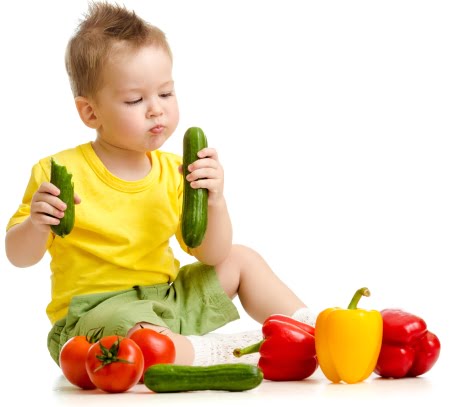 Healthy food recipes for kids:
Here are 2 quick healthy and delicious baby food recipes for a year old baby. Now broaden your toddler's palate with a variety of wholesome easy to make recipes that can be prepared in a jiffy!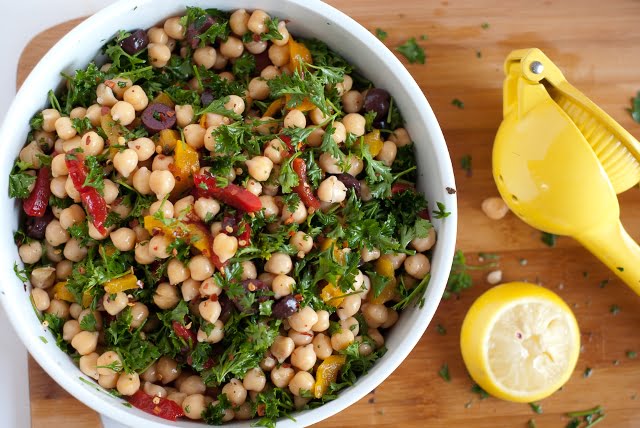 Vegetable Chickpeas Salad
Ingredients
1/4

cup

White chick peas soaked and boiled

squashy

1/4

cup

Chopped cucumber

very fine chunks

1/4

cup

Tomato

very small chunks

1/4

cup

Boiled potato dices

A few leaves of freshly cut coriander

chopped fine and washed thoroughly

A hint of lemon squeeze

optional

Black salt

to taste

Bell peppers – boiled and chopped into very small pieces

optional
Instructions
Combine chickpeas, cucumber, tomato, bellpeppers, and potatoes in a deep bowl

Add black salt and squeeze the lemon.

Mix well and serve immediately.
Salads are probably the easiest and also healthy food recipes for kids. Nonetheless, not all kids love salads. So here is another option that you can try. We are sure your child would love this beetroot and carrot raita.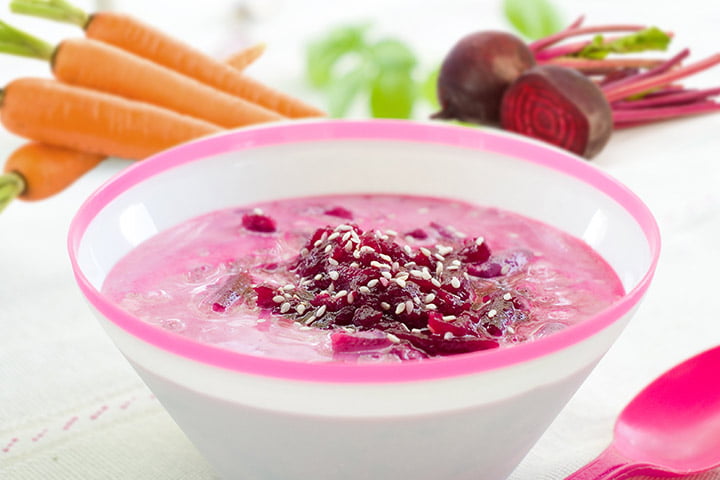 Beetroot and carrot raita
Ingredients
1/4

cup

Yogurt

1

tbsp

Carrots

peeled and grated

1

tbsp

Beetroot

peeled and grated

1/4

tsp

Roasted cumin seeds

Salt to taste

A pinch of sugar

optional
Instructions
Add carrots, beetroot and roasted cumins to a bowl.

Add yogurt and mix well till the carrots and beetroots are coated well with yoghurt.

Sprinkle the salt and sugar, mix well and serve immediately.
These are two healthy food recipes for kids and parents alike. On the days you don't feel like cooking, go for this easy delicacy and enjoy your healthy day. Try this at your home and share your experience with us in the comments below. Do you have any more salad or raita ideas? If so, share them too. We will feature it in our recipes.
Disclaimer: These recipes have been shared to assist other parents with the introduction of solid foods to their babies. Please do consult your pediatrician before you introduce these quick recipes to your baby. Don't forget to specifically discuss any foods that may pose allergy risks to your baby.